| | |
| --- | --- |
| Held at: | Private Collection |
| Reference: | RS/TCF |
| Source: | Guest Contributions |
| Title: | Turnastone Court Farm: INDEX of Reports, Specialist Studies, Notes, Photographs and Drawings prepared in connection with the work of the Countryside Restoration Trust |
| Place name: | Golden Valley |
| Date: | 2002 - 2004 |
Description:
Introduction
Turnastone Court Farm is a property with unique and nationally important features, which was acquired by the Countryside Restoration Trust in 2003 with a view to its preservation and maintenance. As part of their project, a comprehensive series of studies was undertaken to assess all relevant matters of archaeological, ecological, geographical and historical importance on the property. Three main methodologies were employed; walkover surveys, geophysical surveys and formal building surveys. The principal areas covered by each are shown in the figure below.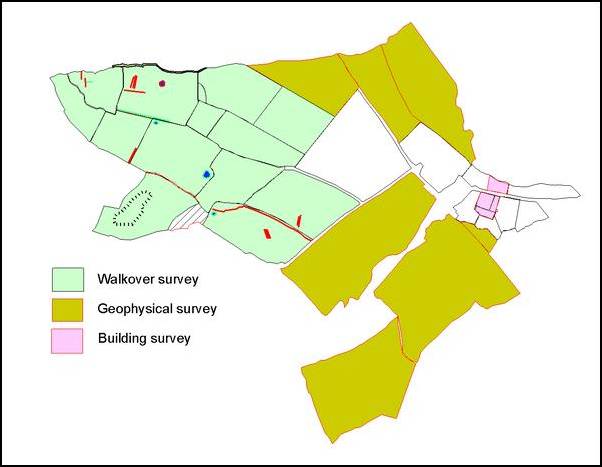 Surveys at Turnastone Court Farm 2002 - 2004
Three principal reports have been produced setting out findings and recommendations from these various studies for future action, and these are supported by a range of specialist analyses, notes, photographs, drawings and other documents. Together these provide one of the most comprehensive analyses available on any local property of substantial historical significance. We are greatly indebted to David Lovelace who has made this unique collection of documents and photographs available.
TURNASTONE COURT FARM
INDEX OF SURVEY REPORTS AND RELATED MATERIAL
PRINCIPAL REPORTS
SPECIALIST REPORTS
Features of Archaeological Interest
SUPPORTING MATERIAL
Ornithology and Bird Breeding Notes
Archaeology Walkover Notes and Catalogue of Features
DIGITAL ARCHIVE
---
Ref: rs_gdv_0089