| | |
| --- | --- |
| Held at: | Hereford Public Library |
| Reference: | Royal Commission on Historical Monuments: Herefordshire, Volume 1: H 936.244 |
| Source: | Transcript of Original Publication |
| Title: | Allt-yr-Ynys [Alltyrynys]: architecture, construction and history |
| Place name: | Walterstone |
| Date: | Up to 1700 |
Description:
(4). ALLT-YR-YNYS, house, 1 m. S.S.W. of the church, is of two storeys with attics; the walls are of rubble and the roofs are covered with stone slates. The E. cross-wing dates from the 16th century, and the main block is probably of the same age, but the whole building was remodelled in the latter part of the 17th century. The elevations retain a number of late 17th-century windows with solid frames, mullion and transom. Inside the building, the entrance-hall has three moulded door-frames, and in the passage to the kitchen is a fourth with a battened door hung on strap-hinges. The kitchen has two exposed ceiling-beams. The parlour in the E. cross-wing has a late 16th or early 17th-century plaster ceiling (Plate 29) cut up into geometrical panels by moulded ribs with rosettes at the intersections and devices in the panels; the walls have a dado of 17th-century panelling with a fluted frieze. On the first floor, a room in the E. wing is lined with 17th-century panelling and the fireplace has an early 18th-century moulded surround. On the same floor is a moulded door-frame with a battened door on strap-hinges.
Condition—Good.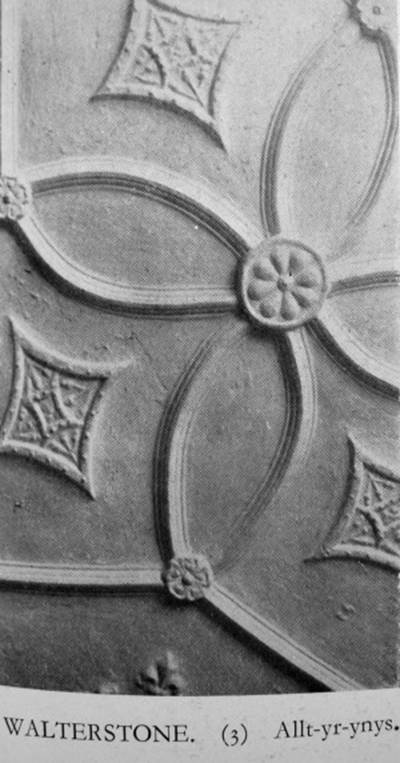 Plate 29: plaster ceilings
Observations:
Description documented c 1930 by the Royal Commission on Historical Monuments
Ordnance Survey Map Reference and Index of Parish Properties
---
Ref: rs_wal_0031