| | |
| --- | --- |
| Held at: | Hereford Public Library |
| Reference: | Royal Commission on Historical Monuments: Herefordshire, Volume 1: H 936.244 |
| Source: | Transcript of Original Publication |
| Title: | Ty-Mawr farmhouse: architecture, construction and history |
| Place name: | Longtown |
| Date: | Up to 1700 |
Description:
(6) TY-MAWR, farmhouse, 1,070 yards S.S.W. of Clodock church, is of two storeys with attics with a barn and a two-storeyed stable attached. The walls are of rubble and the roofs are covered with stone slates. The N.E. wing dates from the 14th century, the barn which occupies the middle part having been the central Hall of a house of that date.
In the 17th century considerable alterations were made when the end wings of the original house were remodelled, the N.E. end being turned into stables and a long cross-wing built at the S.W. end, making the plan of the whole building an irregular T-shape; this latter wing incorporates an earlier building. The S.E. front has, at the end of the cross-wing, a chimney-stack with weathered sides and square shafts. Some of the doorways have old frames and battened doors. The N.W. front has a small rectangular projection at the northernmost corner, possibly some form of garde-robe, but it is now blocked on the inside. The stable-wing is gabled and at right angles to the two gabled wings runs the roof of the original hall-block with low eaves. Some of the windows have old frames. In the N.E. wall of the stables are two four-light windows with old frames and diamond-shaped mullions. Inside the building, the barn, which was the Hall of the original building, has an open roof (Plate 23) in three bays with four original trusses of crutch type. Those at either end are built into the cross-walls and have tie-beams at the wall-head level and two collar-beams above, with a central post rising from the tie-beam to the upper collar. The two intermediate trusses have curved braces forming two-centred arches below a collar-beam and support two purlins on either side which have curved wind-braces between them. In the S.W. wall is a blocked stone doorway with chamfered jambs and four-centred head. In the S.W. cross-wing the ceilings of both ground and first floor have exposed beams and joists. The internal partitions are of timber with stop-chamfered framing and panels in one length from floor to ceiling. In the attics over this wing are some exposed trusses with chamfered principal rafters and cambered collar-beams but the tie-beams have been cut away.
Condition—Poor.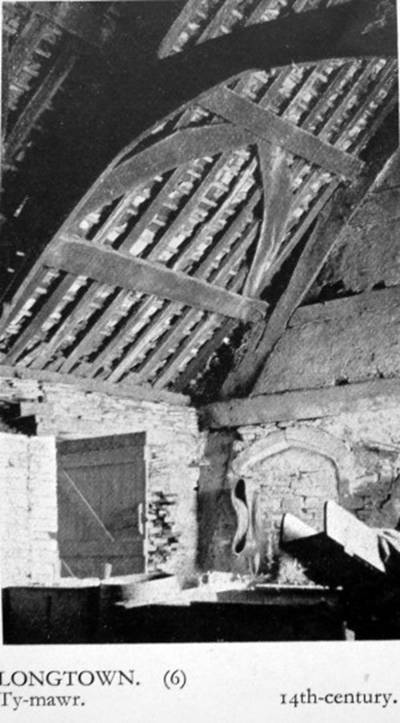 Plate 23
Observations:
Description documented c 1930 by the Royal Commission on Historical Monuments
Ordnance Survey Map Reference and Index of Parish Properties
---
Ref: rs_lon_0081