| | |
| --- | --- |
| Title: | Mary's Stones: investigating the 'Mrs Macnamara' Boundary Stones in the Black Mountains |
| Date: | 1820s |
Guest contribution by Miriam Griffiths

Introduction:
The article below discusses the background to boundary stones in the Black Mountains engraved with the name 'Mrs Macnamara'. Mary and John Macnamara owned Llangoed Hall in the Wye valley north of the Black Mountains. The stones are dated 1821 and 1825 when Mary, widowed since 1818, managed the estate with her son Arthur, and bought new land in her own right. Ordnance Survey grid references are given for thirteen stones found by the author in the general area of the Grwyne Fechan and Grwyne Fawr.
The article appeared in the 'The Beacon' published by the Brecon Beacons Park Society, Winter 2009 issue, and is reproduced here with the author's permission.
Ewyas Lacy Study Group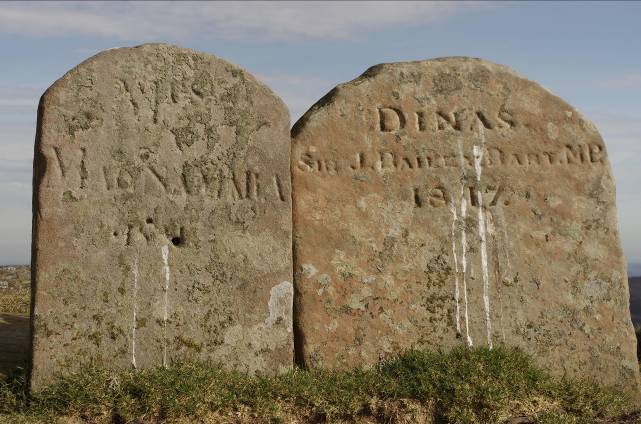 MARY'S STONES
Miriam Griffiths

Investigating the 'Mrs Macnamara' Boundary Stones in the Black Mountains.


Most walkers in the Black Mountains know the name Macnamara, either through the John Macnamara stories, or by coming across Mrs Macnamara's boundary stones, dated either 1821 or 1825, often in a pair or trio of other nineteenth century boundary stones. In 1796 Mr John and Mrs Mary Macnamara purchased the Llangoed estate, which stretched from north of Llyswen (where their residence Llangoed Castle stood by the Wye), south through the Black Mountains to the upper Grwyne Fechan and Grwyne Fawr valleys. The story of the legal problems besetting their purchase of the estate is told in the 2003 issue of 'Brycheiniog'[1] and is summarised briefly in my piece on 'Macnamara Myths' in the last 'Beacon'.
Boundary stones on Pen Twyn Glas - Chris Barber
Intrigued by the Mrs Macnamara stones, I searched out as many as I could find - 13 in all, so far, listed at the end of this article. I also set out to find out about Mary and to answer these questions: Why are the stones where they are, and what is the significance of the dates? Was it unusual for a woman's name to appear on property markers at that time? Patchy records and scraps of evidence provide glimpses of Mary's life and marriage to John Macnamara and enable us to trace part of Mary's story from Gretna Green to Grwyne Fechan, via London high society and Llangoed.
Gretna Green and high society
John, aged 25, and Mary, a minor aged 19, married at Gretna Green on 20th January 1780. In early December John had written to Mary's father, Arthur Jones, a fellow barrister at Lincolns Inn Court, asking permission to marry Mary, Arthur's only child. He set out his financial position, saying; "Tho I do not consider money to be the essential of happiness, still I think it right to state briefly to you how I am circumstanced and to prove to you that my love for your daughter does not arise from any mercenary motive."[2]
Mary's father never did consent; her mother had died in 1761 soon after Mary's birth and in early January 1780 Arthur Jones died, leaving the orphaned Mary a ward of court. The couple decided not to wait for Mary to turn 21 or to get legal permission to marry; a week after her father's funeral they went to Gretna Green. 51 years later, in a letter of 1831 to one of her granddaughters, written when she was 70 and John had been dead 12 years. Mary rather ruefully describes the marriage: "Mac adored me, loved his children to a weakness, was the kindest relative, had no selfish expenses, yet amidst all these good qualities, from giving way to an impetuous temper, marred everything he undertook… I always felt that I had myself to blame for not waiting until I was of age; but youth is too full of passion and dictates of the heart… I had lost my rudder, my dear father, just when I required him most." [3]
John Macnamara's impetuous character can be glimpsed in his letters. Mary had certainly fallen for a 'man about town' who had been in the news in April 1779; as he escorted a well-known actress from Covent Garden theatre she was shot by a stalker and John often described that melodramatic scene - " the sudden assault of the assassin, the instantaneous death of the victim and the spattering of the poor girl's brains over his own face." [4] Between 1780 - 1796, following the wedding and preceding their purchase of Llangoed, they lived in Buckinghamshire, Berkshire and London, travelled in Europe, and had four children. After unsuccessfully standing for election to parliament, during which contest his skull was fractured in some scuffles, John became MP for Leicester between 1784 - 90, an exciting time to be in politics, with the French Revolution erupting in 1789 and war with France impending. while the contentious issues of Union with Ireland, land of John's forebears, created political factions. John was a Tory, an advocate of Union, close to the young Prime Minister William Pitt whom the couple sometimes entertained at their London home.
John and Mary's status as a society couple is delightfully illustrated by the fact that their miniature portraits were painted by Richard Cosway the famous Regency artist and miniaturist painter of portraits of royalty, aristocracy and public figures. (The originals are lost but photos of them survive - reproduced here by kind permission of John and Mary's great, great grandson. Major Mark Scrase-Dickins.) After purchasing Llangoed they always retained a fashionable London address; the year after they bought Llangoed. John was High Sheriff of Breconshire and made unsuccessful attempts to gain another seat in parliament. In Mary's letter mentioned above, she looks back ruefully on his, "love of scheming, not satisfied with having more than enough… pursuing a phantom. Electioneering and all its concomitant expenses soon made us in want of ready money."
| | |
| --- | --- |
| | |
Miniature portraits of John Macnamara and Mary Macnamara by Richard Cosway


The Welsh connection
What attracted them to purchase the Llangoed estate, 16 years after their marriage? Mary's parents were Welsh - her father was from St Asaph in North East Wales, her mother from West Wales - but I do not know whether Mary spent any childhood time in Wales. The strongest clue appears in a travel book by Bernard Malkin, who visited the Macnamaras at Llangoed Castle in about 1803: "Llangoed Castle ... is part of a great manor or lordship, the entire of which originally belonged to the ancient family of Wogan, who were Knights Templars. This family quitted Brecknockshire and became Lords of Wiston Castle in Pembrokeshire ... Mrs Macnamara and her children are the only lineal descendents living from that original stock of Wogan; and that after a revolution of ages, in consequence of the Macnamara's purchase, they again possess a moiety (ie portion) of the great manor." [5] The Wogan family connection was Mary's mother, Mary Wogan,, who died in 1761 when Mary was a baby. The Wogans were an historically interesting West Wales family and it may be that Mary's family connection with the Llangoed area in the distant past was a factor in the couple's determination to own the estate. The Macnamaras owned other properties in Wales and Mary's letters mention visits to relatives in Pembrokeshire.
Llangoed Hall stands on the site of Llangoed Castle
Having bought Llangoed, the Macnamaras divided their time mainly between Breconshire and London, although Mary was more often at Llangoed than John. Malkin writes that when the Macnamaras bought Llangoed Castle: "...the whole premises had been neglected… till they almost became a wilderness; but they are rapidly resuming an air of order and cultivation under the management of Mrs Macnamara, who with a taste not common to ladies of fortune and fashion, hurries every season from the gaieties of London, to conduct the improvements and even the farming concerns of her ancient seat. It would hardly be believed if the assurance was not derived from my own personal observation of the fact, that a lady so circumstanced could solely regulate and superintend a farm round the house of eighteen hundred acres, with which Mr Macnamara, whose taste does not lie in the direction of agriculture, never interferes." (p251).
Malkin goes on to extol the beauties of Llangoed Castle, praising the Macnamaras for diverting the public road away from the Wye so that the river banks near the house could be enjoyed as a beauty spot (presumably Mary's doing). Mary's interest and active involvement in the estate is also evidenced in surviving papers and letters.[6] For example, John Macnamara writes in a letter of February 1797[7] that legal disputes have led to an injunction against the Macnamaras ploughing and felling timber in certain contested areas: "I do not care sixpence… but it will discompose… Mrs Macnamara extremely as her plan was to plow (sic) up about 30 or 40 acres of the corn annually for the purpose of laying it properly down." This was a time of much agricultural improvement, experimentation with new methods of farming and the formation of local Agricultural Societies such as the Brecknockshire Agricultural Society which were, not surprisingly, male enclaves.
Mary's interest in land and farming was not a short-lived enthusiasm. John Macnamara died in 1818, aged 63, and his will left the estate in trust to his male heirs but gave Mary and oldest son Arthur joint responsibility for the estate, thus ensuring that Mary had a formal and legal role to play. After 1818 Mary certainly continued in her active role in estate management as described by Malkin years before. She was a careful keeper of receipts and there is a fascinating inventory of Llangoed Castle after John's death ... 20 cheeses in the butlers pantry; 7 draft horses with names like Captain, Dragon and Venture; brewing equipment; a spinning wheel; 5 donkeys ....but I digress. Mary was often out and about on the estate - especially in the Grwyne Fechan area in the 1820s and early 1830s when much renovation work was done on The Hermitage. Was she particularly interested in that far-flung corner of the estate, or is it just that certain papers and letters mentioning that area happen to survive? One motive for her interest in that area emerged as I tried to fathom out some reasons for the dates and positions of the Mrs Macnamara stones.

Questions about the stones time and place


Had the stones been erected during her husband's lifetime it is inconceivable that they would have borne Mrs Macnamara's name; until the Married Women's Property Acts of the late nineteenth century all of a married woman's property was legally in her husband's name. After John's death one might have expected the oldest son Arthur to be the dominant family name, since property, or income from it if it was entailed in a trust, always passed down the male line, a legal tradition which could leave a widow dependent, sometimes precariously, on a male heir, as in Jane Austen's novel 'Sense and Sensibility'. However, John's gave Mary and Arthur joint rights and responsibilities for running the estate and I feel that Mary's name on the stones tells us how much those rights and responsibilities meant to her.
Mrs Macnamara stone inscribed 1821 - Miriam Griffiths
Why are the dates on all thirteen Mrs Macnamara stones that I have found either 1821 or 1825? I've wondered if a possible explanation might be linked to the fact that in the 1820s some of the legal problems regarding the Macnamaras' ownership of parts of the Llangoed estate were at long last resolved[8] and so the stones could be set in place.
Why are the stones where they are? The use of stones to indicate boundaries is an ancient one, carried on over centuries since before the Normans brought the Manorial system to Wales and the Marcher lands, through to the nineteenth century. Most of the Mrs Macnamara stones are at old manorial boundary points where stones predating hers had stood, indicating how the Llangoed estate was part of older manors or lordships. This is shown clearly on two estate maps of 1759 arid 1760 - a plan of Sir Edward WiIIiams' (from whom the Macnamaras bought Llangoed) lands in the Black Mountains and a survey of Crickhowell Manor for the Duke of Beaufort. An interesting study of these maps is held at Crickhowell District Archives[9] which shows that Mary's stones tend to be in places where there were earlier owners' stones. You start to get a picture of some old estate boundaries if you look at the boundary stones themselves: some Macnamara stones are accompanied by 'Tretower M' (ie Manor) stones showing where the Llangoed estate bordered on Tretower lands. Others stand next to 'Dinas' stones dated 1847: these mark the sale, 12 years after Mary's death,, of the entire Llangoed estate by son Arthur Macnamara to Joseph Bailey of Dinas, the first Lord Glanusk, who obviously did not have all of the Macnamara stones removed when he erected his own markers to signify his adding of the Llangoed lands into his Dinas estate.
Land in Grwyne Fechan
Before the first tithe maps of the area (1841), accurate maps were rare, and stones or markers were essential to pinpoint boundaries, especially on open upland where there was no stream or hedge or wall to serve as a border line. The 1841 tithe maps, which for the first time showed in some detail who owned which farms and fields, were drawn up after Mary's lifetime (she died in 1835) when Arthur had sole control of the estate. I at first assumed that the total area of land recorded in Arthur's name in the 1841 lithe maps was identical to that purchased by John and Mary in 1796. I then discovered that widow Mary had acquired new land in her own right; as a widow she could do what a married woman could not - buy land and hold it in her own name. Mary's will bequeaths to her son Arthur her interests in the Llangoed estate, plus "my farm called Tir Doctor in the parish of Llanbedr and my moiety of the Manor of Hautrehill purchased by me of Lord Ashburnham."[10] 'Hautrehill' is Hatterall, a name denoting a wider area than Hatterall Hill as we know it today but I am not sure where Mary's purchased portion of that land was. However, using old OS and Tithe maps I did locate Tir Doctor, a small farm near where the Banw stream joins the Grwyne Fechan river. (A couple of ruined buildings remain at SO 235226.)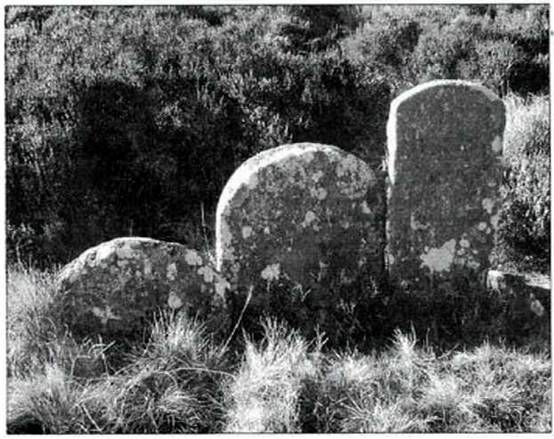 Trio of Stones at Disgwylfar on Gader Ridge - Miriam Griffiths
Picture of The Hermitage in 'Hills and Vales of the Black Mountains by R Baker-Gabb
In Mary's time, all the Llangoed holdings in the Grwyne Fechan were in Talgarth parish, but Tir Doctor was beyond the Llangoed estate and parish boundary in Llanbedr parish. By buying property bordering on Llangoed land, Mary was proactively expanding the family's estate. This made me wonder if she celebrated her status as a landowner in her own right by erecting stones near those acquisitions and I spent some time working out if the Mrs Macnamara stones nearest to Tir Doctor, above Cwm Banw, somehow related to this purchase. However those stones are dated 1821 and it is probable that she did not buy Tir Doctor until 1829, when she had a valuation of the smallholding done.[11] Owning her very own land in Grwyne Fechan seems to me a very good reason for Mary spending time in that area.

Recording Mrs Macnamara Stones
The inscriptions on the Mrs Macnamara stones are often obscured by weathering and lichen and in some cases are virtually illegible, while some of the stones are in a very sorry state. I have thus recorded the details of the 13 stones that I know of. Some are lying flat and are easy to miss; some that are standing have probably been set upright in relatively recent times and some are near, but not necessarily exactly on, the spot where they were first erected. An example is the Mrs Macnamara stone now propped up next to the Blacksmiths Anvil on the Ffawyddog ridge at Y Fan. There is no 'BS' marked on the OS map at the Blacksmiths Anvil itself, and it is quite probable that this stone was moved from a spot north east of the Blacksmith's Anvil (where the map marks two sets of boundary stones along an old earthwork but of which I have found no trace on the ground). The three well-known trios of boundary stones at Disgwylfa on the Gader ridge have also possibly been moved from their exact original positions.
On the Tal Trwynau spur below Pen Allt Mawr to the north-east, are two pairs of boundary stones that I find very interesting. They can be located by first finding a fairly well-known pair of stones which lie flat among the bilberry near the ridge path at SO 218249 and then walking south- westwards down the steep slope towards the Cwm Banw stream. These make me wonder if pairs of boundary stones were often originally positioned back-to-back (see photo), surely a logical arrangement to indicate who owns land either side of a boundary line? The very prominent stones, like the unmissable ones perched on the knoll near Pen Twyn Glas, are much-loved landmarks, while less known, more hIdden ones - like the one that nestles near an old spring in Cwm Sorgwm - have a very different character.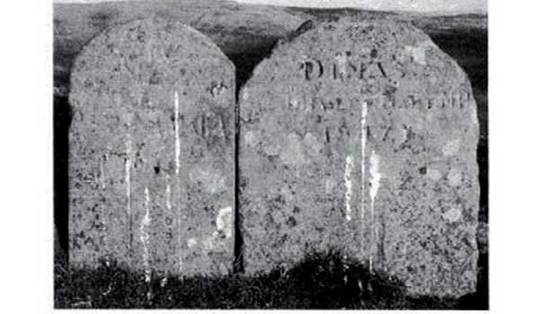 Boundary stones near Pen Twyn Glas - Miriam Griffiths
Looking for another kind of stone - Mary's gravestone - I was disappointed to find that this is nowhere near her beloved Llangoed estate; she died just after Christmas 1835 and was buried in January 1836 at St Mary's Church Wimbledon, which I have visited but have not located her grave. The boundary stones are a fitting memorial. They cannot answer questions about Mary herself - how did she feel about these symbols of land ownership? Would she have ventured up onto the ridges where most of her surviving stones are or, much more probably) would she think us walkers mad, seeking out those places? I can certainly thank Mary Macnamara for prompting me to explore and look at a familiar landscape in a new way.
Grid references of 13 Mrs Macnamara Stones
Tal Trwynau:
SO 218249; SO 218248; SO 217247
Pen Twyn Glas:
SO 213221; SO 212266
Ffawyddog ridge:
SO 250302; SO 237312; SO 260231 (Y Fan towards Twyn Talycefn)

Gader ridge - Disgwylfa:
SO 260231; SO 260235; SO 260238

Cwm Sorgwm/Cockit Hill:
SO168265; S0 162283
---
[1] 'Brycheiniog' is the journal of the Brecknock Society and Museum Friends.
Rob Adams' Article 'Fishing in Troubled Waters' is in Volume XXXV page
71, 2003.
[2] RW Twigge 'The Pedigree of John Macnamara, Esquire, with some Family Reminiscences' 1908, p.66. I am grateful to Major Mark Scrase-Dickins. John and Mary's great great grandson, for lending me this private family memoir, commissioned by John Macnamara of Brighton (born 1828).
[3] Twigge p73
[4] Twigge p68
[5] B. Malkin, 'The Scenery, Antiquities and Biography of South Wales', p 250. First published in 1804; republished edition 1970.
[6] The Gwernyfed and Pennington papers at the National Library of Wales
[7] The Gwernyfed papers 63
[8] Adams article as above
[9] The study of these maps by M. Redwood in 2003 shows the positions of boundary stones in 1760.
[10] Public Record Office: Prob 11/1858
[11] Pennington papers.
---
Ref: nw_lty_1002