| | |
| --- | --- |
| Title: | Notes on properties in Middle and Lower Michaelchurch Escley and their ownership |
| Date: | 1566 - 1844 |
Editorial Note:
These entries are transcriptions of working notes produced by Tony Gray as part of his detailed research into the history of ownership of local properties, which he was sadly unable to translate into a finished paper because of illness. It is clear from his notes that there are a number of aspects of the work that he felt still required further investigation and elaboration, and coverage of Michaelchurch properties is not complete. Nevertheless this is a unique and important body of information. Ancient Manorial surveys, rentals and tax records rarely identify individual properties by name, relying instead on recording the people responsible for paying the rent or tax, the acreage they held and the amount of rent or taxes due. Property location and boundaries are largely described by the names of adjacent property holders, and even where items such as field names are given they frequently change with the generations. It is therefore often extremely challenging to discover a chain of ownership of present day properties.
This research attempts that task and links the older records with tithe data, individual documents and private collections to try and match the names of tenants and landowners over the years with modern-day properties. We consider that it deserves publication as it stands, despite the absence of full references and provenance that would have accompanied the planned formal paper. With the kind permission of Tony's widow we have simply 'tidied up' his notes as best we can for presentational and continuity purposes. Users of this material should bear in mind that as a 'work in progress' the notes will no doubt include a number of preliminary observations and conclusions that have not been fully researched and tested, and they may not always fully elaborate Tony's underlying reasoning.
An equivalent study of properties in Upper Michaelchurch Escley is also available on this website.

Ewyas Lacy Study Group
Properties in Middle and Lower Michaelchurch Escley
Primary source documents:
1566: Rental of Ewias Lacy on behalf of Robert Dudley, Earl of Leicester
1624: Survey and Rental of Ewyas Lacy ex parte Henry Nevil, Lord Abergavenny
1653: A Particular of the Manors of Ewyas Lacy, Walterstone and Trewaylon
1667: Survey of the Manor of Ewyas Lacy on the part of Trevor Williams
1687: Survey of Abergavenny Estate Copyholds and Leaseholds
1701: Survey of the Manor of Ewyas Lacy for Lord Abergavenny [transcription]

1705: Survey of the Manor of Ewyas Lacy for John Jeffreys [transcription]

1711: Survey of the Manor of Ewyas Lacy for Lord Bergavenny
1736-1790: Survey of Abergavenny Estate Copyholders and Leaseholders
1800: Survey of the Estate of the Earl of Abergavenny
1776-1838: Michaelchurch Escley Land Tax Records
1844: Michaelchurch Escley Tithe maps and apportionments
Other source documents may include individual lease or other property records held in the ELSG database; entering a specific year date in the search engine could help establish such links.

Quakers
1624: James ap Parry:
Tithe 562-3, 588-9, 593
Has on north: late Mr. John Seybourne, supposed to be Lord Abergavenny land now usurped by Mr Leison Thomas
James Parry also has 12 Welsh acres sometime in tenure of John Seybourne, gent, deceased, now usurped by Leison Thomas Esq. [3s] called Tyre Lerrys ap Howell
1687: John Parry
Copyholds suggest Joseph Exton at Quakers, but there is no Exton copy entry; the only 3s entry is John Price, but location not Quakers.
Also John Watkins copy on Upper House lands either side of road has Exton to N and W of Quakers.
The 12 Welsh acres ie 40 English acres may be [e.g.] the tithe 72 English acres less field numbers
514 = 2.25
515 = 6.25
470 = 4.25
523 = 5.5
Total = 18.25; net 53.75
The balance may relate to some land above New House.
[So] By 1687 Exton had Quakers but perhaps not all of the tithe 72 acres.
1701: Exton
1776: Exton
1781: Exton
1783: Exton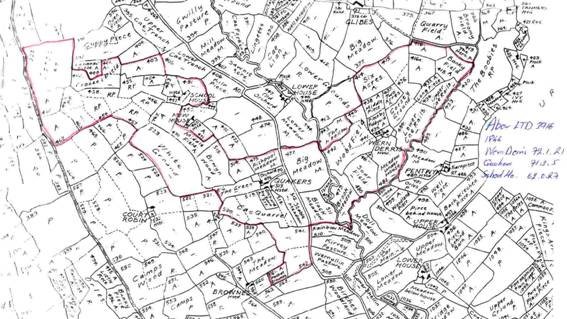 Wern Derris
1624: Leison Thomas late John Seyborne at 9d
1665-7: Free William Exton 1s 10d with messuage formerly John Seybourne Esq. [in entry for Firs]
1687: Joseph Exton given as east of Wm. Harry at Glibes
1702: Joseph Exton; partly included in Firs at 7s 1d [1665/7 says 7s 5d]
1776: Exton
1781: Exton
1783: Exton
Coed Robin
Abergavenny freehold; Parrie – Powell – Nichols
20 Welsh acres
Camps Wood
1624: David Thomas; David Prosser
8 Welsh acres; 2s 2d each
House since 1615
Surroundings – north James Price ap Parry; south Keven Lane; west Howell Harry Powell; east Thomas David Maddock & Raphe Hopton
1663: NLW document ref BR/1663/27 Thomas Beavan, yeoman of Clodock died; Ann Beavan, widow, mentioned
1666: document NLW ref BR/1666/28 Thomas David Maddock, Clodock, died; widow and John Maddock, yeoman, mentioned
1701: Thomas Beavan – 8 Welsh acres 2s.
1702: Hopton; lists David Maddock as past holder of messuage & lands and now Philip Beavan in right of his wife
1844: Tithe shows Camps Wood 25 acres
Brownes
1624: James ap Harry
22 Welsh acres, 46 English acres 4s 6d
4 Welsh acres called Hothnyes Land at 12d
Surroundings north late John Seyborne now Leison Thomas [?Quakers]; south David Madock; east freehold James Parry [?part of White House] and Lane Craswall – Michaelchurch; west freehold James Parry [?part of White House]
1844: tithe shows Brownes less than 8-9 English acres
Balance may be Tyre Jeran Lippa; 18 Welsh, 26 English acres at 4s 6d
Surroundings south Philip Gryffith; south east freehold James ap Parry; all other Mr. Seyborne
Re-analysis of James ap Parry entry in 1624 suggests that Brownes was James Parry's field to the north of Hothnyes and south of Tyre Jevon Lippa
Holt Farm / New House
1624: several suggestions of Thomas David Madock but no Madock in Abergavenny 1624 survey either freehold or copy.
1687: widow Madock
1800: map shown as Mr. James Harris
White House [part]
1624: James Parry had 2 copyholds on 20 and 26 acres at 12d and 4s 6d.
David Thomas and David Prosser had 28 acres at 2s.
1687: John Parry had two copyholds of 65-70 acres at combined rent of 5s 6d
1701: Now John Phillips
1718: one of the 1624 copies says John Watkins
1800: Lessee Thomas Bevan has tithe map fields 571, 555, 556, 557, 566, 565, 568, 564, 587, and probably 569 and 585 i.e. all land to south of Coed Robin total area 21 ½ acres
Lessee Miss Allen holds all the rest of the area on the tithe map; 18 acres and 30 acres
Overall total 70 acres of tithe 79acres
Upper House
1624: This could be tithe numbers 1036, 1037, 1075a; if so it puts John Powell freeholder at one end
Leasehold to John Powell 18 Welsh acres i.e. 72 English acres; late Richard Powell ap Jevan, 18d.
1701: No apparent entry
1748: leased by Watkins
1754: Sold by Watkins to Ravenhill/ Exton
1840: Tithe 89.75 acres; if 31 acres over Escley excluded =58.75 [Kings Arms piece included]
Tithe land west of river is thought to be James Parry Abergavenny copy from 1624 at 2s 10½ d; rent suggests 11.5 Welsh acres @ 3d. i.e.46 English acres, but the land area is actually 25 English acres.
Lower House [Tyre David Lace]
1566: 1s 3d. for 5 Welsh acres, messuage and land
1624: John William Prichard and wife Elianour, 3 Welsh acres = 11 English acres; 9d.
Almost certainly tithe 1036 & 1037 – 10.75 acres; appears to be adjoining mill.
Surroundings south river & freehold William Prichard & father John; north David Lloyd, Lower House, west John Powell Upper House, east Thomas Watkins, late James Hay
1665: Gwenlliam Prosser, and then Thomas Powell
1701: John Watkins rent 9d. 3 acres with Escley on south – Cae y Velin
1702: Tyre David Lace [Teer David Lacy] freehold land @ 16d., late John Powell
1844: tithe area 106.75; land south of house appears to be let separately in the past
1036-37 = 10.5 acres
1033, 34, 75 = 2.5
Little Mill 1028 – 1032 = 16.5
Also apparently acquired later – 1011, 1026, 1027 = 14.75 acres
Lower House [Howells]
1566: freebond William Harry Llwyd 5 Welsh acres 1s 3d.
1624: surroundings noted for neighbouring property Cefn Kest suggests David Lloyd had Lower House, but no mention of David Lloyd in lists of free/copy holders.
1665-7: survey refers to messuage and land formerly David Lloyd now held by John Price Arnold; 15 Welsh acres @ 1s 3d.
1687: surroundings noted for neighbouring property Cefn Kest suggests Thomas Church had Lower House
1702: Thomas Church had messuage and lands but neither seems to match Lower House
1733: Firs title show John Watkins at Lower House
1748: Lease to Watkins
Cefn Ceist [Lloyne Whallone]
1624: messuage and 19.5 Welsh acres 78 English acres; Thomas Watkins 4s 10 ½d
Surroundings north James Price, Richard Lerrys; south Abraham Powell; west David Lloyd; east Mr Wright, James Hergest
1687: Katherine Thomas 114 ½ acres 4s 10d
Surroundings north Abergavenny land; east and south David Smyth lands; west Thomas Church [field names fit with 1701]
1701: Humphrey Thomas 114.5 acres, 4s 9d
Divided by fields as follows:
House, barn, Cae Skibor = 8
Perthy Kephell woody rough = 18
Cae Perthy Kephell = 3
Cae yr Velin = 6
Gworlod Velin = 3
Gworlod Vach = ½
A field = 6
Cae Keven Groce = 8
Cae Bedow = 3
Cae Kellin = 4
Cae ? = 10
2 meadows = 15
Cae Coy = 7
Cae Carreg = 6
Piece over the way = 4
2 pieces poor land = 6
Cae Glase = 7
1718: possession of Katherine Davies, widow, Nicholas Nott; late James Hay
1733: Firs title gives John Watkins at Cefn Ceist to north.
1800: 64 acres
1844: tithe 68 acres
The difference between 1624 -1687 and 1800-1844 is probably the Perthy Keppel meadow/wood
Grove Farm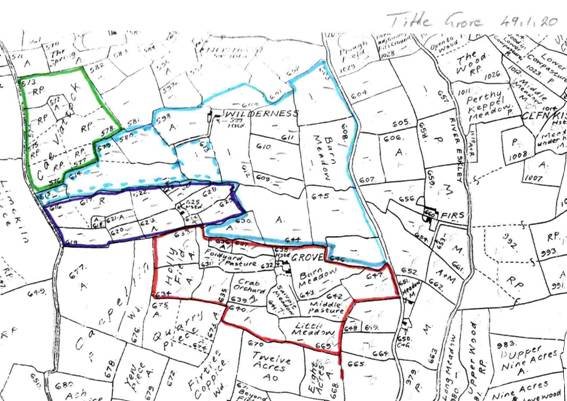 Wilderness
1702: Thomas; 16 Welsh acres, 64 English acres [note 90 acres on tithe 1844]
Firs
1624: Cefn Ceist entry suggests Abraham Powell had the Firs – but the record of 2s 3d rental for Powell does not fit the acreage.
1665: Wm Exton 5s 7d for one messuage; 1s 10d for Wern Derris formerly John Seyborne i.e. 7s 5d.
1687: Cefn Ceist entry suggests David Smyth had Firs
1702: Joseph Exton 7s 1d late John Seaborne. May be:
Firs 3s 8d
Wern Derris 1s 10d
Quakers 1s 7d
Total 7s 1d.
1733: Joseph Exton elder sells to Samuel Exton; surroundings Watkins at Lower House and Cefn Ceist to north; John Price [Coed Poeth] on east; Edmund Thomas to south [Bank]; Ed Thomas, John Price & Lane to west, possibly Michaelchurch Court and Grove farm.
1840: Tithe 175 acres = 43.75 Welsh acres @ 1d, i.e. 3s 8d.
Tithe areas:
Firs say 170
Quakers 71.75
Wern Derris 72.25
School 62
Total 376 English acres = 94 Welsh acres @ 1d = 7s 10d; cf rent given as 7s 5d
Alternatively Firs 1733 = 180 acres; Quakers = 71.75: total 251.75 = 63 Welsh acres @ 1d = 5s 3d [cf as given for Firs 5s 7d] ; plus Wern Derris given as 1s 10d = 7s 1d as stated in 1702
Conclusion:
Rent of 7s 5d [7s 1d] definitely includes Quakers and may include School House.
Michaelchurch Court
1844: Tithe 280 acres
Looks as though the majority made up of:
1566: 41.5 Welsh acres David Thomas late Rees David ap Ivor Vaughan
1580: 13 or 26 Welsh acres David Thomas assigned by Harry Thomas Powell; same document record as Bank
1624: 6 Welsh acres Leison Thomas late David Morgan John, Morgan John and John Phillip Eigher[?] [same as Bank]
There is also another 6 Welsh acres held by Humphrey by 1687 comprising 'several parcels'.
Cottage opposite Forge Cottage
1624: Richard Awbery, Clerke, 1s 5d
1718 Thomas Powell; adjoins 'Tonglust Acre' which looks like tithe map 912
Adjoins Kings Highway 'leading to Michaelchurch Escley' – could be road to Bridge Inn which went to Maescoed or could be the Longtown road.
Newly erected tenement.
Alexander Lord
1624: 2 closes held by Thomas Lewys Price; one bounded by Mr Hopton's freehold tenanted by Alexander Lord, one near to Alexander Lord's house.
Thomas Lewys Price holds land in Michaelchurch Escley and Clodock.
Surroundings:
Messuage and land at upper end, David Price, and at lower end by Longtown – Michaelchurch lane [?Rockyfold];
messuage and land Wm Greenwich[?] pasture 4 ½ acre bounded one end by land of Alexander Lord and other end lane Longtown to Michaelchurch [?Bridge Farm; but could be Old House if the lane refers to the lane from Bridge Farm to the Glebe and the Cefn Road, and 4 ½ acres could be tithe 737 ]
1655: Land 28 English acres 10 fields, messuage 99 year lease from 1617 to Alexander Lord @ £3.
1843: The Glebe 15 fields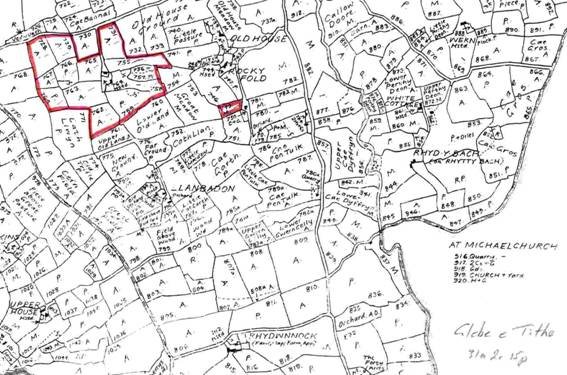 Watkyn Howell
1624: surroundings:
Land adjoining Old House messuage
Freehold adjoining Rockyfold messuage
8 acres at Wern, freehold adjoining
…but no Watkyn Howell shown in 1624 freeholds
Suggests may be Bridge farm
Old House
1624: Wm Greenwich 38 acres 2s 7 ½ d copyhold and some freehold.
Copyhold Surroundings: Alex Lord adjoining one end; widow Powell at other end; one side Leison Thomas & highway; other side Watkyn Howell, David Price & highway


Field 724 surroundings: south lane; north Harry David Morgan [722-3 Bridge farm]; one end Watkyn Howell [725, also Bridge Farm]; other end widow Powell [718]


House/Land surroundings: one end Greenwich freehold [?Glebe 731]; other end widow Powell [737 Bridge farm]; one side Leison Thomas/ highway [716-8? Bridge farm]; other side Greenwich freehold [Glebe], Watkyn Howell [?754], David Price [Rockyfold] /highway.
1687: John Morgan held Blainey, formerly Morgan Powell [Glibes copy land supports this]
He also held two pieces – name Cokone see tithe 295/6 with uncertain area and no messuage mentioned. Mary Probert to west [Pikes entry has Eustance Probert at Tyn y Gwynt; rest has building with his own land i.e. Blainey
1701: John Morgan still holds the copy
1702: Blainey now with John Watkins; John Morgan hold 2 parcels copy – one probably tithe 394 – and one parcel free late Morgan Powell – probably 270
1711-12: T Morgan holds the copy
Conclusion: the copy @4s 7d is basically Old House – but no messuage; where is it post 1711?
Part of Old House east of the river:
1624: Wm Greenwich 14 Welsh acres 3s 6d.
Surroundings: two parcels separated by Leison Thomas [?Bank Farm];
North land Lewys Gilbert; south lane near Michaelchurch; west lands of Thomas Harry David Morgan [Ty Mawr], David Price and John William Prichard [Wern]; east lands of Thomas Harry David, David Price and John Wm Prichard
David Price copy probably White Cottage and Rockyfold.
If this has Escley and a lane on south and David Price in part on east, it looks like Rhyd y Bach.
Tithe Perthy Deon [872, 873, 874] held by Old House
1687: Mr Freeman [1718 Edmd Brydges] held Cae Perthee Deon 12 acres as part of larger copyhold
Surroundings: north lane to Mascoed; east Perkins Copyhold, either White Cottage or Rockyfold land; south river Escley; west Mr Johnson – Rockyfold land
John Perkins had copy on White Cottage, but Perkins also associated with Rockyfold.
Rockyfold
1624: David Price and Blanche Price, his mother; 10.5 Welsh acres, 35 English acres, 2s 7½ d
Messuage and land lie together; surroundings:
Upper end Alexander's land; lower end lane from Longtown to Michaelchurch Escley; one side Mr Greenwich copyhold [Old House]; other side part freehold Watkyn Howell, part freehold David & Blanch Price [must be Llanbadon].
Tanglust Acre – looks like tithe 912 [Cornewall/ Smith]
Tyre Duffryn is tithe 841 & 856, both Old House
Bryn Lloch possibly tithe 782
Caer Grose possibly tithe 856
1678: David Price of Michaelchurch Escley dies; daughter Elinor succeeds
1701: Now copyhold Ann Lewis or John Price; 1s 3½ d. ; described as meadow by barn – 6 covers, above house – 5 covers, unnamed – 9 covers, Cae yr bont – 4 covers, Kae Bryn Hoarth – 7 covers
1733: described as meadow and orchard by barn – 6 English acres,by messuage – 5 acres, Kae M – 9 acres, Britwoarth – 9 acres, Kae Coch – 3 acres, land – 1 acre, Pen y Kae – 11 acres
1791: described as messuage – 3 acres, three pieces – 10 acres, Cae Brin Toarth – 5 acres, land 0.5 acres, Pen y Caie or Givern Gelling – 8 acres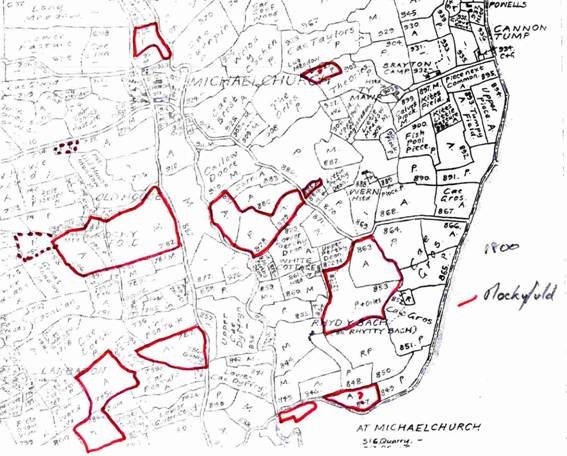 Ty Mawr
1624: Thomas Harry David ap Morgan – messuage and certain lands near Mescoed, late Lewis Gilbert, 12 Welsh acres 12 d.
Also shows Thomas Harry David Morgan with land in Ty Mawr location; reference to Wern includes freehold of Thomas Morgan to north at location of Ty Mawr.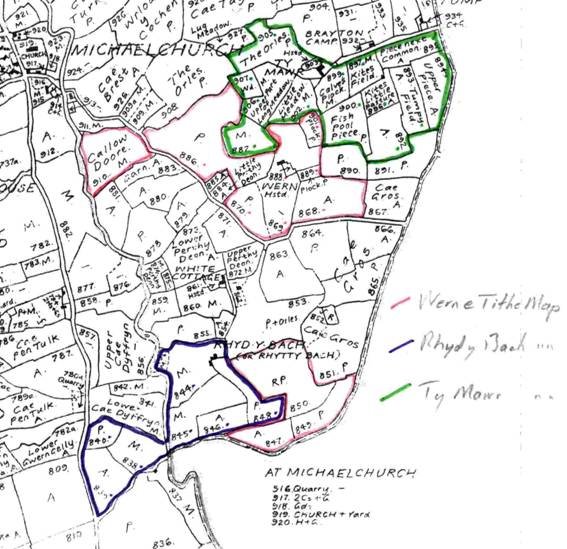 Wern
1624: John William Prichard 15 Welsh acres 46 English acres 3s 10 ½ d [possibly Wern]
Surroundings: north copyhold William Greenwich [Old House]; south Lane to middle Maescoed; west freehold Thomas Morgan [Ty Mawr]; east copy William Greenwich [Old House]. Also adjacent David Price [White Cottage] and David Price [Rockyfold]
Field names Gwor. Ychene 7a; Cae Keven 8a; Parcels 20.5a; parcels 7.5a
Another 2 entries uncertain but third 20.2.0 acres looks like Wern; Wm Greenwich had copy to SW [part of Old House]; Thomas Morgan freehold was Ty Mawr, therefore John Harry Thomas Price had 867, 890, 891 – Cae Gross – but does not mention a house – either not there or not included.
Also 8 acres; one side lane from Keven Bough to Redunnock, one end lane to Michaelchurch Escley, one side freehold Watkyn Powell, other side Leison Thomas
1687: Copyhold, John Watkins entry apparently at 9d.; mirrors the filed names as 1701 3s 10 ½ d but includes an Inn by the church and a house and barn.
1701: 15 Welsh acres possibly John Watkins 3s 10 ½ d by copy of 1665 which did have a house; very different field names Glany Dwr, Glan Dwr, Erron? Bach, Gwor. Cleed, Gwor. Bigill
No name checks with 1624 but 3 parcels could be Cae Keven.
Now has a house.
1719: John Watkins [tobacconist] as heir of uncle John Watkins; then Thomas Delahay, Thomas Balloch 3s 10 ½ d
1754: Kae y Keven 12 acres was part of Watkins' daughter's property
1790: John Brewster; Birches 3.5 acre also Birches 3 pieces 6.75a [over the road?]; Wern Kelin 3.5a; Cae Carieg 4.0a; Lower Cae Kelin 2.25a; no house mentioned [20 acres]
1800: S Exton holds Wern but not as copyholder; surroundings show Exton west of Cae Gross
1844: tithe map shows Wern at 847, 849, 850, 868, 869, 870, 886, 888, 889, 901, 910; acreage = 44.2.13
White Cottage
1624: David Price and mother Blanche; 9 Welsh acres 32 English acres, 2s 3d.
Messuage and 22 acres lying together, surroundings: one end river Escley, other end copy of John Harry Thomas Price, one side William Greenwich, other side Leison Thomas, John ap Bevan
Other adjoining reference names: John Thomas Price; Thomas Harry David Morgan; Cay Cran – Wm. Greenwich; lane Michaelchurch Escley to Mescott; Cay Lloyne Barre – James John Powell, James Powell; Gworlod Gron – David Harry David Morgan; lane Mescott to Abergavenny
1687: John Perkins; little house lately erected about 18 acres [copy much larger]; surroundings north Mauld? John Harry land; east John Watkins copy [= Rhyty Bach?]; south river Escley; west Mr Freeman, Perthy Decon? [= part of Old House]
Additional land Cae Cron & Loyn Bard
1701: Edmond Perkins total 44 covers, 2s 7 ½ d
House lately built 2 covers; Gworlod Goy 11 covers; two patches 4 covers; pasture 8 covers; plus Cae Cron 5 covers; Lloyn Bard 5 covers; Errow Langlust 3 covers
Bounded Escley to south, Mr Freeman Perthy Decon north, John Harry south east [Rhyd-y=Bach?], John Watkins Kynkaytog [Cae Gross?]
Field names marry, as does river boundary; rent differs but almost certainly White Cottage
1790: cottage in possession of Mary Symonds now in occupation Ann Prosser, widow
Walter Morgan deceased to James Williams; 2s 7 ½ d
Cae Croon 25 acres next to road Michaelchurch Escley to Mescoed – Bridges Esq. [Bridges had Old House]
Cae Lloyn Barr 2.5 acres next road, Dorothy Perkins and Bridges copyhold
Worlod Guy? 3 acres + barn; adjoining Bridges/ Dorothy Perkins copyhold, Simon Exton and Escley.
1840: Tithe 872, 873, 874
Rhydunnock
1624: John Watkyn 29 Welsh acres 76 English acres 7s 3d including messuage.
Surroundings: south lane Redunnock Vaure to Longtown [might be Cefn Road]; south east copyhold Katherine Morgam, Elizabeth Verah John [Ty Caradog]; north east Lane Michaelchurch Escley to Longtown; north west copy John Colstock, David Price?, Wm Greenwich [?Llanbadon, Rockyfold]; west copy John Colstock, Wm Greenwich
Ty Cradock
1624: Kateryne Morgan, Elizabeth John
Roland Vaughan 4s 3d. Tenement and 17 Welsh acres 49 English acres called Tyre Cradock – Morgan William Thomas Powell
Surroundings: north east lane Longtown to Michaelchurch Escley; north west copy John Watkyne [must be Rhydunnock]; south west freehold John Harry William Price, Ralph Hopton, Lane Redunnock Vaure to Longtown; south east woody ground free to Kateryne Morgan
---
Ref: tg_mic_0172