| | |
| --- | --- |
| Held at: | Private Collection |
| Reference: | LD_tg_0007 |
| Source: | Original documents |
| Title: | Three Yew Trees |
| Place name: | St Margarets; Clodock; Newton |
| Date: | 1796-1985 |
Description:
Plan in Conveyance 26 August 1868
Conveyance by lease and release 22-23 July 1796
Walter Jeffreys of Brecon esq to Mary Morgan of Maescoed, Clodock, widow
Consideration £80
Cottage and land situated on Middle Maescoed Common in Clodock being part of an estate of John Jeffrey esq deceased purchased by the said Walter and heretofore demised by John Jeffrey as lord of the manor of Ewyas Lacy to one John Morgan for lives of Morgan's sons Philip, John and Walter.
Copy will of Mary Morgan of Middle Maescoed, Clodock, widow, 20 June 1828 under which she left her Cottage and Lands where she then dwelt to her daughter Martha for her natural life subject to an annuity of ten shillings to her sister [Mary's other daughter] Sarah for her life. On the death of Martha, the property to go to Mary's granddaughter Mary Thomas.
Proved at Brecon 8th October 1829; witnesses John and James Watkins and Mary Watkins; executor Mary Thomas.
Notes confirming burial of
Mary Morgan of Middle Mescoed on 15 April 1829, aged 82 in the Parish of Clodock
Thomas Thomas, May 20th 1852 aged 66
Martha Thomas, November 30th 185[?]3, aged 64, the mother of Mary Thomas, was buried at Newton.
Mortgage 8 Feb 1862
William Grennow of Newton in Clodock yeo and his wife Mary (formerly Mary Thomas) to William Watkins of Gwerlodith, Newton, farmer
Reciting: conveyance as above; will of Mary Morgan leaving cottage and land to her daughter Martha for life subject to payment of an annuity to her sister Sarah, and after Martha's death to Mary's granddaughter Mary Thomas; death of Mary Morgan in 1829; marriage of Mary Thomas to William Grennow.
Now the cottage and land as above are mortgaged to Watkins for £120
Marriage certificate of William Grennow aged 35 bachelor, labourer of Longtown, father Peter Grenow labourer, to Mary Thomas aged 22 spinster, 2nd July 1843 Parish of Clodock.
Certificates under Act for Acknowledgement of Deeds by Married Women – Mary Grennow wife of William Grennow 1862 and 1868
Note of William Grennow's interest payments 1858-1861
Conveyance 26 Aug 1868
Grennow to Watkins as above, on payment of £80 to Grennow by Watkins in addition to the sum already due on mortgage
With plan and reference; plan shows Mr Sydney Cole adjoining.
Agreement 27 Nov 1878
William Watkins of the Sleath, Llangua, farmer and Samuel Hughes of Bacton for purchase of cottage and land as above
Conveyance 24 Dec 1878
William Watkins late of Gwerlodith, now of Sleath in Llangua, farmer, to Samuel Hughes of Bacton, innkeeper
Consideration £345
Cottage and land as above now accurately measured and found to contain 5a 3r 2p
Solicitor's bill and receipt to Samuel Hughes for conveyancing costs (£5 11s 7d)
Conveyance 9 Dec 1904
George Hughes of Kerry's Gate, Abbeydore, blacksmith and William Hughes of same, farmer to James Badham of The Three Yew Trees, Newton, farmer.
Reciting will of Samuel Hughes of Bacton, innkeeper, 1899, devising estate to George and William in trust for sale, and death of Samuel 1901.
Now in consideration of £300 cottage and land (now accurately measured as 5a 2r 28p) conveyed to Badham. Plan shows Mr Cole and Trevecca adjoining.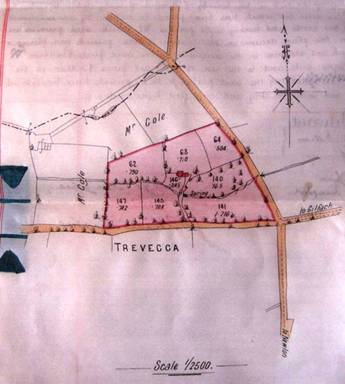 Plan in Conveyance 9 December 1904
Mortgage 10 Dec 1904
James Badham as above to James Farr of the Elms Farm, Kentchurch, farmer, John Edmunds Cole of Pontrilas, grocer and John Powell of the Tan House, Abbeydore, farmer
Consideration £200
Cottage and land in Middle Maescoed known as the Three Yew Trees (5a 2r 28p)
With endorsement that the sum of £200 was advanced by the mortgagees as trustees of the Court Kentchurch Lodge of the Ancient Order of Foresters
Insurance Policy 1905 made out to James Badham on property as above described as private dwelling house, barn adjoining, and agricultural produce in a barn called Greens Barn at St Margarets in occupation of the insured
Conveyance of equity of redemption 7 July 1915
James Badham of the Three Yew Trees Farm, farmer and cider maker to Emma Badham his wife.
Reciting conveyance and mortgage as above and sum of £200 still owing. Now in consideration of the love and affection James has for Emma he conveys the property to her and she covenants to pay the mortgage
Abstract of deeds 1915. [That present relates to Three Yew Trees. However, the Abstract appears also to relate to Colt's Tump and Upper Fernbreigh [? now Fernbreed] but no papers on these are included].
Insurance policy 1929 made out to James Badham on the above property described as dwelling house, stable, barn and cowhouse, open shed, engine house and pigscote
Particulars and contract for sale 1964, Miss HM Badham to Mr WH Tyler
Mortgage of the property 1966 by William Henry Tyler, leading storekeeper
Bundles of abstracts, deeds, search documents and other papers 1953-1985
Observations:
None
---
Ref: sh_stm_1079