| | |
| --- | --- |
| Held at: | Voss Collection |
| Reference: | RS |
| Source: | Original document |
| Title: | Digital Archive – Voss Collection: Dietrich Voss Army Discharge Papers |
| Place name: | Golden Valley  |
| Date: | 1947-1949 |
Description:
Photographs of papers relating to the discharge of German prisoners of war. In the post-war period Germany was in chaos, made worse by the complexities of various occupation zones run by the different Allied countries. The German Army for most practical purposes had also ceased to exist after their surrender in 1945. Nevertheless the government succeeded in operating a process for prisoners of war to obtain an official discharge from German Army service and to collect back pay and other money owing to them. The documentation photographed here, some bearing rubber stamps from both Britain and Germany, seems in hindsight a remarkable triumph of bureaucracy in the face of what must surely have been much more urgent post-war problems.
The photographed documents include official particulars of discharge from the army stamped by the Hereford War Agricultural Executive Committee, the British POW Discharge Centre No. 2 and the German Accounting Office for POW Payments in Hamburg. A cheque made out in US dollars was for work done by Dietrich Voss in American POW camps before he was transferred back to Europe; he never cashed it because as the subsequent documents below describe, such payment vouchers could only be cashed in Germany in German currency and were subject to stringent controls – a classic 'catch 22' for POWs such as Voss who did not return to Germany.
There is also a detailed explanation [in German] of the rights of ex POWs living on UK farms to stay on as civilian workers and the conditions that applied, including supervision by the War Agricultural Executive Committee in the area. The conditions were spelled out in considerable detail including such matters as health and unemployment benefits and taxation, down to specific entitlements to individual items of clothing, towels, razor and toothbrush, cutlery and even a comb and hairbrush to be provided by the farmer where they worked. The farmer in turn was entitled to stop an amount of £2 8s 5d from their pay to cover the cost of the clothes.
Finally there is a page from what appears to be a German language newspaper for POWs in Britain, reporting on events back in Germany including the results of football and tennis matches, swimming competitions and athletics events.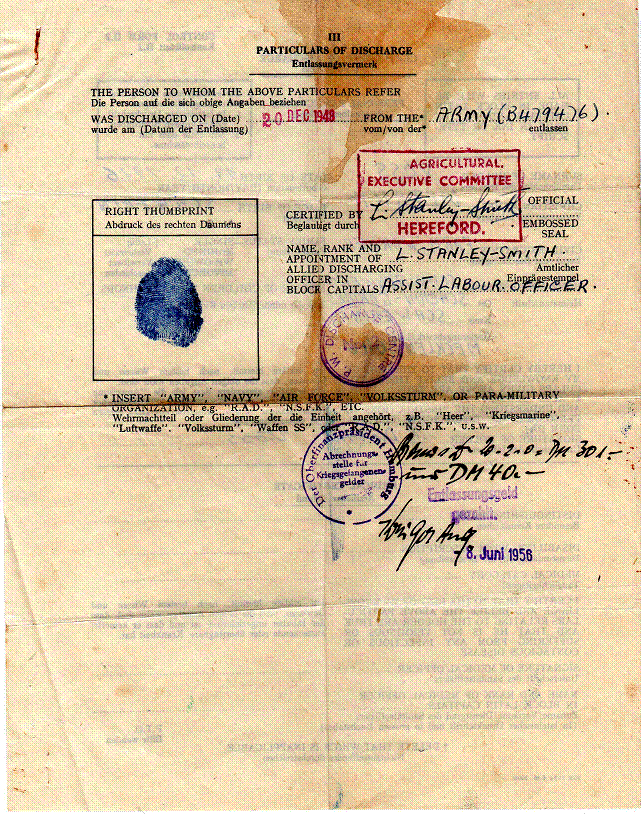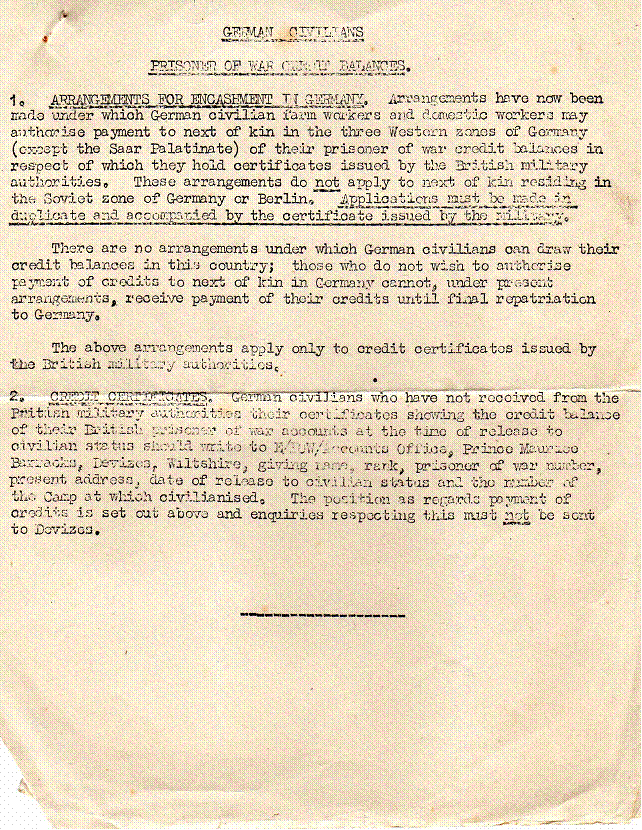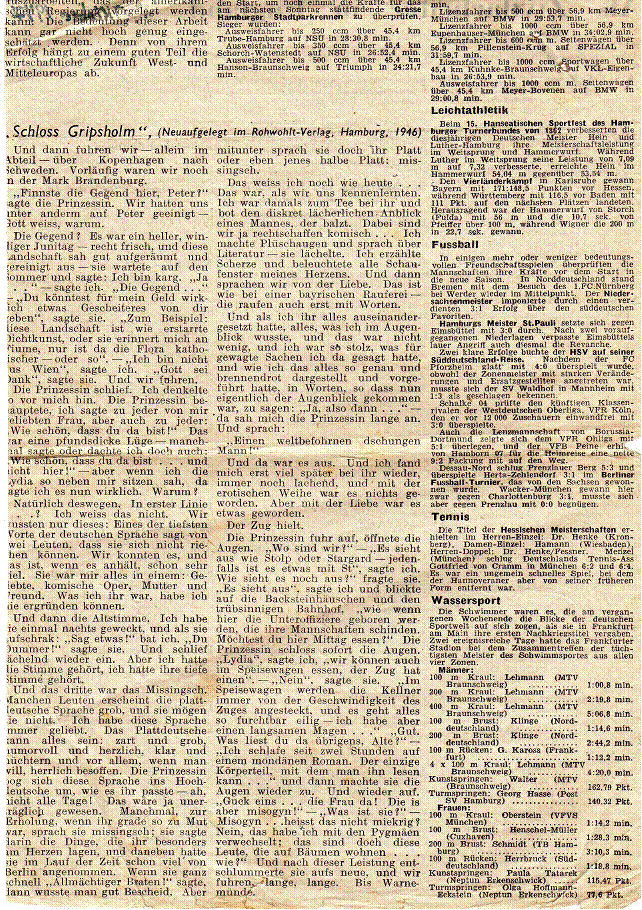 Observations:
Other documents and photographs relating to Dorstone Prisoner of War Camp and its occupants can be accessed from the Index page of the Voss Collection.
---
Ref: rs_gdv_0145