| | |
| --- | --- |
| Held at: | Private Collection |
| Reference: | CG Smith Collection |
| Source: | Original photographs and notes |
| Title: | Digital Archive: Photographs of the Golden Valley Railway - Hay |
| Place name: | Golden Valley |
| Date: | c.1930 - 1940 |
Description:
HAY
196a
Track layout diagram at Hay Station
196

Track layout diagram at Hay Junction
75
Hay Station, c. 1930. The Pontrilas train [Golden Valley Branch] at the platform about to depart.
74
Hay station looking towards Hay Junction, 1932
160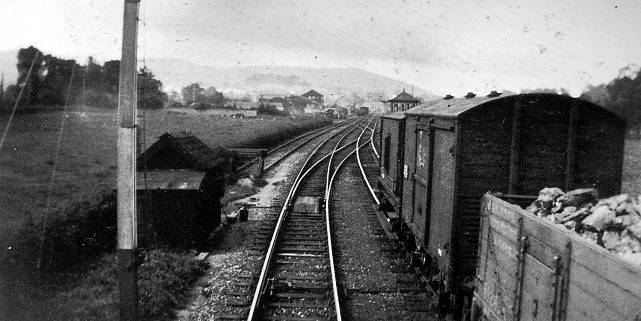 Taken from the footplate at Hay Junction Home Signal, looking towards Hay in the 1940s. The Junction Signal Box is visible over top of the LMS goods van to the right. The signal post on the left is the mark of the end of the single line Golden Valley Branch, 18 miles 75 chains from Pontrilas.
9889
10.25 am Mixed Train from Hay to Pontrilas at Hay Station, January 1940
0185
Photograph taken from the footplate of 5818 at Brecon end of Hay Station. The Golden Valley Branch train can be seen in the background standing at the platform. The Home signal off for engine to run round the train. The Hay Signal Box is visible on the left side over the tank lid. Date unknown
67
Hay Station and Signal Box; looking westwards, with the Golden Valley carriages waiting to return to Pontrilas. Date unknown
67a
Hay Station, looking west. Date unknown.
Observations:
Original photographs taken by CG Smith, Engineman on the Golden Valley Branch of the Great Western Railway from 1924 to c.1960. Reproduced by kind permission of his son, David Smith of Ewyas Harold.
Return to Index page for photographs of other stations on the Golden Valley Branch.
---
Ref: rs_gdv_0017