| | |
| --- | --- |
| Title: | Guest Contribution: The Last Lord Urishay |
| Date: | 2018 |
This paper is written by W. Richard Delahay, a descendant of the Delahay family who were Lords of Urishay, and is reproduced here with the author's kind permission. There are numerous other references to the Delahays and to Urishay Castle and Estate in the website database, notably the Sale of the Urishay Estate in 1913 and the Urishay Room at Baker University, Kansas. Others can be discovered through the website search engine.
Ewyas Lacy Study Group.
The last Lord Urishay
by W Richard Delahay
Contents Page No.
| | | |
| --- | --- | --- |
| Preface | | 3 |
| Chapter 1 | Urishay and the Welsh Marches | 4 |
| Chapter 2 | The American connection | 5 |
| Chapter 3 | Urishay Castle at the turn of the Century | 9 |
| Chapter 4 | The Illuminated Address | 14 |
| Chapter 5 | The sale and dispersal of the Urishay estate | 24 |
| Chapter 6 | Kansas reveals secrets of 17th century Herefordshire | 29 |
| Chapter 7 | The stained glass windows in Urishay Castle drawing room | 34 |
| Chapter 8 | The end of an era | 39 |
Preface
The last Lord Urishay
This article centres on events involving Urishay Castle during the last three decades of its existence as a manor house (1890 - 1920), and includes features from the life of the last Lord Urishay together with the journey of Castle artefacts to the USA.
My interest was stirred on learning that my ancestors lived at the Castle,and the subsequent research produced these accounts which I am pleased to share with readers.
The ruins of Urishay Castle have lain derelict for 100 years. Yet for those,whose imagination is not restrained by practicalities, a dream persists where further decay may be arrested.
Acknowledgement is given to the many references found throughout this account and also the following organisations who continue to contribute to the discovery and preservation the past:
New York Library
Quayle Bible Collection, Baldwin City, Kansas, USA

Friends of Friendless Churches
Historic England
Ewyas Lacy Study Group

Parishioners of Peterchurch
Reference Title page: Lord Urishay………………………. Richard Delahay collection
© 11 July 2018 W Richard Delahay
Chapter 1

Urishay and the Welsh Marches
The border between England and Wales tended to be relatively undefined in the 10th century, with minor disputes arising amongst the sparse population when groups from different settlements accidentally ran into each other whist hunting in the forests. After the Battle of Hastings in 1066, there was a much more politicised and structured attempt to define the border, with Norman sponsored incursions by the English into Welsh territory, with the objective of expanding their fiefdoms to the west.
In 1086 the Domesday map showed the area now known as the Golden Valley in Herefordshire as being bordered with castles at Clifford in the north and Ewyas in the south.When this land was given to the incoming Norman Lords,it was accompanied with an obligation to build defensive structures (minor castles) along the English frontier. Snodhill and Urishay Castles were two examples of this endeavour.
Soon after1086, baron Bernardde Neufmarche (c1050-1125) rose to power in the Welsh Marches and although not mentioned in the Domesday Book, was rewarded by the King, William 2nd of Normandy, and given territories in the Golden Valley, including Urishay Castle. (Ref: 1)
Urishay Castle, initially constructed in the 11th century, was probably of the motte castle configuration. It is likely to have exhibited an original wooden or stone tower atop a mound (motte), surrounded by a wooden palisade. The nearby chapel,dating from the 12th century,would have been built soon after the original castle to serve the inhabitants and local garrison. The castle motte and surrounding ditch probably conceal evidence from the 11th and 12th centuries, contributing to the scheduled monument listing (Ref: 2). The Urishay name probably derives from Urrie de la Haie, who was a 12th century tenant. Medieval records show evolution of the name through Whoryshay (1566), Hay Wrey or Worrish Hay (1667), to Hay Urry or UrishHay (1705). (Ref: 3)
Chapter 1 references:
Ref: 1 Politics and Ritual in Early medieval Europe.J L Nelson 1986
Ref: 2 Scheduled under the Ancient Monuments& Archaeological Areas Act 1979. Entry Number 1014547 (Historic England)


Ref: 3 Ewyas Lacy Study Group. Boundary of the Manor of Ewyas Lacy 1566-1705, Nina Wedell March 2009
Chapter 2
The American Connection
The last Lord Urishay, William Henry Tallmadge Delahay junior, was born in the USA to an American father (Tallmadge) and an English (possibly Welsh) mother (Reese). How this American became the naturalised British citizen, Lord Urishay, will be revealed later in the chapter, after a summary of the Tallmadge and Reese lineage.
Originating from the south of England, Thomas Talmage travelled to America with his three sons William, Thomas and Robert, arriving in Massachusetts around 1631 via the sailing ship "Plough". Another record puts this voyage a year earlier,in 1630, and associates their journey to the USA along with Governor Winthrop. (Ref:1). The youngest son, Robert, settled in New Haven, Connecticut, in 1644, He married Sarah Nash in the Earl of Dysart. Sarah, was also from England and they had five children. Thus started the American lineage of the Talmage family, the spelling of which evolved through Talmadge to Tallmadge over the next 250 years.
(Prior to the 1600s, the name Talmage is believed to have evolved from Tollemache, or even Talmach. These names can be traced back to the 1200s , where manors and property in southern England were held by Tollemache / Talmach)
Eight generations after Thomas Talmage arrived in America, a Frederick Tallmadge, farmer,enlisted in Company E, 2nd Illinois Light Artillery in 1862, and fought in the Civil War. He served for two years and was wounded three times.In 1863, his eldest son aged 14 ran away from home,giving a stranger half a dollar to swear he was his son and give consent to his enlisting in the army as a drummer boy. The drummer boy, William Henry Tallmadge, rose to be Drum Major of the 2nd United States Regulars. The Drum Major was a non-commissioned officer in charge of up to twenty staff whose prime role was to communicate orders to the troops via code dfife and drum signals.
Meanwhile, Urishay Castle and the associated estate in Herefordshire, England, was created in the 11th century, under the Lordship of nearby Snodhill Manor. A prominent tenant named Urry gave rise to the area being eventually referred to as Urry'shaie, (literally translated as Urry's hedge or boundary.) De la haie Urry was readily shortened to "de la haye," "de la Hay,"and subsequently owners of the estate took the name Delahay.
The estate passed down through the de la Hay family for seven centuries until the mid 1800s when the title transferred from Thomas Delahay to his cousin Richard Reese Delahay, whose grandfather William Reese held Penhow Castle in Wales.(Ref: 2). Richard Reese Delahay had a daughter, Sarah, who when aged 22, sailed to New York from Liverpool on the The Queen in 1870. (Ref:3).
The Queen,3517 tons, was built in 1865 by Laird Brosat Birkenhead. She was equipped with three masts rigged for sail, was of iron construction, had a single funnel and single screw, capable of ten knots.
The Queen measured 381.1ft X 42.4ft and was run by the National Line (National Steam Navigation Company) frequently crossing between Liverpool and New York in 10 days.Typically a steamship of this size carried 80 cabin passengers and 1200 steerage passengers, with the lower deck given over to industrial freight (for example cast iron household goods / grates/ benches) and mail.(Ref: 4)
Fig: 1 SS TheQueen (Image courtesy of www.norwayheritage.com)
We might speculate that Sarah Reese, being the daughter of landed gentry,made the crossing in a cabin. She would probably have had to share this accommodation with another female as empty berths were not allowed on heavily booked routes. On 10 November 1870Sarah Reese entered the USA through the Castle Garden immigration centre New York. (Ref:5)
Fig: 2 Castle GardenImmigration Centre New York (Image courtesy of www.norwayheritage.com)
In 1873 Drum Major William Henry Tallmadge married Sarah Reese at Clinton Junction, Rock County, Wisconsin, USA, and they had three children, the eldest son being William Henry junior born in Iowa in 1876. (Ref: 6 and 7).
Drum Major Tallmadge was a member of the Independent Order of Odd Fellows (IOOF), one of the oldest and largest fraternal orders in the USA. His ceremonial sword engraved with his name, together with its ornamental scabbard, are pictured below.
Fig: 3

Fig: 4
Sarah Tallmadge (nee Reese) died in the USA on 19 May 1882,and later, on Christmas day1884, William Henry Tallmadge senior married his second wife Priscilla Reese Nichols in Des Moins, Polk, Iowa. (She may have been a cousin to his first wife Sarah, and she already had a daughter, Myrtle.) In 1885, Sarah's father, Richard Delahay, died and the Urishay Estate passed to Sarah's eldest son, William Henry Tallmadge junior, on the attainment of the age of majority.(Ref: 8).
Over the next 5 years the Tallmadge family planned their immigration to Herefordshire to enable the eldest son acquire the Urishay Estate when he reached the age of 21 years in 1897.
In 1890 the family arrived in England and found temporary accommodation overlooking the River Severn near Lydney, Gloucestershire.
U rishay Castle could be reached via rail from Lydney with two changes of train, the first at Newport, Monmouthshire and the second at Pontrilas, Herefordshire. (The Golden Valley railway opened its route from Pontrilas through Peterchurch to Dorstone in 1881.)
Chapter 2 references:
Ref: 1 Talmadge / Tallmadge /Talmage Genealogy by Arthur W Talmage. The Grafton Press 1909. Ref: 2 Letter from Davis,Lloyds & Wilson,Solicitors, Newport, Monmouthshire, 17 August 1964 Ref: 3 USA Immigration records, Castle Garden.
Ref: 4 www.norwayheritage.com
Ref: 5 Castle Garden.org (The Battery Conservancy)
Ref: 6 www.wisconsinhistory.com Pre 1907 vital records collection Vol 2 page 287
Ref: 7 United States census, 1880
Ref: 8 Abstract of Title to Urishay Estate, dated 20 October 1913.

Fig: 1 SS The Queen,image courtesy of www.norwayheritage.com


Fig: 2 Castle Garden immigration Centre, New York., image courtesy of www.norwayheritage.com

Fig: 3 IOOF Ceremonial Sword …………………Richard Delahay collection.


Fig: 4 Name engraved on IOOF sword,photograph courtesy of M Margaret Haan
Urishay Castle at the turn of the century
The Tallmadge family moved into Herefordshire in the early 1890s,and were recorded as living at Crossway House, Peterchurch, until the legalities of obtaining the title to the Urishay Estate had been formalised.
Fig: 1 Major W H Tallmadge Delahay
During 1895/6/7, the Major, William Henry Tallmadge senior, held a variety of supporting roles in the parish such as Parish warden, Vicar's warden and Churchwarden, at St Peters, the Anglican parish church.(Ref: 1)
Major Tallmadge participated in the social events in Peterchurch. He sponsored the eisteddfod in August 1899 at which Peterchurch joined with choirs from South Wales to provide entertainment along with competitive choral events. (Ref: 2)
In 1897,William Henry Tallmadge junior reached the age of 21 years,and in 1898 he formally petitioned for the title to the estate.On 30th November1898, the College of Arms records the Royal Licence granted to William Henry Tallmadge junior enabling him to take the name Delahay, a condition of inheritance specified in the 1884will of his maternal grandfather Richard Delahay (Ref:3). This gave him the inherited title of Lord of the Manor of Urishay. At the same time, the other members of the Tallmadge family also adopted the surname Delahay.
There is no evidence of William Henry Tallmadge Delahay junior using the title Lord Urishay nor Lord of the Manor of Urishay. This legacy of medieval Britain may, or may not, have rested easily upon an American upbringing. His father may have been comfortable being addressed as Major, a distortion of his US Army rank,as many local village and county reports reference him in this manner.
The preceding years had seen the deterioration and the decay of Urishay Castle,consistent with the prolonged absence of an owner / occupier. Tenants had not restrained the overgrowth that inevitably enveloped the manor house. Now was the time for the new owner to establish his own mark on the property.
Fig. 2…. 1865 sketch of Urishay Castle (southerly elevations) by Lady Frances Vernon Harcourt
A major overhaul of Urishay Castle was initiated, both inside and out. Two "state of the art " features were installed in the house, that of acetylene lighting and electric bells throughout. Both of these features were late 19th century inventions and demonstrate the owner's confidence in making a substantial investment to the property. It is likely that several fireplaces were upgraded with small cast iron grates that incorporated moveable register plates, to improve the control and increase the efficiency of the fire. Tiled sides and hearths were also featured. Hot and cold water supplies to the first floor bathroom could also have been installed during this upgrade.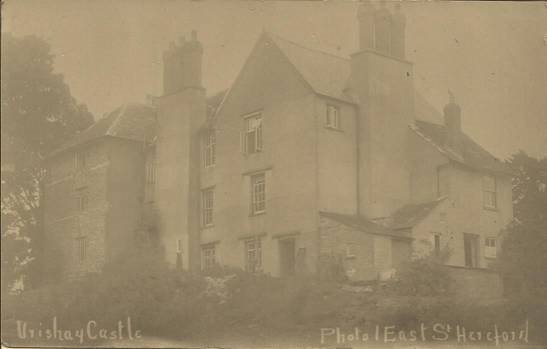 Fig. 3….Photo of the southerly elevations, estimated to be taken around 1900, showing one wing in natural stone and the remaining elevations with concrete rendering. The undergrowth also appears to have been tamed.
The gardens, walkways and three terraces all came in for significant clearance, renovation and replanting. The following photographs illustrate this work and also suggest that external rendering was applied during this period.
Fig. 4….Northerly aspect of Urishay Castle and the early results of the terraced garden renovation.
A similar view, below, of Urishay Castle taken approximately five years later shows the growth of the newly planted gardens. The person standing at the bottom of the flight of steps is believed to be The Major.


Fig.5 …. Urishay Castle front garden approximately five years after renovation
It is estimated that the Delahays occupied Urishay Castle late 1898or early 1899.They participated in the rural life of the locality and the village of nearby Peterchurch.
Fig. 5 demonstrates support to the Golden Valley hunt,and it is likely that they also took part in local shoots for pheasants and rabbits on the estate.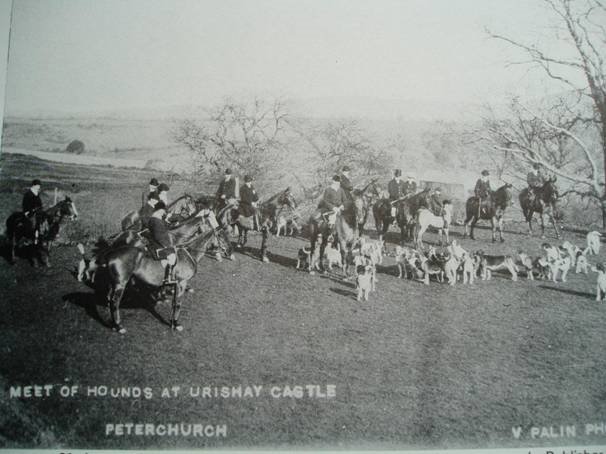 Fig.6 Meet of hounds at Urishay Castle
Thus the dreams of an American family that had been nurtured for 15 years, since the death of Richard Reese Delahay in 1885, had finally come to fruition. A new life in a fairy-tale castle in a foreign land, a resident Lord of the Manor and a comprehensive upgrade of Urishay Castle.
Ref: 1 Vestry Minutes, Peterchurch

Ref: 2 Hereford Times 19 August 1899

Ref: 3 Abstract of Title to Urishay Estate 1913
Fig: 1 Major Tallmadge Delahay……………Richard Delahay collection

Fig 2 Sketch of Urishay Castle by Lady Frances Vernon Harcourt


Figs 3,4,5 Photos of Urishay Castle……….Richard Delahay collection

Fig 5 Photo of Foxhounds meet at Urishay Castle…………V Palin
Chapter 4


The Illuminated Address
William Henry Tallmadge Delahay junior and his siblings had been transported from the USA to rural Herefordshire where their lives now centred upon estate affairs and local festivities in the village of Peterchurch.
By 1900, William Henry junior had gained a title, Lord of the Manor of Urishay, his younger brother had recently died of tuberculosis in 1899, aged 20, and his elder sister had married into the farming community leaving him in a depleted household consisting of his father, step-mother and step -sister.


Fig: 1 Trooper W H T Delahay
Meanwhile, British Forces in South Africa had been seriously overrun in December 1899 in the controversial war against the Boers, prompting Queen Victoria to authorise the recruitment of volunteer reinforcements for the British Army.
William Henry junior responded by joining the volunteer force, the 5th Battalion, 13th Company, Shropshire Imperial Yeomanry, (Fig: 1.)
It is possible that he was encouraged in this move by his father, William Henry senior, who had a military career during the American Civil War.
The Imperial Yeomanry was a mounted force,drawn mainly from rural estates where a volunteer was expected to supply his own horse, uniform and saddlery. The period of contract was for one year, which attracted a payment of £65 on joining. Initially assembled at Mafeking, they later saw action at Dwarsvlei, Krugersdorp, and Wonderfontein. (Ref:1)
Under the direction of Lt-Col F C Meyrick, the 5th battalion undertook prodigious marches and became renowned for their superior mobility which contributed to the temporary entrapment of the Boer Leader Christiaan de Wet at Rhenoster River.
Whilst serving in South Africa, two men from the Shropshire Yeomanry wrote letters home to Herefordshire describing their life on the front. Both letters were published in the Hereford Journal (Ref: 3 ) and one of these is reproduced here as it conjures up images of the hardships endured and Lord Delahay, known to his comrades as Billy Delahay, features as a cavalry-man who through good fortune escapes with his life.


Quote: The following letter has been received from Mrs Mellor of Dilwyn, from her son who is serving with Yeomanry, 18 miles north of Lindley, July 6th 1900.
"My dear mother, yesterday I received three letters from you,the latest June,god. I also received the boots and socks. I do wish you had sent me some baccy in one as we have nothing but raw lee to smoke and Charlie says he wants me to hold his hand while he takes a pull, it is so horribly strong.The only way to get it out here is to have it labelled "comforts" or socks, or something or other and send about two at a time in a tin. We have been messing about in circles between Bramlstad, Heilbron and Lindley for the last month and have now, I believe, got de Wet completely surrounded and must be trying to starve him out, but I don't think they will ever do that so long as we continue to leave stock at all the farms which pretend to be loyal.Men come in every day and bring some rotten old rifle with them, they are a pass, back they go, dig up their Mainers, and join the Commando. Two or three days later you go to the farm, the crew produces the pair giving security to all their goods. You ask where the farmer is and are told he has gone to the town for stores, etc. It is as rotten as can be, I believe we are on our way to Lindley now, but nobody seems to know. A convoy came in yesterday and I think it was a new rig out for us, which we are sorely in want of. I have only a thin pair of khaki togs on now and they are all torn to rags and tatters. My Bedford cord was stolen by some xxxxxxx, also my other shirt and one pair of socks, so the pair you sent were a real comfort. We wear out socks so quickly doing such a lot of walking and so seldom taking our boots off. I wish you would send me a pair about every other mail with a little baccy in each. It is jolly cold at nights now. You wake up and find your mackintosh sheet frozen as stiff as a board all round you, as white as snow if snow had fallen but by sleeping all together, ie, Edwards, Charley, Delahay and self, in that order, we manage to keep jolly warm. Each has his head in his own saddle, which serves as a windscreen. You would be amused if you could see us sitting round our fire at night cooking our evening meal.The two Farmers, Panniers, and our four have a fire between us, and sit round in the firelight and cook a bit of meat or fry a biscuit in some fat. You know the sort of little black tins you see tramps drinking out of at the side of the road. That is the sort of tin we drink our tea out of. The other day we were served out with a lump of fat to grease our saddles with, but we found it very good stuff to fry our biscuits in so the saddle came off second best. Our squadron has diminished horribly. Night guard comes round every third night. Dent has gone to hospital, and one of the Partridges, neither of them very bad I am glad to say. We had a very sharp turn the other day, and were very lucky to get off with only one man killed, wee Hulton, from Shrewsbury way, and the prisoner Jasper More's son. He and Green Price were left to look after a wounded man. When the doctor came up, Green Price was sent back with the man in a cart, and More went on with the doctor to join us.They had not gone half a mile when up jumped 38 Boers out of some nettles and took them both, letting the doctor off of course. I am afraid More will have a very poor time of it. Our C section had three times to dismount in the open within 1000 yards of the bullets and lie down there to return their fire. They always give it to us hot while we are dismounting, as of course we have to get into clumps to give up our horses to the third man. When we dismounted the bullets were coming round us like hail and yet no one was hit. Edward's horse was shot and died shortly after, while Delahay was leading him away, and two other horses they were hit. Panniers had a bullet in the helmet which was much too close to be pleasant. I can't think that the Boers are good shots because they were under cover and within 800 yards of us, and I'm sure if we had been in their places they would have had a poor time. The funny thing about it is that when the bullets are coming so thick it never occurs to one that he will be hit, you keep expecting everyone else to be and keep looking round to see if anyone is down. It was hard luck on poor Hulmon, he died next day and Charley, Delahay and self under H C E Phillips, were told to dig his grave. It was a most melancholy job. We were going to stay here the day and had hoped to get three or four letters written, but now I hear we are to march off at 1.30pm with a convoy towards Kroonstad so I must close and pack up with love to you all and all my friends at Hereford, I am, ever your affectionate son, Gimes F Maxon.
( James Mellor ?)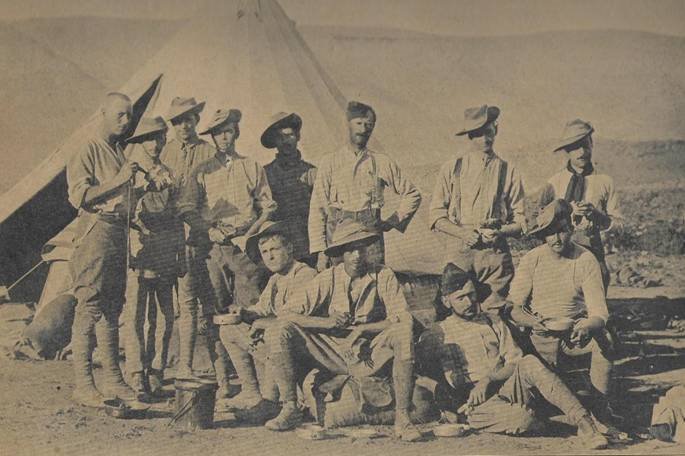 Fig 2 Boer War meal break1900
Reading from left to right,standing: (1) Trooper Charlie Britten, (3) Trooper Partridge (Bacton), (4) Trooper W H T Delahay (Urishay Castle), (7) Trooper Partridge (Bacton),(8) Trooper Oswald Panniers, Seated: (1) Trooper Mellor, (2) Trooper Edwards (Brinsop), (3) Trooper Hugh Pitt (Dormington), (4) Trooper Dent (Much Cowarne).
Good fortune resulted in the Lord of the Manor of Urishay returning safely from the South African conflict, and as did all who had served in 1901-1902, Trooper W H T Delahay became eligible for the QSA (Queen's South Africa) medal.
Fig 3 QSA Medal
Such was the joy experienced by the Delahay household that he had returned safely from the war to Urishay Castle, his father commissioned an illuminated address for presentation to his son. This address (Ref: 2) has survived to this day.It now resides in the archives at Hereford Record Office. The following is a detailed explanation of the address: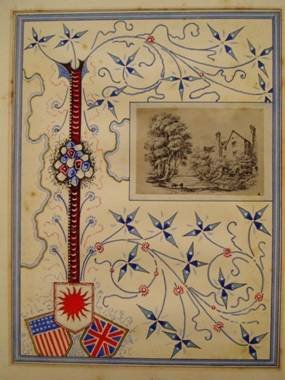 Fig 4
The first page contains an inset sketch of Urishay Castle created in 1865 by Lady Francis Vernon Harcourt.
The same sketch appears in the book A History of the Castles of Herefordshire and their Lords(Ref: 4)
The coloured ribbon at the left leads down the page to the three shields representing the USA ( Stars& Stripes), the Delahay coat of arms( red sun), and the United Kingdom (the Union Jack).
Although the Tallmadge Delahays had become naturalised citizens of the United Kingdom in 1898, this address, created in 1901,celebrates the American ties of the then current Delahay family.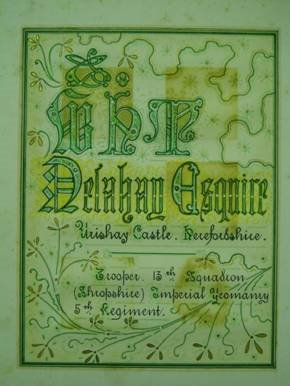 Fig 5
The second page shows the main illumination dedicated to W H T Delahay Esquire, Urishay Castle, Herefordshire, Trooper, 13th Squadron (Shropshire) Imperial Yeomanry, 5th Regiment.
W H T Delahay junior responded to Queen Victoria's War Office call for enrolment in the first contingent volunteer force to reinforce the British Army in 1900. He enrolled as Private, service number 1320, and became one of 11000 men, in 20 Battalions, contracted for one year's service in South Africa to push back the relentless Boers.
The policy was to enlist volunteers of a higher social class and education than the regular British Army.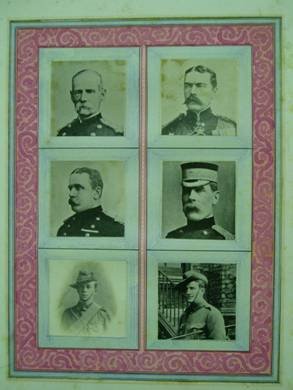 Fig 6
The third page shows photos of 6 men in military uniform.
Top left:Lord Roberts, who was in command of the British Troops in the 2nd Boer War.
Top right: Lord Kitchener, Chief of Staff to Lord Roberts.
Centre left: Lieutenant General J D P French, commander Cavalry Division South Africa Field Force.
Centre right: Paul Sandford Methuen, 3rd Baron Methuen, British Military Commander.
Bottom left: Trooper W H T Delahay, 13th Squadron (Shropshire) Imperial Yeomanry 5th Regiment.
Bottom right: Believed to be Trooper W H T Delahay on his returm from South Africa in 1901
The page of photos depicting men in uniform is celebrating the British militia and demonstrating a feeling of pride to be a British soldier.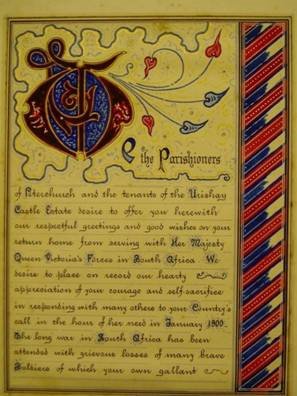 Fig 7
The address reads:
We the Parishioners of Peterchurch and the tenants of the Urishay Estate desire to offer you herewith our respectful greetings and good wishes on your return home from serving with her Majesty Queen Victoria's Forces in South Africa. We desire to place on record our hearty appreciation of your courage and self sacrifice in responding with many others to your Country's call in the hour of her need in January 1900. The long war in South Africa has been attended with grievous losses of many brave Soldiers of which your own gallant …………………
Fig 8
… Regiment has borne its share, but it has also proved that in whatever quarter the British Empire is attacked her Sons are no less ready than of old to rally round the old Flag at the call of duty.
We are proud to feel that our own Parish of Peterchurch has been so loyally represented at the Front, and in presenting you with this slight token of our esteem and …
Fig 9
… kindly feeling we desire to express our thankfulness that you have been spared to return home again, and trust that many years of happiness and usefulness lie before you at Urishay.
Feb. 19. 1901
The photo at the bottom of the page shows two male and two female persons near the moat at Urishay Castle, but the images are too indistinct to determine who they are.


The address closes with a five page listing of 57 well-wishers from the Peterchurch area, and includes 12 tenants from the Urishay Estate, 6 local farmers, 2 priests, 1 physician and 5 artisans.
| | |
| --- | --- |
| | |
| Fig 10 | Fig 11 |
| | |
| Fig 12 | Fig 13 |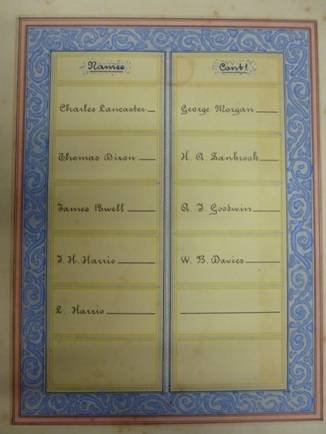 Fig 14
Note on the Boer Wars
The South Africa wars (Boer Wars) at the turn of the 19th / 20th century were primarily concerned with maintaining British control in their annexed territories. The volunteer forces who were fighting for "Queen and country" viewed the preservation of the British Empire essential to support trade and therefore the nation's wealth, and also to confirm the superiority of the British over other potential imperialistic threats. After the South African wars many British politicians, together with their followers, began to question the morality of such vicious suppression and thus began the beginning of the end of the red areas on the world map.

Chapter 4 references:
Ref: 1 South African Military History Society, The Imperial Yeomanry, Journal Vol 13 No 6
Journal Vol 14 No 1 & 2
Ref: 2 Hereford Record Office, Illuminated Address Peterchurch B067 / 22
Ref: 3 Hereford Journal. Sat 11th August 1900 "At the front…………… "
Ref: 4 A History of the Castles of Herefordshire and their Lords. by Rev Charles J Robinson, MA.
Fig: 1 Trooper W H T Delahay…………………Richard Delahay collection
Fig: 2 Newspaper photograph, source unknown, courtesy M Margaret Haan.

Fig: 3 Queen's South Africa medal ………….. Wikipedia


Figs: 4,5,6,7,8,9,10,11,12,13,14 Hereford Record office, Illuminated Address Peterchurch BO67/22
Chapter 5
The sale and dispersal of the Urishay Estate
Over the latter half of the 19th century the improving productivity on British farms was somewhat overpowered by the improvement in world transport, resulting in the importation of grain from the USA, beef from Argentina, wool from Australia and New Zealand, which together conspired to undercut the price of home produced food. British farm prices continued to fall in the early1900s with the knock- on effect of increasing debts and falling income from rented property. This deteriorating economic climate for British agriculture, was responsible for the start of the long-term break-up of large rural estates.
The upkeep of Urishay Castle with its complement of three full-time staff, a cook, a housemaid and a coachman, soon became less and less practical. By 1905 the Delahays had moved to nearby Urishay House, whilst the Castle was rented out again to a tenant farmer. (Ref: 1). By 1913, with the rural economy of Britain now in a recognised state of economic depression, Urishay Castle and the associated estate was destined for dispersal.
On 24 September 1913, the whole of the Urishay Estate comprising the main Castle residence, the chapel, eleven farms and various other cottages, a flour mill, workshops, smallholdings and accommodation land, a total of 1568 acres, was put up for sale by auction.(Ref: 2)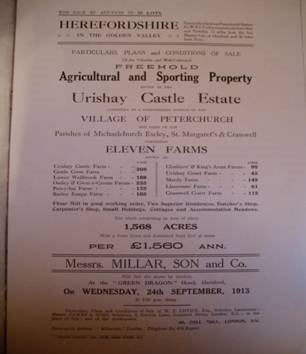 Fig 1
The auction took place at the Green Dragon Hotel, Hereford, administered by Messrs Millar, Son &Co, who advertised that the rental value of the estate was £1560 per annum. All of the tenants had been given notice to quit at the end of their lease, allowing potential purchasers speedy possession of the properties. This approach would have caused great concern amongst the older tenants,who would have had difficulty in raising mortgages to purchase the farms they already occupied.
At the auction (Ref: 3) only a minority of eight lots were sold to sitting tenants.22 lots were withdrawn, the reserve not being met.The remaining lots were sold, representing approximately 33% of the acreage, realising in the region of £10,000.00 The detailed results of the sale are shown in the table below:
LOT

NUMBER

DESCRIPTION

DETAIL

TENANT

PRICE/PURCHASER

1

3 Meadows

11 acres

C Hancorn /

J McCaull

£465 C E Lane

2

2 Cottages / 2 Shops

Craswell & Sons /

Miss Lewis

£210 bid. Not Sold

3

Cottage & garden

V B Vale

£195 bid. Not Sold

4

Garden

0.3 acre

Mr Finch /Miss

Lewis

£35 Mr Lane

5

Garden

0.25 acre

C A Lane

£40 Mr Lane

6

High House smallholding

3 acres

J McCaull

£560 bid. Not sold

7

Orchard

0.5 acre

J McCaull

£50 J Hancorn pp.

8

Pasture

0.5 acre

J McCaull

£30

9

Orchard / Pasture

0.8 acre

Mrs Jones

£21 Mr Harris

10

2 meadows

5 acres

G A Watkins

£200 Mr Price

11

2 meadows

5 acres

J McCaull

£170 T P P Powell

12

Meadow

1 acre

J McCaull

£60 T P P Powell

13

Upper Mowbach cottage

5 acres

A E Goodwin

£165 Not sold

14

Meadow

1 acre

J Hancorn

£59 J Hancorn

15

Meadow

2 acres

J Hancorn

£82 10s J Hancorn

16

2 meadows

1 acre

J McCaull

£70 J Hancorn

17

Meadow

0.5 acre

J Hancorn

£22 10s J Hancorn

18

Meadow

0.25

J Thomas

£5 Mr Thomas

19

Meadow / Building site

2 acres

J McCaull

£200 R Williams

20

Meadow / Building site

1 acre

R Howard

£50 J Williams

21

3 Meadows / Building sites

2 acres

J McCaull

£130 S Watkins

22

Urishay House

3 acres

£750 Not sold

23

Wellbrook Farm

187 acres

C Hancorn

£3475 Not sold

24

Cobb Hall cottage

13 acres

C Hancorn

£185 Not sold

25

Meadow

2 acres

C Hancorn

£100 R Williams

26

2 meadows

13 acres

C Hancorn

£700 J Hancorn

27

2 meadows

14 acres

C Hancorn

£555 J Hancorn

28

2 arable fields

12 acres

C Hancorn

£495 Mr Griffiths

pp W Morris

29

Trenant Mill

8 acres

R Howard

£570 Not sold

30

Pen-y-Lan Farm

175 acres

A Watkins

£2500 Not sold

31

Barley-Knapp Farm

102 acres

G A Watkins

£1250 Not sold

32

Keepers cottage

17 acres

G A Watkins

£225 C Price

33

Urishay Castle & Castle Cwm

Farm

207 acres

J Price

£5200 bid.

Not sold

34

Urishay Court Farm

42 acres

William Pritchard

£1050 Not sold

35

Oatley Farm

235 acres

Jonathan Howells

£4200 J Price

36

Cwm-Crone

10 acres

Jonathan Howells

£135 C Price

37

Oatley Meadow

13 acres

John Price

£330 Not sold

38

Arable land

14 acres

John Price

Not sold

39

Arable land

3 acres

William Pritchard

Not sold

40

Arable land

3 acres

William Pritchard

Not sold

41

Arable land

1 acre

William Pritchard

Not sold

42

Bessex's Cottage

Not sold
| | | | | |
| --- | --- | --- | --- | --- |
| 43 | Cottage | | J Price/W Howard | £45 Not sold |
| 44 | Pasture | 0.5 acre | Lewis Williams | £20 L Williams |
| 45 | Clothier & Kings Farms | 90 acres | Victor Lane | £1325 Not sold |
| 46 | Ivy House smallholding | 12 acres | Mr A Lewis | £150 A Lewis |
| 47 | Pasture | 6 acres | Thomas Gwilliam | £75 Not sold |
| 48 | Merdy Farm | 148 acres | Thomas Gwilliam | £1350 Not sold |
| 49 | Lower Llan-Rosser Farm | 60 acres | Aaron Meredith | £875 J Price |
| 50 | Craswell Court Farm | 112 acres | Mrs Gane | Private sale |
Referring to Lot 33, Urishay Castle failed to sell at the auction.
Referring to Lot 45, Clothier & Kings Farms failed to sell at the auction, but were re-auctioned in 1919 after "being put into good repair". This time the farms were bought by Mr Clifton Hill.
After the main sale of the Estate in 1913, at which Urishay Castle failed to find a buyer, folklore records that the Castle residence was offered to the sitting tenant for £500,who declined the offer.
In 1914, Mabel Clare de la Hay,the Major's daughter, dismayed not only at the break-up of the estate but also by the probability that abandonment of the Castle would subject the chapel to a similar fate, initiated a public subscription to raise funds for the preservation of Urishay Chapel.The chapel was rededicated for public worship in 1914 by the Bishop of Hereford, but its new life was short-lived, as by 1923 it was again abandoned to the elements. The Friends of Friendless Churches eventually acquired the chapel and completed a restoration programme in 2009, the chapel now standing as a cared-for monument. (Ref: 4)
In 1919 a further unsuccessful attempt was made to sell the Urishay Castle site together with reclaimed building materials.
By 1921,the Castle was further demolished and some architectural features were sold off by a reclamation / salvage merchant believed to be James Henry Leeke. (Ref:5) At this time, many of England's historical artefacts were finding their way to the USA, and the buoyancy of such trade prompted antique dealer Charles Lockhart Roberson to purchase the Knightsbridge Halls in London uniquely for the purpose of displaying desirable old rooms for sale. The Drawing Room panelling and overmantle from Urishay were reassembled and presented for sale in the Knightsbridge Halls, along with reconstructed rooms from other manors across England.(Ref: 6).
Fig: 2 (Ref: 6) Room No. 12 on the plan is described as: Early Jacobean Oak Room from Urishay Castle.
The artefacts reassembled for sale were not necessarily to the same size as the original configuration, but were primarily reconstructed to suit the dealer's sale premises and convenience. Roberson had workshops in nearby Kinnerton Street and undoubtedly many adjustments and recreations took place before the rooms were displayed. A description of the Urishay room by CharlesL Roberson (Ref:7) mentions that the original carved stone opening to the fireplace could not be removed, so a fine reproduction was fitted for the reconstruction. He also gives special mention to the frieze above the panelling and the "handsomely carved pilasters" in the room.The same book contains a sketch and a photograph of the Urishay room that was for sale.(See photos belowFigs: 3,4)
| | |
| --- | --- |
| | |
| Fig 3 | Fig 4 |
Records indicate that salvaged oak panelling from Urishay Castle found its way to:
a. The Isle of Mull.Initial attempts to locate this panelling have produced no positive result.
b. Baker University . A full scale reconstruction of a Jacobean room using panelling from Urishay exists alongside the Quayle Bible Collection, Baker University, Baldwin City, Kansas, USA. This is believed to be the room described in Roberson's book, and is investigated further in Chapter 6.
c. The Forest of Dean. Panelling from Urishay Castle is installed in a private house in the Forest of Dean. An account of this salvage rests with the house owner.
The demise of Urishay Castle and its associated estate took place over eight years from 1913 the date of the original sale, to 1921 the date of demolition. This places Urishay Castle as the first manor house in Herefordshire to succumb to the prevailing economic pressure in the 20th century. Many other estates followed suit with a crescendo occurring in the 1950s,when 85% of Herefordshire's lost manors "fell over" in this decade. (Ref: 8)
Chapter 5 references
Ref: 1 Kellys Directory of Herefordshire 1905
Ref: 2 and Fig 1 Ewyas Lacy Study Group . Sale of Urishay Castle Estate, tg ewy 0033 doc.
Ref: 3 The saleof Urishay Castle, by Ewyas LacyStudy Group / Hereford Times27 September 1913


Ref: 4 Saving Churches by Matthew Saunders, Friends of Friendless Churches.


Ref: 5 Records with Quayle Bible Collection, Baldwin City, KS, USA
Ref: 6 and Fig:2 Moving Rooms (The Trade in Architectural salvages). John Harris,Yale University Press.


Ref: 7 and Figs:3,4 Historical rooms from the manor houses of England, Charles L Roberson, Vol1

Ref: 8 Lost Heritage / England's lost country houses, compiled by Matthew Beckett.
Chapter 6
Kansas reveals secrets of 17th Century Herefordshire
The castles along the English/ Welsh border are well known for their roles as English strongholds during the 11th and 12th centuries, but it may come as a surprise to learn that, five hundred years later, a role reversal occurred, whereby one castle chose to overlay its English heritage with a celebration of the Welsh rulers who were persistent in their attempts to expand to the east.


THE JACOBEAN PANELLED ROOM GOES ON DISPLAY
The oak panelled room, almost 20 feet square, complete with its doors, carved over-mantle and coloured glass windows, was re-erected in the Knightsbridge Halls, London, and offered for re-sale to a world- wide audience.
Its first significant destination was to be Marshall Fields, the Chicago department store, where it was pressed into service as an authentic backdrop for the store's display of antique furniture.
However, in the USA , Scribner's magazine (Ref: 1) contains a full-page advertisement for an exhibition of antiques and other home decorations. The exhibition occupies the entire building at Hampton Shops, 18 East 50th Street, facing St Patrick's Cathedral, Long Island, New York.
The advertisement highlights the early Jacobean room from Urishay Castle, Herefordshire, as a backdrop to the display of antique furniture. Whether this exhibition was associated with Marshall Fields is not clear.
The photograph of the panelled room shows the over-mantle / chimney piece(Fig: 1), which looks identical to that shown (Fig;2) in Charles L Roberson's Historical Rooms from the manor houses of England, Vol1. (Ref: 2).(The photographs are taken in USA and London respectively.)
The over-mantle / chimney pieceis not the same as shown in current photographs of the Urishay Room at Kansas University. (Fig: 3)
This observation leads to the speculation that the over-mantle / chimney piece that was sold in London did reach the USA, and went on display as a backdrop to promote the sale of antiques, but by the time the room panelling reached Kansas, the over-mantle chimney piece had been replaced by a different unit.
In the late 1920s, American museums were keen to show off "British history", and after being in a prominent position in Marshall Fields for approximately 6 years, the drawing room was acquired by the Art Institute of Chicago, where it was on display as a Jacobean oak panelled room.
THE WAR YEARS
By the mid 1930s,the enthusiastic aggregation of panelled rooms from Europe had saturated the American museum environment such that a measure of off-loading became inevitable, and the drawing room from Urishay Castle later found itself preserved in crates in the basement of the Art Institute of Chicago.
There the Herefordshire treasure languished during World War 2 and its 15 year aftermath, whilst market forces diverted collector's interests towards more immediate needs.
RESURRECTION
In 1962, the drawing room re-emerged from its storage crates, having been purchased by benefactor Helen Spencer for donation to Baker University, Kansas. This generous action was organised to coincide with the re-housing of the William Quayle Rare Bible collection, which also formed part of the University's collection. A custom-built extension was added to the new Spencer wing and the Urishay panelled room was installed in a temperature controlled environment adjacent to the Bible display.
| | |
| --- | --- |
| | |
| Fig 4 . Stained glass windows set high in the walls | Fig 5. Carved over-mantle with pedestals and pilasters |
| | |
| | |
| Fig 6 Pilaster detail | Fig 7 Carved frieze and cornice |
RE-DISCOVERY AND REVELATION
It was in 2007 on a visit to Kansas to view the exhibit from the 17th century manor house,that I hugged the walls in search of "voices from the past". Instead of voices, the stained glasswindows set high in the oak walls presented a puzzle awaiting interpretation.
Of the six coats of arms so beautifully presented (Fig 8), only one was immediately recognisable, that being the pointed red sun of the12th Century Lord of the Manor John de la Hay.
Research revealed that the other five mystery coats of arms celebrated the Welsh rulers and their homelands, who had led their clans to battle against the English throughout the Welsh Marches in earlier centuries.
They were Deheubarth (An area in medieval South Wales), Lestynap Gwryant (Welshruler of Morganwg), Llywelyn (the Royal House of Gwynedd), Gruffydd ap Cynan (Aberffraw dynasty), and Owain Gwynedd (Grandfather to Owain Glyndwr, Llywelyn the Great).
Other visuals, such as those associated with nearby influential manors in Ewyas Lacy and Snodhill, were conspicuous by their absence, as were the composite quadrants that typically signified family marriages. The five coats of arms on display clearly acclaimed the Welsh leaders of the 11th , 12th and 13th centuries.
But the existence of these Welsh coats of arms, displayed so prominently in the Urishay Room, required deeper examination if an explanation for their presence was to be found.
Two relevant discoveries emerged;
…………firstly, Urishay Castle was rebuilt as a manor house in the 17th century and would have reflected the Lord of the Manor's desire to make a statement about his politics, heritage and position in society.
…………secondly, Lord of the Manor of the Urishay Estate at this time, Thomas Delahay, was of predominantly Welsh descent and the family held a handfulof estates in the vicinity of the Welsh Marches.
We are therefore led to the conclusion that the stained glass windows featuring in the 17th century rebuild were a celebration of Welsh history,Welsh command of Urishay, and Welsh aspirations for the future.
And so Urishay Castle, originally one in the north/ south borderline of English strongholds, came to demonstrate a Welsh allegiance. Was this a controversial statement in 17th CenturyHerefordshire ?
Quite possibly it was, although the subtle visuals displayed in the drawing room would have ensured the message reached only those who were invited in. Welsh domination of the Urishay Estate continued throughthe 17th , 18th and most of the 19th centuries.
Currently, the Urishay Room is used for lectures and choral events,and is said to "glow with pride" when it is filled with an appreciative audience.
Being adjacent to the Quayle Rare Bible collection, many of these events in 2011 were associated with the 400th anniversary of the 1611 publication of the King James version of the Bible.
Baker University, Kansas, is to be applauded for the care and attention lavished on the Urishay Room, ensuring its preservation for the pleasure of future generations.
Ref: 1 Scribner's magazine (approx:1921) Volume 70 Page 4
Ref: 2 Historical Rooms from the manor houses of England, Vol 1. Charles l Roberson.
Fig: 1 Scribner's magazine (approx:1921) Volume 70 Page 4
Fig: 2 Historical Rooms from the manor housesof England, Vol1. Charles l Roberson.
Figs 3,4,5,6,7 Photographs of the interior of the Jacobean Room are with permission of Quayle Bible Collection, Baldwin City, KS, USA. (Baldwin University copyright.)
Fig: 8 Richard Delahay collection, with permission of Quayle Bible Collection, Baldwin City, KS, USA.
Chapter 7
The stained glass windows in the Urishay Castle drawing room
The 11th and 12th century border disputes between England and Wales involved Welsh forces from medieval territories with names bearing little resemblance to their modern counterparts. The map of medieval Wales shows these territories, and provides a basis for the interpretation of the six windows displayed in the Urishay Room.
Medieval Wales
The six stained glass windows, each featuring a crest at the centre, are shown below together with a blazon (in brackets) and an interpretation of their origins.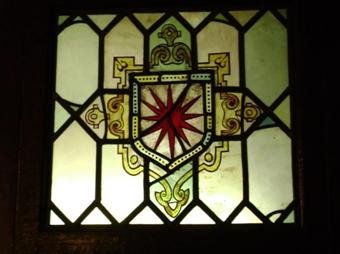 Fig 1
Fig:1 A multi-pointed red sun (or star) on a white background. (Argent estoile of 16 points gules) The coat of arms of Delahay.
From the 12th century onwards, the Delahays have been associated with Urishay Castle, by virtue of the prefix to the name of an early tenant,John de la Haye Urry.
The timing of the change of emphasis from the last nameto the prefix de la Haye is unclear, however it is known that this had occurred by the 18th century, as in the nave of the Anglican church in Peterchurch there is a stone memorial dated 22 April 1775 to John Delahay and his wife. In the18th and 19th centuries the Delahays held numerous estates in the Golden Valley and in the adjacent lordshipof Ewyas Lacy. Urishay Castle Estate was held by the Delahays through this period up to its eventual demisein 1913.
Fig 2
Fig: 2 A golden lion rampant on a red shield, witha gold background. (Or, lion rampant on shield gules)
The central feature of the crest of Deheubarth.
Deheubarth was a substantial portion of southern Wales in the medieval period 920 to 1066.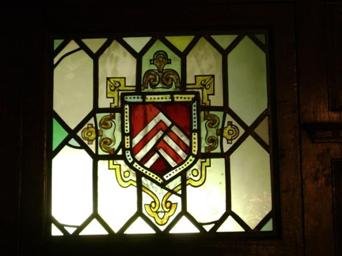 Fig 3
Fig: 3 Three white chevrons on a red background. (Gules three chevrons d'argent.) The coat of arms of Lestyn ap Gwryant, (1045- 1093), the last Welsh ruler of Morganwg.


Morganwg (now the county of Glamorgan) was the southernmost portion of Wales, and this lordship bordered the south west boundary of theMarches, frequently the scene of fighting between the Marcher Lords and Welsh princes.
Fig 4
Fig: 4 Three eagles, vertically placed on a green background. (Sinople three eaglesof the first or.) The central feature of the coat of arms of Owain Gwynedd,(1100 - 1170.)


Owain Gwynedd was the first Welsh ruler to use the title "Prince of the Welsh" (princeps Wallensium). He was a strong leader in northern Wales whose sons, Hywel and Cynanlater continued in his mould to keep theEnglish out of Wales. Owain Gwynedd was grandfather to Owain Glyndwr, Llywelyn the Great.
Fig 5
Fig: 5 Four quarters, each with a lion. Quarters one and three feature a red lion on a gold background, with quarters two and four, a gold lion on a red background.
(Quartered arms, a lion passant gardant)
The coat of arms of the Royal House of Gwynedd and the Llywelyn family who dominated Gwynedd (the northern part of Wales) for forty years, spanning the late 12th and early 13th centuries.(1180 - 1220).
Fig 6
Fig: 6 Three silver lions on a red background. (Gules three lioncels passant, in pale argent)
This is the coat of arms of Gruffydd ap Cynan (1055- 1137), a temporary ruler in 1081 when he attempted to reinstate the Aberffraw dynastyin Gwynedd.
In the 17th century, when the Castle was rebuilt as a fortified farm house, the art of painting on clear glass came to the fore and we must allow that the Urishay Drawing Room glass could have origins sometime between the 17th and 19th centuries.
The coat of arms references clearly point to the conflicting forces in the borders between England and Wales, and we may speculate why the majority of pictorial reference is to Welsh rulers. Some may consider it ironic that Urishay Castle, originally built along with others to preserve the frontier of England, was to later revere the Welsh. Perhaps the Delahays, with origins in Normandy, had by the 17th century become so influenced by their bloodlines with Welsh ancestry, that it was natural for these ties to be given prominence.
Certainly the Urishay Welsh connection remained strong until 1885, when upon the death of Richard Reece Delahay, the line of Delahays suddenly took on an American influence.
References for Chapter 7
Figs: 1,2,3,4,5,6…………….Richard Delahay collection………, with permission of Quayle Bible Collection,
Baldwin City, KS, USA.
Chapter 8


The end of an era
William Henry Tallmadge Delahay junior,returning home from the war in South Africa to live with his father and step-mother, possibly found that life in rural Herefordshire lacked the excitement he imagined he could achieve if he set out on his own.
During the wind-down and disposal of the Urishay Estate,he ventured to the brighter lights of urban surroundings, spending time in Newport, South Wales, before settling in Great Malvern, Worcestershire.
Lord Urishay passed away on Christmas Day 1916, aged 40, leaving his assets including the unsold Urishay Castle (Ref1), to his housekeeper Flora Ellen Ingram " ….in grateful return for all that she has done…. "
In March 1917 newspapers across the UK carried the headline "….. windfall for a nurse …." (Ref: 2)
The former naturalised British cavalryman, the last Lord Urishay, was buried at St Peters, Peterchurch, two miles from his former estate.
The 700 year association of the Delahay line with the Urishay Estate had finally closed.
Urishay Castle was later transferred to a salvage merchant and was eventually demolished in 1921. The ruins, on private ground, are listed as a scheduled monument. (Ref 3).
References for Chapter 8
Ref: 1 Illuminated Address, Hereford Record Office,Peterchurch B 067/22,Introductory letter.
Ref: 2 Pall Mall Gazette… 2 March 1917 / Londonderry Sentinel. 8 March1917.
Ref: 3 Historic England.List entry no. 1014547.
---
Ref: rs_ewy_0335