| | |
| --- | --- |
| Held at: | Private Collection |
| Reference: | gc |
| Source: | Research |
| Title: | Bold Venture lll Aircraft Details |
| Place name: | St Margarets |
| Date: | 2007 |
Description:
Bold Venture lll
The aircraft which crashed on St Margarets Common was a four engined Liberator Bomber type B24J. It had been manufactured at the Ford Aircraft plant at Willlow Run, Ypsilanti, Michigan and had the serial number 42-50675 with a natural metal finish. It had flown 179 times, 20 of the flights were hostile missions. It arrived in England from the States on the 23 July 1944.

It had six different crews allocated to it at various times and had the name 'Bold Venture lll' given to it by Lt. Marvin Paul of the first crew to operate it. The normal crew was 10 airmen, the Pilot, the Co-Pilot, the Navigator, the Pilotage Navigator, the Bombardier, the Radio Operator, the Engineer and three Gunners.

At the time of its crash it was part of the 788th Squadron of the 467th Bomb Group of the US 8th Air force based at Rackheath, six miles north east of Norwich.

It crashed on Christmas Day 1944 and was salvaged for spare parts by a detachment from RAF Madley on the following day.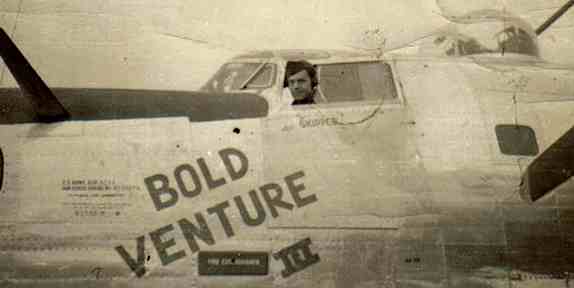 The Nose Art of Bold Venture lll
Bold Venture lll with an earlier crew


The specification of a typical Liberator:


Powerplant:

Four Pratt & Whitney R-1830-65 Twin Wasp fourteen-cylinder air-cooled radial engines, with General Electric B-22 turbosuperchargers rated at 1200 hp. at 2700 rpm for takeoff and maintaining this power as a military rating up to 31,800 feet.

Performance:

Maximum speed 300 mph at 30,000 feet, 277 mph at 20,000 feet. Maximum continuous speed 278 mph at 25,000 feet. Usual combat operating speed was 180 - 215 mph at between 10,000 and 25,000 feet. Initial climb rate 1,025 feet per minute. At a takeoff weight of 56,000 pounds, an altitude of 20,000 feet could be reached in 25 minutes. Service ceiling 28,000 feet at 56,000 pound takeoff weight. Range and endurance with a 5,000 pound bombload was 1700 miles in 7.3 hours at 25,000 feet (all-up weight of 61,000 pounds) with 2,364 US gallons of fuel. Landing speed 95 mph (light), 125 mph (loaded).

Weights:

38,000 pounds empty, 56,000 pounds combat, 71,000 pounds maximum overload. 2,364 US gallons of fuel in main tanks, plus 450 gallons in auxiliary wing tanks and 800 gallons in extra tanks fitted in bomb bay if required.

Dimensions:

Wingspan 110 feet 0 inches, length 64 feet 2 inches, height 18 feet 0 inches, wing area 1048 square feet.

Accommodation:

Crew was normally ten: pilot, copilot, bombardier, nose gunner, navigator, radio operator, ball turret gunner, two waist gunners,

Armament:

Ten 0.50 -inch Browning machine guns in nose, upper ventral, and tail turrets and in waist positions. Maximum internal bomb load was 8,000 pounds. Two 4,000 pound bombs could be carried on external racks, one underneath each wing. Maximum short range bomb load was 12,800 pounds (by using underwing racks) but normal offensive load was 5,000 pounds.


A Rackheath Liberator on its Bomb Run
Observations:
---
Ref: gc_stm_2004