| | |
| --- | --- |
| Held at: | Herefordshire Record Office |
| Reference: | J91/1, pages 276-279 |
| Source: | Original Document |
| Title: | Manorial Records, Court Rolls, Grant of a Lease to Mary Hale |
| Place name: | Newton |
| Date: | 1812 |
Description:
At a Special Customary Court of the Manor of Ewyas Lacy held at the Castle of Longtown on the 28th September 1812 before Baker Gabb the younger Deputy Steward of the Manor of Ewyas Lacy held by The Right Honorable Henry Earl of Abergavenny.
Consideration, a Fine of £800
Granted to Mary Hale of Hereford Widow of Curtis Hale the late of Hopton Court, Salop deceased, and her heirs.


That messuage and lands comprising 25 acres Welsh measure (100 acres Winchester measure) in the Township of Newton [known later as Far House Farm]
For the Lives of:
Matthew Hale, aged 19, eldest son of said Marry Hale ,
Edmund Lechmere, aged 20, son of Anthony Lechmere of the Rhyde near Worcester Esq
Frederic Gritton, aged 7, son of the Revd George Gritton D.D. Dean of Hereford
Rent 6/8, Heriot 5/-
Admitted by the Rod
John Williams of Newton is attorney of Mary Hale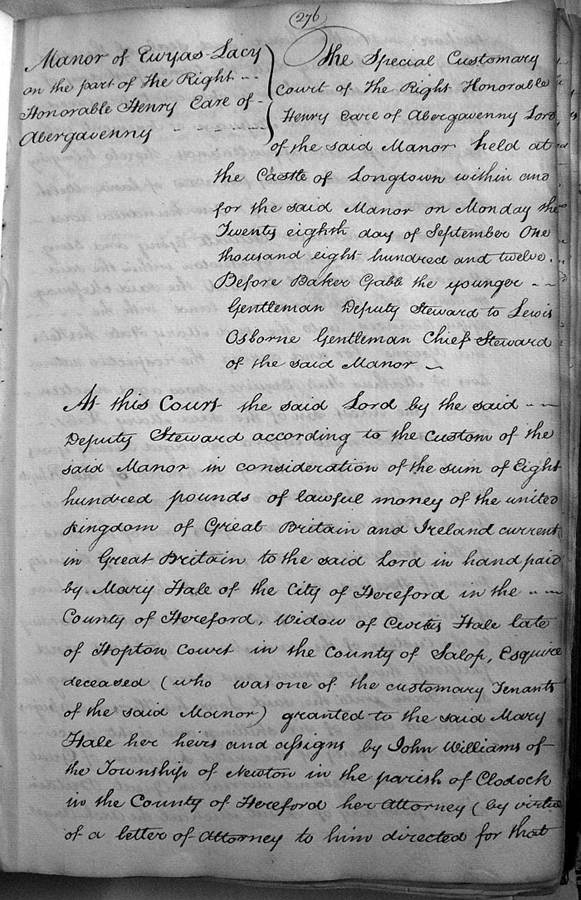 Observations:

For further details of this holding click here
For Tithe Map details click here
Camera images of the Court Roll item J91/1 can be seen here. These are large PDF files which are zoomable but not searchable.
---
Ref: gc_ewy_3406