| | |
| --- | --- |
| Held at: | Hereford Public Library |
| Reference: | Local and Trade Directories |
| Source: | Original document |
| Title: | Jakeman & Carver's Directory and Gazetteer of Herefordshire |
| Place name: | Newton |
| Date: | 1890 |
Description:
Trades and Professions named in Newton include:
Assistant Overseer: William Preece
Carpenter: Thomas Sanders
Carrier: Mrs Jackman
Schoolmaster: William Morgan
Shopkeeper: Joseph Higley; John Gwyn, David Watkins
Parish clerk: Joseph Higley
Tailor: Joseph Higley
Vicar: Reverend George John Tuck [since 1888]
Wheelwright: Thomas Sanders
Mentions property called:
Burnt House [George Seaborne]
Castle farm [William Shaw]
Cwm Clead [William Rogers]
Dingle farm [John H Williams]
Far House [Philip Lewis]
Gilvah [Thomas Pritchard, John Lewis, David Watkins]
Great house Lower Maescoed [William Lloyd]
The Green [William Watkins]
Gwerlody farm [George Watkins]
Lower Maescoed [David Lewis]
Lower Newton [William Farr]
Maescoed farm [Chas. Seaborne]
Marlborough [Thomas Sanders]
Marlborough court [Rev. George John Tuck]
Nantyrust [William Preece]
New House [James Price]
Old House [George Watkins]
Quarrelly [Richard Jenkins]
School house [William Morgan]
Square House[Richard Jackman]
The Cottage [Aaron Williams]
The Palace [James Thomas]
Upper Newton [Thomas Smith]
Wain Herbert [Ebenezer Gwillim]
Woodlands [Charles Powell]
The Yatt [John H Williams]
Yew Tree Cottage, Gilvah [Mrs M Williams]
An image of the 1890 Jakeman & Carver's Directory entry for Newton is given below.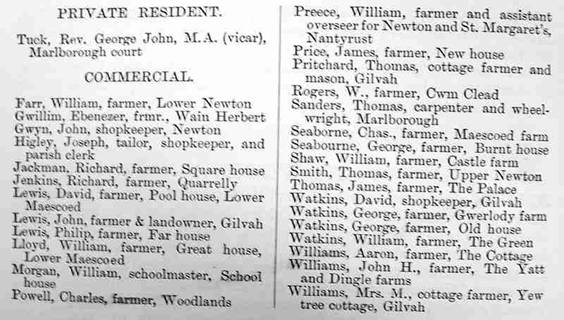 Observations:
The Directory gives population, area, rateable value, types of crops and other details of the township. The church was erected in 1844, restored in 1869 and thoroughly renovated in 1888. There is a Primitive Methodist chapel here. There is a Board school for 100 children; average attendance 57.
This directory is not comprehensive in its coverage of all farms and commercial premises in the parish at the time. Also, in the transcribed lists of properties that are named, spellings in the original have sometimes been amended to reflect more common usage. In case of doubt please refer to the image of the original entry.
---
Ref: rs_nwt_0014