| | |
| --- | --- |
| Held at: | Private Collection |
| Reference: | LD_tg_0005 |
| Source: | Original Document |
| Title: | Wills and Probate: image of Inventory of William Harryes |
| Place name: | Michaelchurch Escley |
| Date: | 1709 |
Description: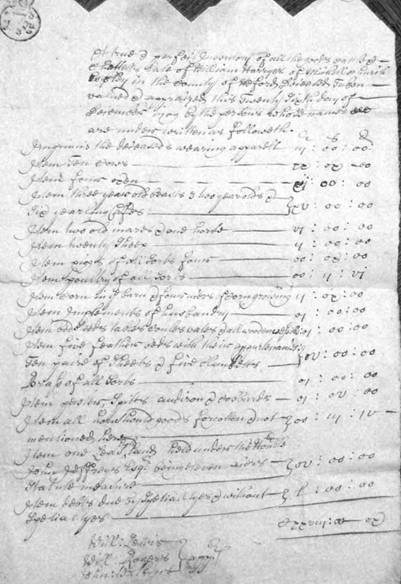 Dated 26th December 1709.
Total value £128 0s 10d; includes reference to leasehold land held from Hon John Jeffries of 11 statute acres with a value of £5.
Appraisers Will. Lewis, Will. Rogers and John Watkins.
Observations:
An alternative copy of this Inventory forms part of the Probate papers held at the National Library of Wales ref BR/1710/110.
The Will leaves land called Cay Llwyne Cathny[?] [?Cay Lloyne bathay] to his wife Blanch for life and then to his son William. He had three daughters Constance, Sible and Jane and a grandson John Waters[?].
Land Tax records 1776-1838 include entries under a similar land name giving Henry Allen as landlord. Henry Allen had considerable land holdings at the north end of Michaelchurch Escley at that time.
---
Ref: tg_mic_0115