| | |
| --- | --- |
| Held at: | Internet |
| Reference: | RS |
| Source: | Internet research |
| Title: | The de Havilland Gipsy Moth aircraft, as flown by Randolph Trafford |
| Place name: | Michaelchurch Escley |
| Date: | 1930's |
Description:
Randolph Trafford of Michaelchurch Court owned and flew a de Havilland Gipsy Moth DH60G biplane in the 1930's. The aircraft, registration G – ABAM, was kept at the Michaelchurch aerodrome, and would have cost £650 [new] around that time.
Specifications: de Havilland Gipsy Moth DH.60G
Reference http://en.wikipedia.org/wiki/De_Havilland_Gipsy_Moth

General characteristics

Crew: one, pilot
Length: 23 ft 11 in (7.29 m)
Wingspan: 30 ft (9.14 m)
Height: 8 ft 9 in (2.66 m)
Wing area: 243 ft² (22.57 m²)
Empty weight: 920 lb (417 kg)
Max takeoff weight: 1,650 lb (748 kg)
Powerplant: 1× de Havilland Gipsy , 100 hp (74.6 kW)

Performance

Maximum speed: 89 knots (102 mph, 164 km/h)
Range: 278 nm (320 mi, 515 km)
Service ceiling: 14,500 ft (4,420 m)
Rate of climb: 500 ft/min (152 m/min)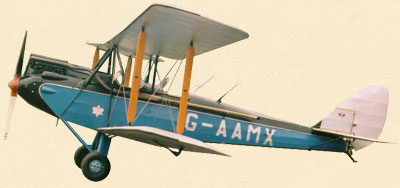 de Havilland Gypsy Moth
Reference http://www.rafmuseum.org.uk/milestones-of-flight/exhibition/de-havilland-gypsy-moth.html

Some aircraft are forever linked with an activity and a particular period. The Gypsy Moth, although designed as a trainer and for touring, was a dependable and affordable machine for some of the pioneering trailblazers and record breakers of the period between the two World Wars.
The Gypsy Moth not only heralded the era of light plane design which continues to this day but provided the affordable basis for a major expansion of light-aeroplane clubs. The aircraft illustrates the Royal Air Force's ability to take up a successful civilian design and adapt it for it own duties.
Further information can be found at http://www.rafmuseum.org.uk/de-havilland-gipsy-moth.htm
Observations:
None
---
Ref: rs_mic_0144