| | |
| --- | --- |
| Held at: | Internet/ Private collection |
| Reference: | RS |
| Source: | BBC Domesday Project/ Oral History |
| Title: | Michaelchurch Court and the Royal Canadian Air Force during the Second World War |
| Place name: | Michaelchurch Escley |
| Date: | 1940s |
Description:
In 1986 the BBC published the Domesday Project - an attempt to capture the essence of everyday life in the United Kingdom. Over a million people contributed to this digital snapshot of the country.
People were asked to record what they thought would be of interest in another 1000 years. Schools and community groups surveyed over 108,000 square km of the UK and submitted more than 147,819 pages of text articles and 23,225 amateur photos, cataloguing what it was like to live, work and play in their community.
In 2011 the data from the project was extracted from the original laser discs and republished online in the BBC internet website at http://www.bbc.co.uk/history/domesday/dblock/GB-328000-234000/page/7 . Contained within this material is the following anecdote about Michaelchurch Escley, quoted as 'from a local resident':
| | | |
| --- | --- | --- |
| | 1986 [MICHAELCHURCH] COURT DURING THE WAR. | |
| | During the Second World War the Canadian Air Force used Michaelchurch Court as a secret H.Q. Its code name was " QZ" . It was used for storing duplicate documents in case their London H.Q. was destroyed by enemy bombing. They also kept there for a short time a secret bomb, which was later used in the war. Only 4 men staffed it at first but eventually about a dozen people worked there. They were not particularly well armed having only 12 rifles and 5 pistols. For transport they only had 1 staff car. They were not allowed to send letters or make any telephone calls. Although they mixed well with the local people and made many lifelong friends the secret has been kept until this year, 1985, when one of the men came back to visit. | |
In 2012, ELSG received additional information about these events through a website message from the granddaughter of a local farmer who had befriended one of the Canadian airmen in Michaelchurch during the war. After further consultation, and enquiries in Canada pursued by James Baxendale - a relative of the Trafford family who owned Michaelchurch Court at that time - the following story emerged.
George Cole [the grandfather of our initial correspondent, above] farmed and lived at Bank Farm, Michaelchurch Escley, during the Second World War. At that time he befriended a Canadian airman by the name of Eric Beniston. Eric is still alive and in contact with George Cole's granddaughter; when asked why he was in Michaelchurch Court back then, he responded with


'Well I suppose I can tell you now - we were sworn to secrecy. We were protecting a complete copy of the war records from London under the guise of it being a convalescent home for injured Canadians.'


He said he had been back a couple of times after the war but he didn't think it was in 1985 [referring to the BBC Domesday Project report]. He said during the war he had worked as a steamfitter/ gasfitter and all-around maintenance man at Michaelchurch Court. He confirmed that the RCAF personnel there were not heavily armed and that they were charged with guarding some kind of special bomb but he does not remember it going anywhere to be used. They were also assigned to guard duplicates of documents stored by the RCAF in London but the documents held at Michaelchurch were not filed in a conventional manner. They were just kept stacked in boxes everywhere.
He confirmed that they were not allowed to make phone calls or send letters. He found it amusing that they were told if there was a fire or an attack they were specifically to save a painting of Henry VIII. He said he was much more interested in saving a very old hand made dresser but orders are orders!
He confirmed the place was indeed called QZ by the RCAF, but he didn't know why. He did remember when the Squire, an RAF pilot, crashed his plane and was killed [note: this was Randolph Trafford, who died in 1943]. He also still remembered the Trafford motto " Now Thus" with a Flail emblem. As far as the 'convalescent home' story was concerned, he said that Pilot Officers didn't come to rest there until later on in the war. [It is also evident in a photograph of RCAF personnel at the Court below that none of them appear to be injured, and the recollections of local people who had contact with the Canadians there during the war years are that none of them seemed in need of medical attention.]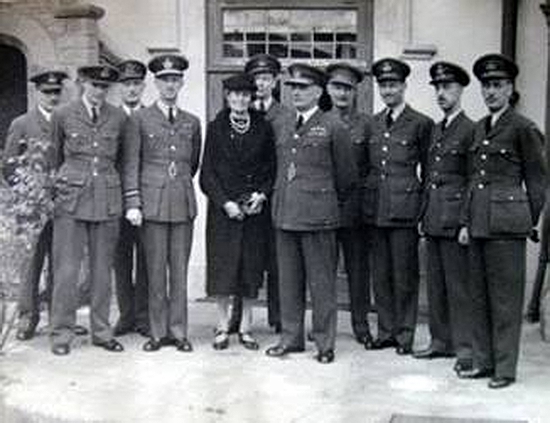 Royal Canadian Air Force detachment at Michaelchurch Court in the 1940s, with Mrs BM Capper ['Squire' Randolph Trafford's mother]
Two photographs taken by Eric Beniston at Michaelchurch Court while he was there during the war have also come to light and are shown below.

Michaelchurch Court in the 1940s, during the occupation by the RCAF
Michaelchurch Court gardens in the 1940s, during the occupation by the RCAF
Observations:
Attempts have been made to obtain further information from the RCAF on the story of their involvement at Michaelchurch Court during the Second World War both through the Canadian High Commission in London and through the relevant authorities in Ottawa, but so far without success.
It appears unlikely after all this time that there are any dark secrets still needing preservation, and this official silence therefore probably arises from a lack of interest in a small footnote of history. Nevertheless, whatever the whole truth, the ban on communications, the apparent lack of organisation of the supposed war records dumped in boxes at the Court and the equally strange lack of medical needs in a supposed convalescent centre do suggest that something clandestine and out of the ordinary took place in Michaelchurch during the war years.
Eric Beniston's reference to 'saving a painting of Henry VIII' perhaps hints at paintings and/or other valuables evacuated from London to safeguard them from the blitz, since no such painting is known to have been in the possession of the Trafford family at the Court before or after the war. References to storing a 'bomb' are much more puzzling, given the proximity in the 1940s of the Elm Wood Ordnance Depot at Pontrilas and the major Ordnance Factory at Rotherwas in Hereford, either of which would have been a much more natural place to store any such war materials. It seems that all may not yet have been revealed about Michaelchurch Court's mysterious contribution to the war effort.
---
Ref: rs_mic_0340