| | |
| --- | --- |
| Held at: | Herefordshire Records Office |
| Reference: | M5/27/35 |
| Source: | Original Document |
| Title: | Image and details of sale particulars of Urishay Castle, Clothiers and Kings Arms Farms plus a cottage |
| Place name: | Michaelchurch Escley |
| Date: | 1919 |
Description:
Sale details of Urishay Castle and a cottage at Urishay together with Clothiers Farm and the Kings Arms, Michaelchurch Escley to be sold freehold by auction on May 24th 1919 at the Law Society Rooms, Hereford.
Urishay Castle comprises 3 acres and substantial amounts of building materials from the derelict castle.
Clothiers and Kings Arms farms comprise 90 acres including Clothiers farm, a stone built farm house with outbuildings and Kings Arms which comprises cattle sheds. Both are let to Mr HJ Prichard at an annual rent of £85.
The cottage is located near Urishay Court Farm and contains four rooms and outbuildings.
Urishay Castle failed to sell. Clothiers and Kings Arms farms sold for £1,115 to Mr Clifton Hill of Ross.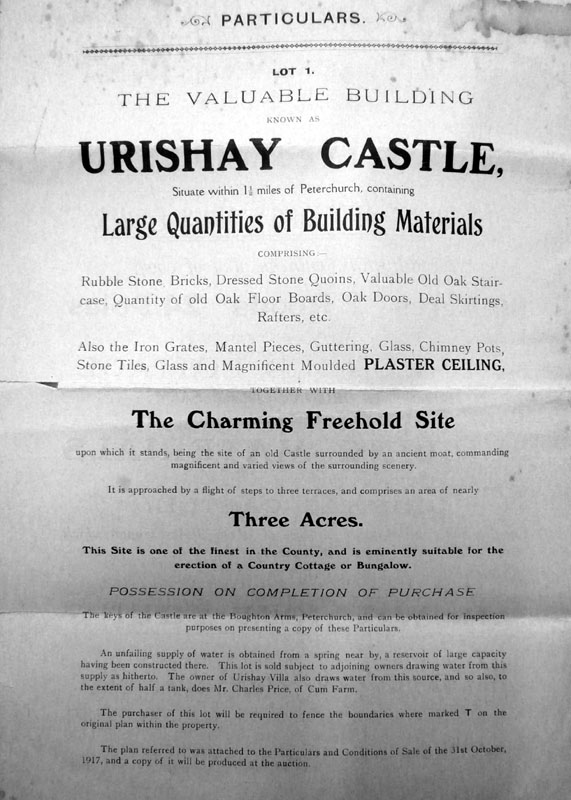 Observations:
None
---
Ref: tg_mic_0124