| | |
| --- | --- |
| Held at: | Private collection |
| Reference: | LD_tg_0002 |
| Source: | Original document |
| Title: | Image and details of sale particulars; Tanners Place |
| Place name: | Michaelchurch Escley |
| Date: | 1930 |
Description:
Offered by Greenlands Ltd, on behalf of the Executors of the late John Smith, for sale by auction at The Broughton Arms, Peterchurch on 31st March 1930.
A Small Grass Farm comprising a stone built cottage with stone tile roof containing kitchen with open range, small room adjoining, back kitchen with furnace and bake oven, dairy and two bedrooms also a room over back kitchen with separate staircase. Some farm buildings. Land of 11a 2r 26p. In occupation of Mr Lewis on a yearly tenancy at £18pa.
Observations:
The property is not stated as freehold. It was sold with "Hillside", Peterchurch.
A copy of the original details is shown below.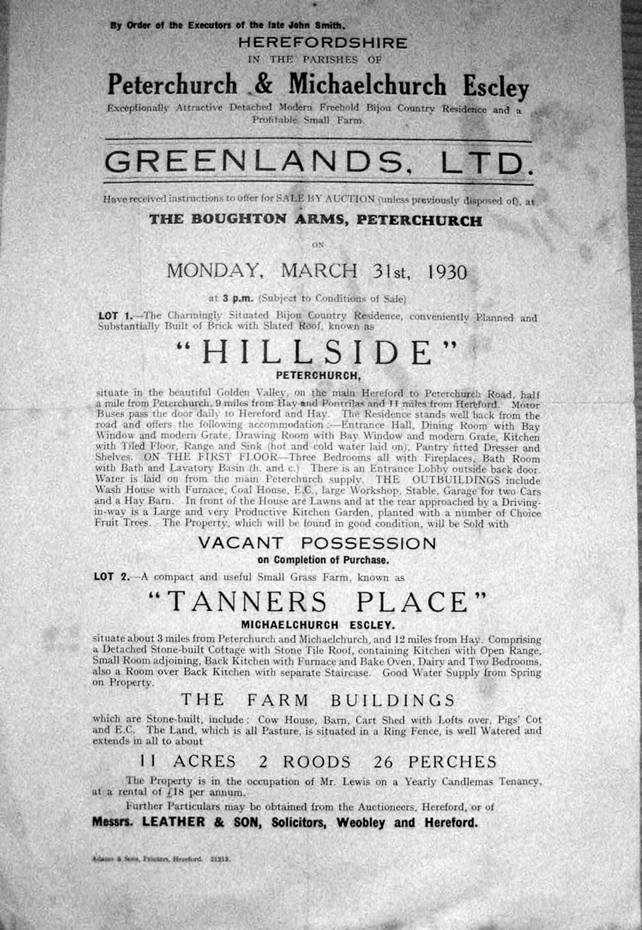 ---
Ref: tg_mic_0110