| | |
| --- | --- |
| Held at: | Private collection |
| Reference: | LD_rs_0006 |
| Source: | Original document |
| Title: | Digital Images Collection: Wills and Probate - image of Will of Edward Guy Trafford |
| Place name: | Michaelchurch Escley |
| Date: | 1908 |
Description:
Photograph of the last Will and Testament of Edward Guy Trafford of the Windham Club, St James's Square, London, dated 26th June 1908. He appoints his brothers Henry Randolph Trafford and Guy Rawson Trafford as executors and trustees. He makes various individual bequests, including two mysterious locked boxes to Julia Trafford-Rawson and a locked brown leather case to Rose Wallop-Powlett of Abergavenny, the contents of which are not disclosed. Furniture and effects are left to his wife, Emily Jane, and real estate to his son, Lionel Guy Trafford. The residue of his estate is to be sold by the trustees to cover funeral expenses and debts, with any balance to be held in trust for a Margaret Thorpe of Bovill's Hall near Newmarket.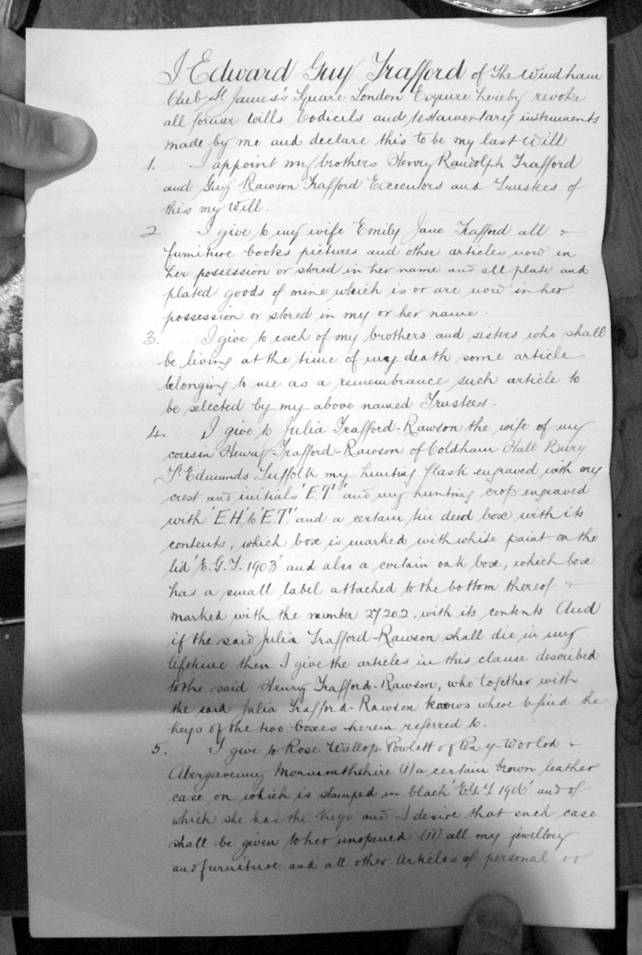 Observations:
None
---
Ref: rs_mic_0548