| | |
| --- | --- |
| Held at: | Private collection |
| Reference: | LD_rs_0006 |
| Source: | Original document |
| Title: | Digital Images Collection: Photograph of a schedule of Deeds and Documents marked Rawson Herefordshire Estate [Michaelchurch Court Estate] |
| Place name: | Michaelchurch Escley |
| Date: | 1680 - 1914 |
The document is a schedule of the papers held by the London and Westminster Bank of St James Square in a box marked Rawson Herefordshire Estate [subsequently the Michaelchurch Court Estate]. The box of papers was delivered to Henry Randolph Trafford by the Executors of Elizabeth Rawson's will and signed for by him on 15th January 1892, the receipt being hand written on the schedule. Sadly, the documents themselves are no longer to be found, but the schedule lists 24 bundles of conveyances, deeds etc. each relating to a named property, and is annotated with comments on the condition of the documents – many of which were recorded as 'poor' or 'very poor' even then. This list provides a useful picture of the extent of the Estate.
The properties referred to include property formerly of Samuel Smith, Watkins, and Sir Velters Cornewall, the manors of Ewyas Lacy and Crasswall, the mansion and lands at Michaelchurch Court, the Michaelchurch Escley Court Estate [Conveyed from Richard Barton to Elizabeth Rawson on 17th March 1864 for the sum of £34,050.0.0], Firs farm, Teer Harry Reese or Rhyd-y-Bach, Llandraw farm, Castle farm, Grove farm [1866], Greglands [Griglands] farm [1866], Wern Wenn farm [1867], Lower House farm [1868], Coed Poth farm [1871], Gwerne Yevor farm [1871], the advowsons of St Margarets and Michaelchurch Escley [1875], land in Michaelchurch and Newton from Lord Abergavenny [1866]. Further deeds are listed as deposited in 1914 for Rhwynford farm, White House farm and Victoria Cottage, Cae Cock, Cefyn Kest [Cefn Ceist] farm, Marsh farm, and Green farm.
Photographs of the schedule are given below.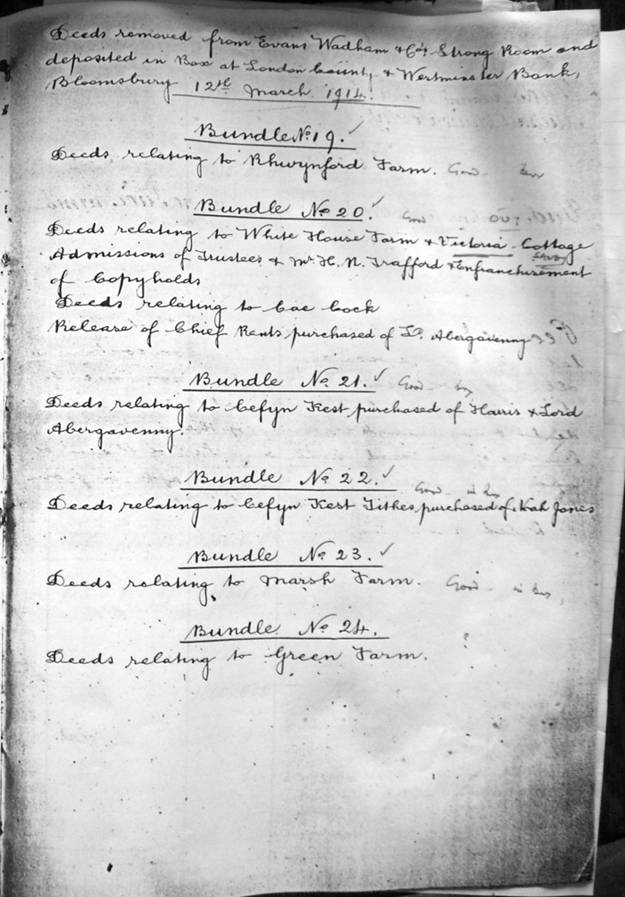 Observations:
Bundles 1, 2 & 3 on this schedule refer to deeds of properties that were part of the Michaelchurch estate but formerly of Samuel Smith, Watkins and Sir Velters Cornewall. More detail on these is available from other sources as follows:
Samuel Smith owned what is now the Bridge Inn but was then Bridge Farm [whose land was to the south of the Michaelchurch Court land], together with what is now Bridge Farm house but was then the Sun Inn, which he occupied, and the cottage [now called Quarry Cottage] across the river from the modern Bridge Inn. Some time before 1871, the Sun Inn became Bridge Farm and Bridge Farm became the Bridge Inn. It is possible that the Michaelchurch Estate made this change as the original Bridge Farm was a bit removed from its land.
James and William Watkins only had land, part by the Cefn Road below Llanbaddon and also Cae Gros.
Sir Velters Cornewall had very little of the land referred to above - 7 acres in different parcels occupied by Samuel Smith plus the two cottages on the left as you go down the lane to the Bridge Inn.
---
Ref: rs_mic_0529