| | |
| --- | --- |
| Held at: | The National Library of Wales |
| Reference: | Welsh Newspapers Online: http://welshnewspapers.llgc.org.uk/en/home |
| Source: | Original Publication: Monmouthshire Merlin |
| Title: | Digital Archive: Newspaper cutting – Sale by auction of the property of Thomas Daniel of Michaelchurch Court, bankrupt. |
| Place name: | Michaelchurch Escley |
| Date: | 1835 |
Description:
Image of newspaper cutting dated 6 June 1835 advertising the sale by auction at Michaelchurch Court, Michaelchurch Escley on 9th June 1835 and the following days of the property of T Daniel [Daniell], a bankrupt. The advertisement lists in detail the live stock including cows, horses, sheep and pigs; dead stock including farming tools, wagons, harnesses and machinery; household furniture, carpets, curtains, china, glass and culinary requisites; corn and growing crops including wheat, oats and barley.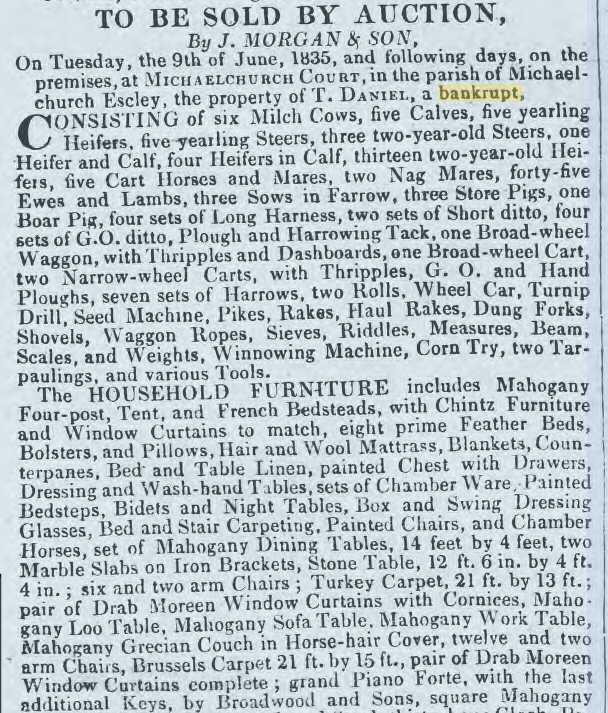 Observations:
The sale particulars and inventory of the contents of Michaelchurch Court offer an interesting insight into the lifestyle and home comforts of a [once] wealthy landed gentleman of the early 1800s. Prior to his bankruptcy, Thomas Daniell's family [from whom he inherited his original fortune] had been extremely wealthy tin and copper dealers and mine owners in Truro, Cornwall. More on the story of Thomas Daniell of Michaelchurch Court, owner of the Michaelchurch Court estate and Lord of the Manor of Ewyas Lacy, and his fall into bankruptcy can be found here.
---
Ref: rs_wno_0015