| | |
| --- | --- |
| Held at: | Gwent Record Office |
| Reference: | D.668.71 (bundle of loose folded sheets) |
| Source: | ELSG digital images & transcription |
| Title: | Rents, Heriots and Rights of Common. (copy in 1818 of earlier entries) |
| Place name: | Michaelchurch Escley, Urishay, Peterchurch |
| Date: | 1734, 1738, 1743, 1729 |
Description:
Transcription of images 486
Rents
1734
John Watkins a leashold estate in Michaelchurch.
Present that John Watkins of Michaelchurch a tenant of Clothy Hopkins holds lands in Michaelchurch in the manor of Clothy under a lease from the Lord for 500d yrs at 3/4 a year payable payable sic. yearly at Christmas & he is in arrear 30s for 9 yrs rent – fine 39s if he does not pay with[in] 30 days after notice.
1738 The death of John Watkins presented & that he held several messuages etc. part whereof was held by lease under the lord & d. part freehold, but what heriot or d. benefit accrued to the Lord the jury could not state but refered to the title deed.
Delahay Esq.
court paper.
Transcription of images 487
W. Thomas 11
Heriots
Present a heriot of the 2nd best beast due upon the death of Humphrey Thomas Esq for a tenement in Trillers Hope alias Trenant & that his widow upon his decease ought to have been admitted tenant in his stead.
And Heriot of D [Ditto?]o for a tenement called Clothy alias Lloynon [a do obl Wo ?]
And Do for for the lands of William Watkins.
Present the death of the widow of Humphrey Thomas and a heriot obl for a tenement called Treylers Hope alias Trenant.
And heriot of Do for late Watkins.
John Price
&
Timothy
1743
Died since the last court possessed of a messuage Clothy Hopkin whereby a heriot accrued & was paid.
The death of Timothy his son also presented
A heriot paid of the 2nd best beast upon the death of Henry Sykes who died a messuage & land in Hands in the manor of Clothy Hopkins which he held at the [yearly] rent of 5s & a couple of capons & that James Parry now possessed thereof paid in kind.
[Incroachments]
1738 Henry Jenkins
tenant
Present an incroachment of Henry Jenkins's tenant of Urishay Common at Hewel Moch Deon & inclosed into Cae Monneth conts. in length 60 yards & in breadth 5 or 6 yards with several trees grows thereon.
Rights of Common
Cottagers presented
to turning on the common
David Prosser, Richard Powell, Jennet Jones, Richard Williams, Richard Handley, Daniel Smith, Constance Thomas, Ann Maddocks & John Jones.
Cottagers for depasturing on the common having no right – fine 20s each if they offend again.
as presented
Thomas Price, Edith Smith & Thomas Davies presented in like manner, but not cottagers.
Cottagers presented for surcharge.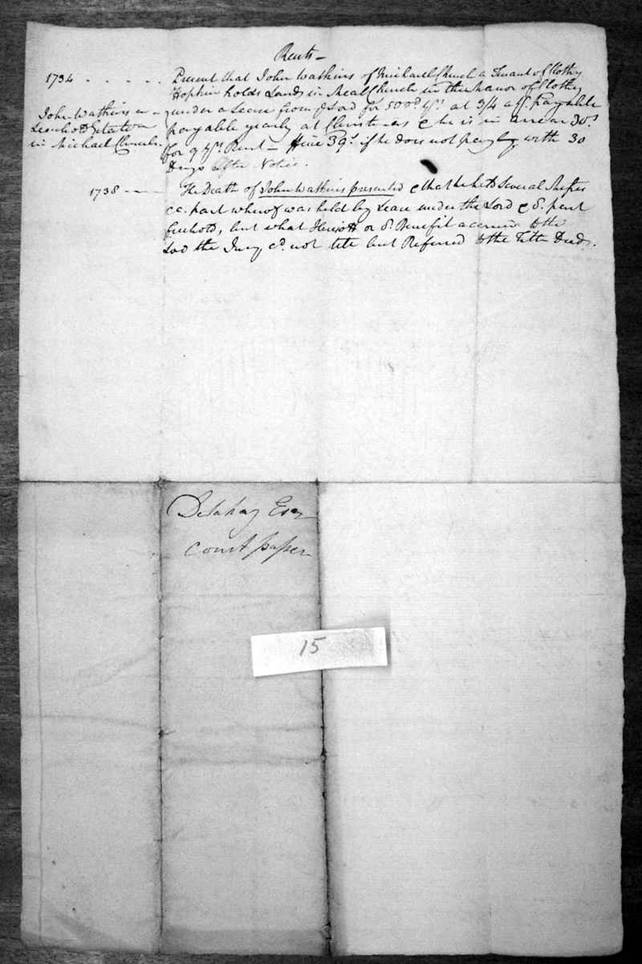 ELSG image accession ref. - cwmbran1 486, & 487
Observations:
Transcription details are based on the work of Dewi Bowen Williams, see http://www.ewyaslacy.org.uk/Michaelchurch-Escley-and-Peterchurch/Manorial-Court-Records-for-the-Manors-of-Clothy-Hopkin-Urishay-Trenant-amp-Wellbrook/1466-1833/tg_mic_0127
For zoomable images see http://www.ewyaslacy.org.uk/docs/rs_ewy_0060_8.pdf
---
Ref: gc_ewy_3376