| | |
| --- | --- |
| Held at: | Gwent Record Office |
| Reference: | D.668.71 (bundle of loose folded sheets) |
| Source: | ELSG digital images & transcription |
| Title: | Juror's Presentments on Court Jurisdiction [no date] |
| Place name: | Michaelchurch Escley, Urishay, Peterchurch |
| Date: | Not dated |
Description:
Transcription of images 479 & 480
We present all the cottagers upon the lords waste to be in the lords mercy for their cottages & inclosures etc.
Item we present that if any tenant or commoner having liberty of common shall take any cattle of any person or persons that have noe right of common within this liberty pretendinge the same to be his or their owne such tenant or commoner shall be deemed a trespasser and shall pay the rates followinge vizt [p] quarter for every horned beaste under two years old 4s for every horned beaste above two years old 6 for every horse or colt 10s for every sheep 1 And soe for any longer or shorter tyme after the foresaid rate.
Item we present that if any tenant or commoner holds more lands then that which payes rent and service to the lord of this manner and shall turne into the common sheep or catle from those lands which he holds and that he hath noe right soe to doe that such person shall be deemed a recluser and shall pay for his overplus stock the rates aforesaid as a trespasser.
Item we present that if any person or persons driveinge sheep or cattle to fair or market and soe bringe them to the said common bearinge them there to depasture that it shall be lawfull for the bailiff of the maner to impound and detaine such cattle until reasonable satisfaccion be made for the trespass.
Item we present that the bailiff of this maner shall take diligent care and give a true account conferminge the premises unto the lord and tenants not offendinge in any parte thereof on or before the 24th of June next that the rates and penaltyes aforesaid may be charged upon the offenders And the one halfe paid to the lord of the maner & the other halfe to the tenants both allowinge thereout reasonable satisfaccion to the baillyff for his diligence and care therein.
Item we present that if any tenant or commoner offendinge in the points aforesaid and shall endeavour to conseale and deny to give a true account when thereunto caled that such offender deniinge or consealinge shall over and above the rates aforesaid forfeit the summe of 5s to be accounted as aforesaid and returned by the bailiffe to the lord of this maner.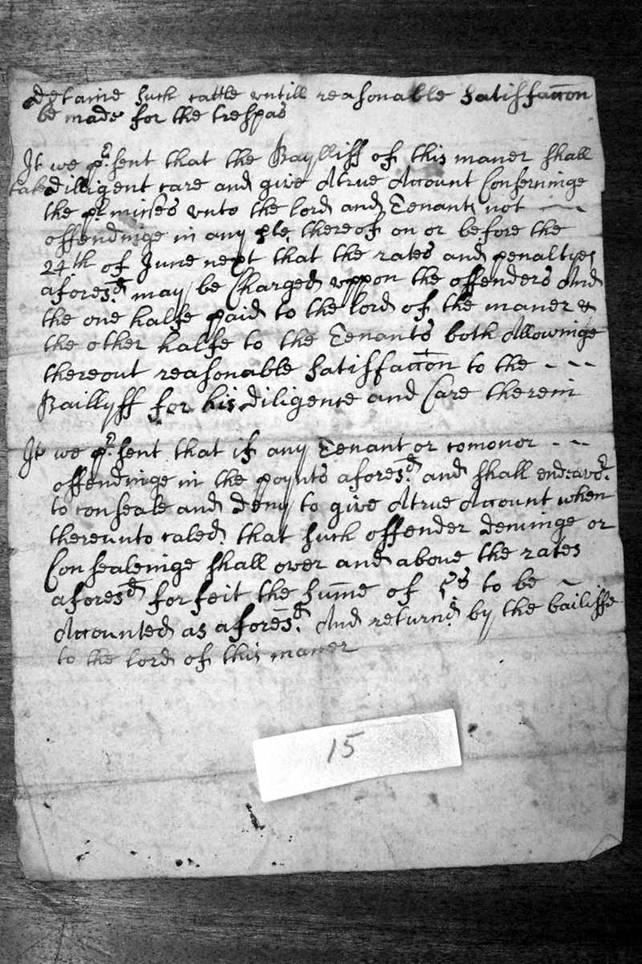 ELSG image accession ref. - cwmbran1 479 & 480
Observations:
Transcription details are based on the work of Dewi Bowen Williams, see http://www.ewyaslacy.org.uk/Michaelchurch-Escley-and-Peterchurch/Manorial-Court-Records-for-the-Manors-of-Clothy-Hopkin-Urishay-Trenant-amp-Wellbrook/1466-1833/tg_mic_0127
For zoomable images see http://www.ewyaslacy.org.uk/docs/rs_ewy_0060_9.pdf
---
Ref: gc_ewy_3374