| | |
| --- | --- |
| Held at: | Gwent Record Office |
| Reference: | D.668.71 (bundle of loose folded sheets) |
| Source: | ELSG digital images & transcription |
| Title: | Draft deputation of Stewardship to the manors of Urishay |
| Place name: | Michaelchurch Escley, Urishay, Peterchurch |
| Date: | 1707 |
Description:
Transcription of image 371
Copy of a 1707 Draft deputation of stewardship to the manors of Urishay etc.
[These details were added to the dorse of the document by a later hand. Perhaps in 1818 ]
Transcription of image 370
[this is a later copy of an original draft of 1707 made in a later hand]
Know all men by these presents that I Thomas Delahay of the Urishay in the parish of Peterchurch in the county of Hereford esq. lord of the several manors of Urishay Wilbrook, Trenant & Clothie Hopkin – in the said county of Hereford have made deputed and appointed and by these presents do make depute and appoint William Allen of the city of Hereford gentleman my true and lawful steward of and for my several manors aforesaid to hold and keep al and singular court leets, views of frankpledge, courts baron, hundred courts and all and singular other courts that have been udsuallyheld by the steward of the said manors or either of them . And do hereby as far as I have power give and grant unto him the said William Allen full powewr and authority for me and in my name or in his own name to sit as a bencher or suitor of the county court or Sheriff's Court held at Hereford in and for the said county & to receive and take to his own use all such lawfull and reasonable fees and perquisites as belong to the office of bencher or suitor of the said court. And finally to act & do all such other matters and things that to the office of steward of the said several manors aforesaid or either of them or to the said office of bencher or suitor of the county court aforesaid belong or appertain during my will and pleasure. And I hereby ratify and confirm all and whatsoever the said William Allen shall do or cause to be done in the premises by virtue of these presents. In witness whereof I have hereunto set my hand & seal this 18th day of July in the 27th year of the reuign of our sovereign lord George the third King of Great Britain etc. And in the year of our lord 1707.
Sealed and deliveredin the presence of – [corner of page torn off]
Thomas Delahay esq. to Mr William Allen.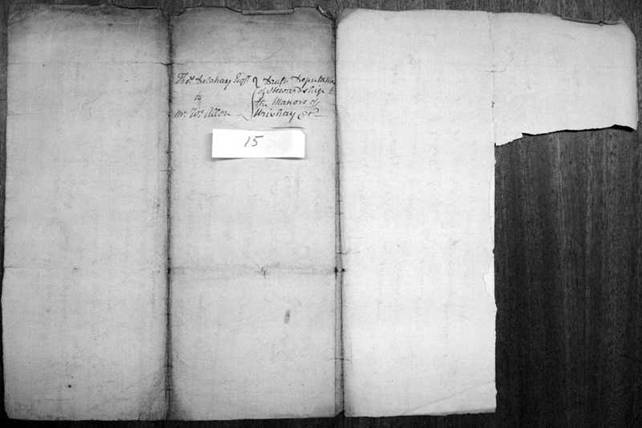 ELSG image accession ref. cwmbran1 - 370 & 371
Observations:
Transcription details are based on the work of Dewi Bowen Williams, see http://www.ewyaslacy.org.uk/Michaelchurch-Escley-and-Peterchurch/Manorial-Court-Records-for-the-Manors-of-Clothy-Hopkin-Urishay-Trenant-amp-Wellbrook/1466-1833/tg_mic_0127
For zoomable images see http://www.ewyaslacy.org.uk/docs/rs_ewy_0060_8.pdf
---
Ref: gc_ewy_3375