| | |
| --- | --- |
| Held at: | Hereford Public Library |
| Reference: | Local and Trade Directories |
| Source: | Original document |
| Title: | Jakeman & Carver's Directory and Gazetteer of Herefordshire |
| Place name: | Longtown |
| Date: | 1890 |
Description:
Trades and professions named in Longtown include:
Assistant Overseer: James Price
Blacksmith: Arthur John Williams
Carpenter: William Jones, John Prosser
Carrier: Thomas Williams
Cooper: John Price
Grocer: William Prothero, Nicholas Cheese
Harness maker: Frederick Townsend
Innkeeper: William Cooper [Rising Sun], Aaron Farr [Greyhound], John Johnson [New Inn], David Parry [Crown], Frederick Townsend [Black Lion], James Hughes [Cornewall Arms]
Ironmonger: William Prothero
Land Agent: John Gilbert Harris
Miller: James Stephens [Pontynys], William Davis [Clodock Mill], Henry Miles [Pontynys Mill]
Policeman: George Bridgewater [constable]
Registrar: Philip Gwillim
Relieving Officer: Henry Miles
Schoolteacher: J Nicholls, Mrs Nicholls
Shopkeeper: James Gretton, Miss Williams
Sub Postmaster: Nicholas Cheese
Surgeon: Leslie Lachlan Thain
Surveyor: Philip Gwillim
Tailor: Nicholas Cheese
Vicar; Reverend GV Collinson/
Wheelwright: William Jones, John Price
Mentions property called:
Belpha
Brooks
Bryn
Castle Terrace
Chapel house
Church house
Coldbrook
Court llaca farm
Cwm bullog
Cwm coched
Cwm Dulas
Denmark Cottage
Garn
Gilbertstone
Glan nant
Glan Olchon
Groves farm
Grydoll farm
Hunt house
Little Cwm coched
Llanwonog
Longtown farm
Lower House
Lower Pont hendre
Lower Wernddu
Maerdy
Mynydd Fferddin
New house
Old court
Pen y dree
Pen y rheol
Penrhwys
Pont hendre
Redland house
Sunny bank farm
Sunnybank
The Cottage
The Ferns
The Moody
Trelandon
Trewern
Ty mawr
Tybach
Tykennol
Upper Pont hendre
Upper Wernddu
Vicarage
Images of the full 1890 Jakeman & Carver's Directory entry for Longtown are shown below.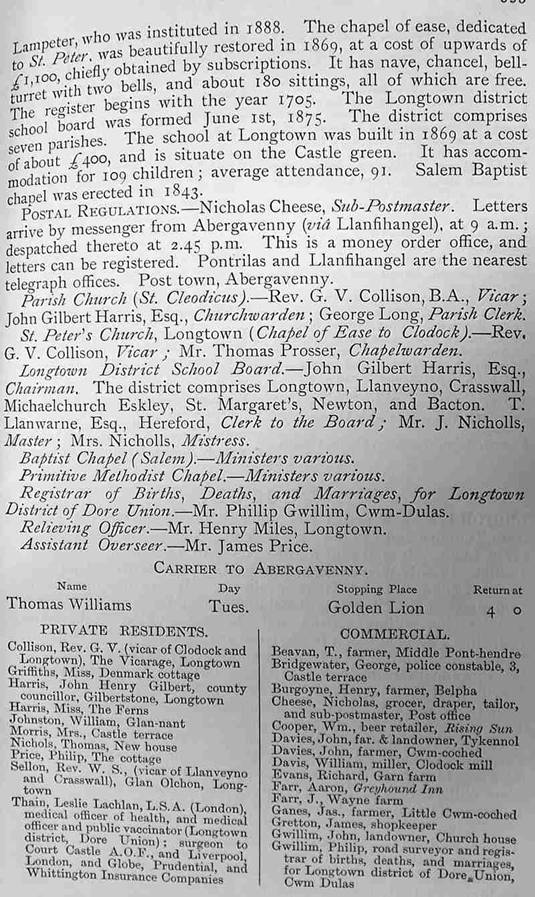 Observations:
Local farmers are named. The area, population, rateable value, main crops, geology and other details of the township are given. There is a Baptist chapel erected in 1843 and a Board school for 109 children; average attendance 91.
This directory is not comprehensive in its coverage of all farms and commercial premises in the parish at the time. Also, in the transcribed lists of properties that are named, spellings in the original have sometimes been amended to reflect more common usage. In case of doubt please refer to the image of the original entry.
---
Ref: rs_lon_0035