| | |
| --- | --- |
| Held at: | The National Library of Wales |
| Reference: | Welsh Newspapers Online: http://welshnewspapers.llgc.org.uk/en/home |
| Source: | Original Publication: Cambrian |
| Title: | Digital Archive: Newspaper cutting – Sale of Navy timber at Cwmbullog, Lower Grove, Northern Bryn and Old Court Farms |
| Place name: | Longtown |
| Date: | 1813 |
Description:
Image of newspaper cutting dated 27 March 1813 describing Navy timber to be sold standing on Cwmbullog Farm, Lower Grove farm, Llyney Coppice, Northern Bryn Farm, Cwmbullog Upper Grove and Old Court Farm all near Longtown. They are said to be within five miles of the new Llanvihangle Railway expected to be shortly opened [presumably the Abergavenny to Hereford line through Pontrilas] to which there is said to be a Turnpike road; easy conveyance to Newport and then by ship to any part of the United Kingdom is said to be available via the Brecon and Abergavenny canal. The above estates totalling about 450 acres held by tenants are also advertised as being for sale.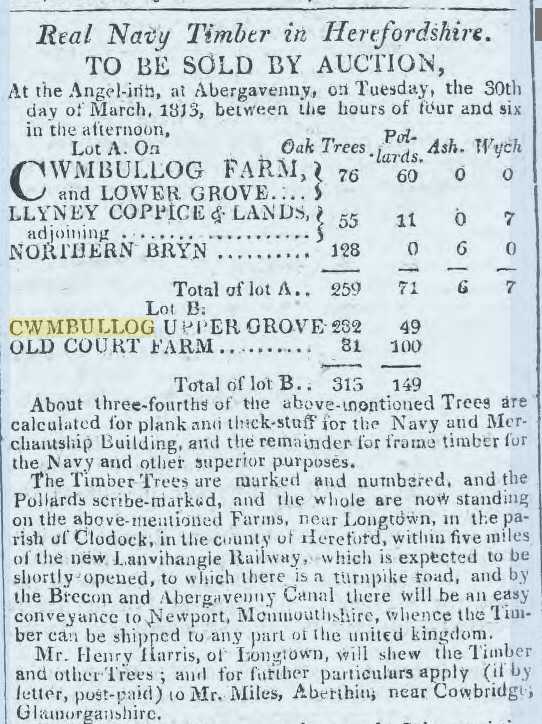 Observations:
None
---
Ref: rs_wno_0004