| | |
| --- | --- |
| Held at: | Herefordshire Record Office |
| Reference: | J91/1, pages 419-422 |
| Source: | Original Document |
| Title: | Manorial Records, Court Rolls, Grant of a Lease to John Gwillim |
| Place name: | Longtown, Newton, Clodock |
| Date: | 1832 |
Description:
At a Special Customary Court of the Manor of Ewyas Lacy held at the Castle of Longtown on the 7th July 1832 before Baker Gabb, Steward of the Manor of Ewyas Lacy held by The Right Honorable Henry Earl of Abergavenny.
Consideration £165
John Gwillim, Farmer, of township of Longtown, Parish of Clodock granted several closes of arable, meadow and pasture comprising 33a-3r-0p in Longtown and Newton
In Longtown (as map, page 421)
5 closes of land known as Caie Deved
In Newton (as map, page 422)
2 parcels of land known as Caie Garrow or Baker's Land and 2 other parcels
Granted to John Gwillim and his heirs for the lives of his sons:
John Gwillim aged 16years
William Gwillim aged 14 Years
Robert Gwillim aged 13 Years
Rent 3s-9d per annum, Heriot 5s
John Gwillim admitted by the Rod
Other persons and places mentioned:
John Price, David Nicholls, (Homagers)
John Gwillim
William Pitt
Mr Jennings, The Wain
John Powell
Thomas Church
Walter Morgan
Henry Marsh
Robert Gwillim
William Prichard
Wain Herbert
Old Court
Cae Pwll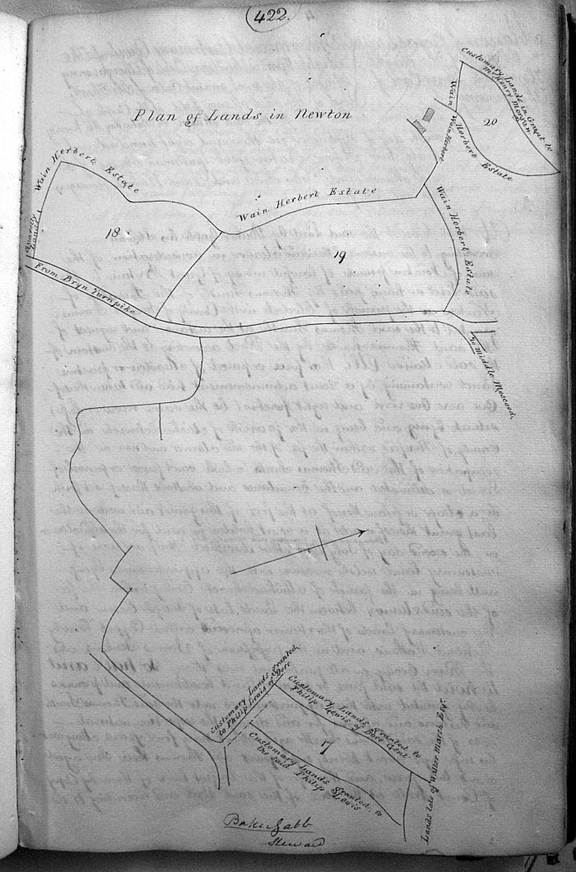 Observations:
The Court was 'Special' in that it was held before the Steward of the Manor in the absence of Court Jurors. A convenience much practiced in the 19th century.
For further details of these holdings click here
For Longtown Tithe Map details click here
For Newton Tithe Map details click here
Camera images of the Court Roll item J91/1 can be seen here. These are large PDF files which are zoomable but not searchable.
---
Ref: gc_ewy_3404