| | |
| --- | --- |
| Held at: | Private collection |
| Reference: | gc |
| Source: | research |
| Title: | Dr. W.H. Morgan of Longtown and Ewyas Harold |
| Place name: | Longtown, Ewyas Harold |
| Date: | 1905 – 1940's |
Description:
In the early years of this century a new doctor came to these parts of Herefordshire. He was Doctor William Holmes Morgan, a member of the Royal College of Surgeons and a Licentiate of the Royal College of Physicians. Dr. Morgan was from a medical family, his father being William Henry Morgan at one time Deputy Surgeon General to the Indian Medical Service. Our Dr. Morgan had done his medical studies in London and had qualified there in 1892. Leaving London after his qualifications he had gained experience as the Resident Medical Officer at the Brecon County Infirmary. He decided to go into general practice and came to Herefordshire round about 1905. He took on a practice in Longtown and lived at the house called Glan Olchon.

Dr. Morgan was a meticulous gentleman both in his dress and in his habits, perhaps this arose from his medical training. Older residents of Ewyas Harold remember him as always being tidily dressed, usually in plus fours and with a pointed grey beard and a bent pipe. For many years he kept detailed records of his daily travels, some of these have survived and provide fascinating glimpses of motoring as it was in these country areas in the earlier part of this century.

At Longtown he had succeeded Dr. T. J. Swinburn, an earlier resident of Glan Olchon. Initially Dr. Morgan practised only from Longtown gradually building up the practice as he became better known and had the confidence of the area. In 1918 he took on a second practice in Ewyas Harold and there after shared his time between the two. For many years the Longtown business continued to provide the biggest part of his work but the Ewyas Harold practice also flourished and by the mid 1920's he found it more convenient to work from Ewyas Harold. By 1930 most of his work was provided by the Ewyas Harold practice. The late 1930's showed a gradual decline in his activity. By 1940 he was occasionally using locums due to his own incapacity and he died in the early years of the Second World War.

When Dr. Morgan first came to Herefordshire one of his problems was getting around to visit his country patients. The roads of this area would be unrecognisable to most of us, they were all unsurfaced, dusty in summer, muddy when wet, fearful in winter, ditches and gripes were indifferently cared for, trees and hedges were untrimmed and encroached over the road. Men often had to dismount their horses to pass beneath some of the overhanging trees. In the years before the First World War Dr. Morgan visited his patients outside walking distance by either bicycle or pony and trap. In these years he travelled approximately fifty miles per week roughly half by cycle and half by pony and trap. No doubt it kept him very fit and active.

In November 1913 he decided to buy his first motor cycle. His choice was a good one, a Douglas 4 h.p. machine. A make which was to establish a reputation for speed and reliability. With the motor cycle he was able to get around much more conveniently. Over the war years his mileage gradually increased to over one hundred miles per week. He had disposed of his pony and trap and only occasionally used his bicycle, particularly when the roads were bad with snow and ice. Our Doctor did most of his own motor cycle maintenance work sometimes taking time off from his work for the purpose. He became an expert in the vagaries of Belt Drives, Binks Carburettors, and the new fangled pneumatic tyres. Petrol was ordered by post and was delivered in two gallon cans by rail to the nearest station for collection. He kept detailed records of his fuel consumption and like a good medical man measured the petrol into his tank by the fluid ounce. The light weight and simple construction of his Douglas motor cycle gave good fuel consumption; he averaged 85 to 90 miles per gallon and sometimes achieved over 100 m.p.g. In 1916 war regulations required him to make a return of his petrol consumption and stocks. He gave his estimated requirements as 4.7 gallons per month and his present stock as 3 gallons.

In October 1920 he changed his Douglas motor cycle for a newer and larger model, an A.J.S. six horse power machine. He was pleased with it and it was to last him nine years. He was in fact so pleased with this machine that in 1921 he bought it a stable companion; another A.J.S., this time the seven horse power model to which he soon added a sidecar. Throughout the 1920's he travelled the country lanes on these two motor cycles, usually totalling between five and nine thousand miles per year.

By January 1929 he thought the time was right to move on to car ownership, so he traded in his A.J.S. 'Six' and bought a l2 h.p. car. Perhaps he was not too happy with this particular car, for in December 1930 he got rid of it in favour of a l6 h.p. Austin Car. Now in the 1930's he travelled in better style and in 1932 to 1935 which were the peak years of his practice he averaged up to three hundred miles per week visiting his patients. In the late 1930's his practice was in decline, and in the Summer of 1937 he bought what was to be his last car an l8 h.p. Austin; a vehicle which was to survive him and that can be remembered in the post war possession of his widow.

November 1918 must have been a memorable month in Dr. Morgan's life. On Monday 4th November he was married for the second time, his first wife having died some years earlier. His wife was Alice Mary Stokes the step daughter of Mr. Richard Farr of Highfield House, Llanveynoe. The wedding was at Llanveynoe Church in the peaceful Olchon valley above Longtown. The happy couple did not go away for a honeymoon but with the exception of a couple of urgent professional visits he took five days off work. The peace celebrations following the end of the First World War on the 11th November 1918 were hardly over when our newly married doctor was plunged into what was to be the busiest period of his whole medical career. This was the severe Influenza epidemic which raged across the country. The outbreak was recognised as a major epidemic by mid November 1918 and reached its peak by mid December of that year. Dr. Morgan had over 75 patients seriously ill, many requiring three or four visits per week, all this on top of his normally busy week. Some died from the Influenza. In the neighbouring county of Monmouthshire there were 99 deaths from Influenza in the four weeks peak of the outbreak.

The reasons Dr. Morgan decided to leave Longtown and move to Ewyas Harold are not completely clear. We have seen that his practice in Ewyas Harold developed from 1918 onwards. Perhaps his new wife, who came originally from Much Dewchurch was finding life at Longtown too rural. In any case they had an interest in having a 'modern' and more convenient home. They bought magazines illustrating the design and furnishing of such modern houses. In late 1922 Dr. Morgan met his Architect Herbert Skyrme of Hereford to discuss his plans. Eventually a convenient site in Ewyas Harold was chosen. Plans for a typically modern house of the period were finalised and a local builder engaged to build. Eventually the Doctor's house was completed and named Merton Lodge. Here the good Doctor lived out the rest of his life.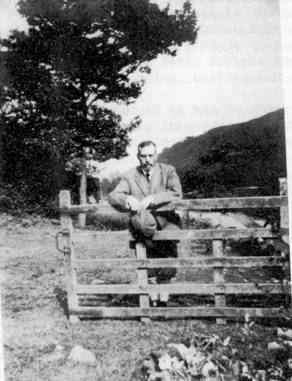 He was buried at Llanveynoe in an unmarked grave. His widow Alice survived him by many years, living alone at Merton Lodge until becoming infirm she was admitted to Hereford County Hospital. She died at the age of 81 and is buried in the same unmarked grave at Llanveynoe.
Observations:
none
---
Ref: gc_ewy_2006