| | |
| --- | --- |
| Held at: | Hereford Public Library |
| Reference: | Local collection |
| Source: | Transactions of the Woolhope Naturalists' Field Club ,1932 |
| Title: | Bronze Age Burial Cists in the Olchon Valley |
| Place name: | Llanveynoe |
| Date: | c 2000 BC |
Description:
In the May of 1932 Mr. James Smith, Farmer of Olchon Court, while ploughing a field uncovered a Bronze Age burial cist. The cist was stone lined and covered by a stone slab a few inches below the surface. It contained a skeleton in a crouched position laid on its left side facing east. Also in the cist were a fine flint arrow head and a pottery beaker, which had fallen on its side. When found the contents were undisturbed.
The site is on the eastern flank of the Black Mountains at an elevation of about 1040 feet
Mr James Smith was the owner and occupier of Olchon Court, he had been there 51 years and was aged 79.
Further investigation revealed a second similar cist a few feet away. The finds were investigated by members of the Woolhope Club and a full report is given in their Transactions
| | |
| --- | --- |
| | |
| James Smith at the First Cist | First Cist as found,without Beaker |
| | |
| First Cist, after clearence | Second Cist, when cleared |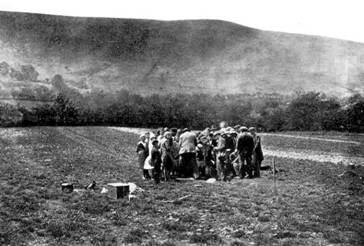 Woolhope Club members at the site
The Second Cist Opened
| | |
| --- | --- |
| | |
| Arrowhead from First Cist | Beaker from First Cist |
Observations:
Original report by George Marshall, Photos by F.C. Morgan
---
Ref: gc_llv_2001