| | |
| --- | --- |
| Held at: | Private Collection |
| Reference: | rs/gh |
| Source: | Original Documents: G Hales Collection |
| Title: | Golden Valley Railway (Hay Extension) Act |
| Place name: | Golden Valley |
| Date: | 1884 |
Description:
Photograph of the Golden Valley Railway (Hay Extension) Act of 1884: "An act to enable the Golden Valley Railway Company to abandon a portion of their authorised railway; to construct new railways; and for other purposes".
This Act followed those of 1876 for the initial Pontrilas to Dorstone railway, of 1877 for the original extension to Hay, and of 1882 for extension of the time allowed for the completion of the railway to Hay. The abandoned portion of the railway referred to is the originally envisaged line from Clifford to Hay in the 1877 Act, which was intended to follow a route to a new GVR station in Hay. The new [1884] Act specifies in its place a different route to a junction to be formed with the Midland Railway Company's line [the Hereford, Hay and Brecon Railway] at what was to become Hay Junction, and provides for the use of their existing station and goods yard at Hay. It is this latter configuration that was eventually built. The "other purposes" coyly referred to were the equally or perhaps even more important matter of authorising a further £45,000 of new stocks and shares which the Golden Valley Railway Company by this time desperately needed to finance the construction and their operations.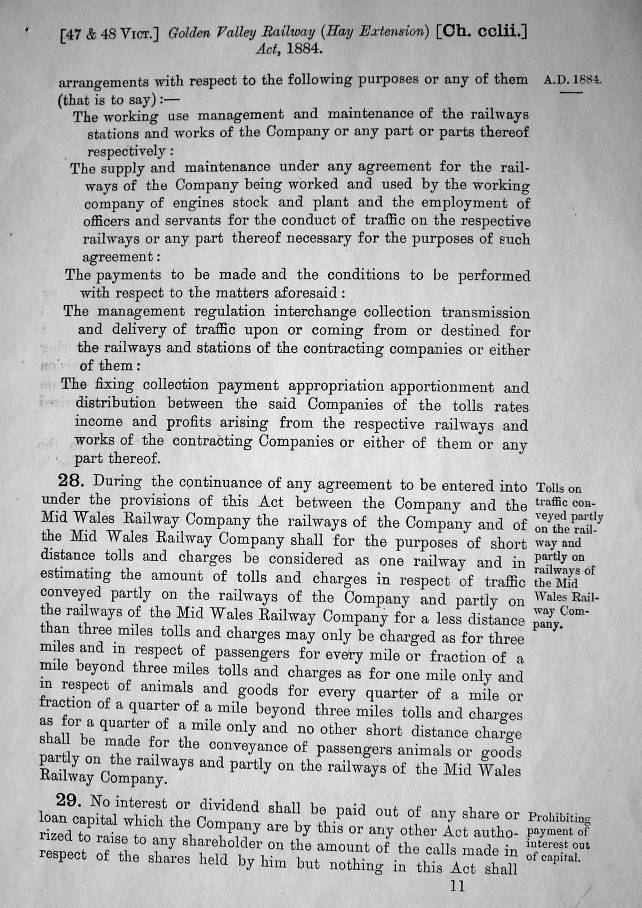 Observations:
None
---
Ref: rs_gdv_0050