| | |
| --- | --- |
| Held at: | British Library |
| Reference: | 19th Century Newspapers collection |
| Source: | Morning Chronicle |
| Title: | Press Cutting: Sale by auction of the manor of Ewyas Lacy and Michaelchurch Court Estate |
| Place name: | Ewyas Lacy |
| Date: | 1815 |
Description:
Advertisement dated June 24th 1815 of the sale by auction of the manor of Ewyas Lacy and of Michaelchurch Court Estate.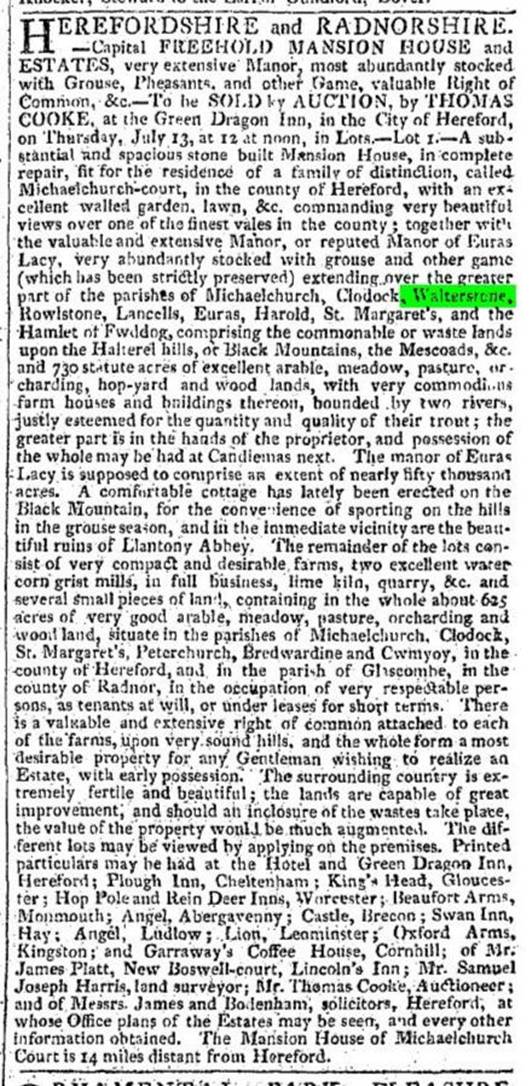 Observations:
This advertisement contains reference to properties in Ewyas Harold and in the parishes of Bredwardine and Glascombe [Co. Radnor] being part of the Michaelchurch Estate. There are no references to these in other known Estate or sale documents over the years, nor is the identity of these properties clear. It also appears to claim the Maescoeds as part of the moiety of the Manor being sold.
Click here for a paper describing the various sales of the Manor of Ewyas Lacy between the sixteenth and Twentieth centuries, together with links to other related material on the Ewyas Lacy Study Group website.
---
Ref: rs_ewy_0085