| | |
| --- | --- |
| Held at: | Private collection |
| Reference: | RS |
| Source: | Original documents |
| Title: | Brothers Collection: Photographs of Postcard Album |
| Place name: | Ewyas Lacy |
| Date: | 1900 - 1910 |
Description:
A collection of over 670 postcards sent between 1900 and about 1910 was kept in an album by the Reverend CT Brothers, Rector of Bacton. The cards depict a very wide range of scenes at the turn of the last century from throughout the United Kingdom and other parts of the world including Australia, India, Palestine and Egypt as well as the more conventional tourist destinations of the time in Italy, Germany, France and other countries on the European circuit. A selection of the cards with local relevance and a full index of the album are shown below.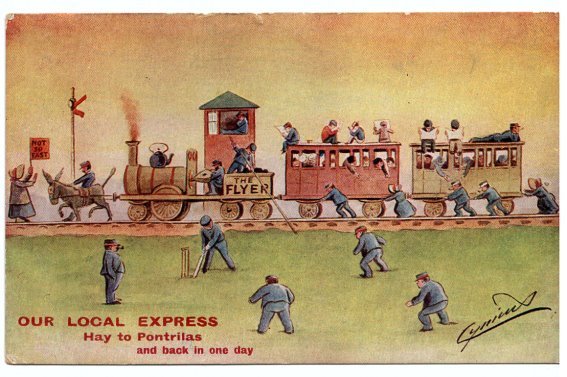 A cartoon poking fun at the Hay to Pontrilas Golden Valley Railway
Brecon Castle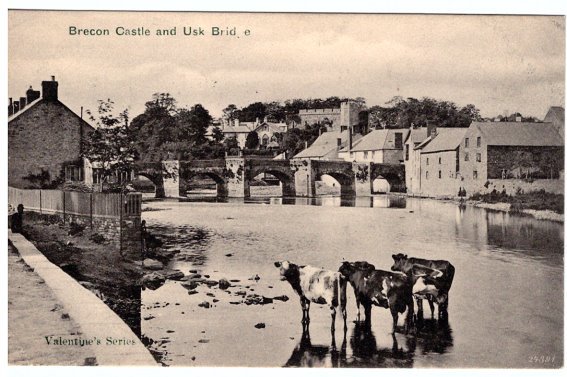 Brecon Castle and Usk Bridge
Brecon High Street 
Canon Frome Court, near Ledbury
Gloucester Cathedral
Hereford Cathedral and Wye Bridge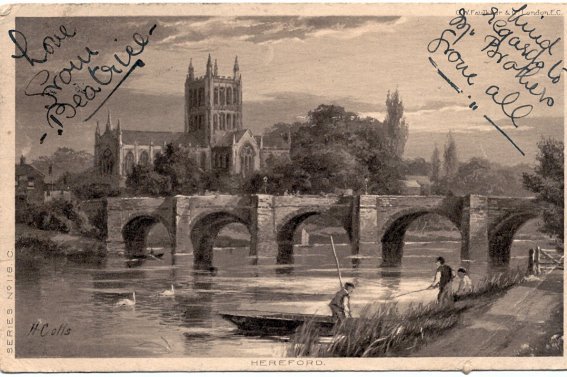 Hereford Cathedral and Wye Bridge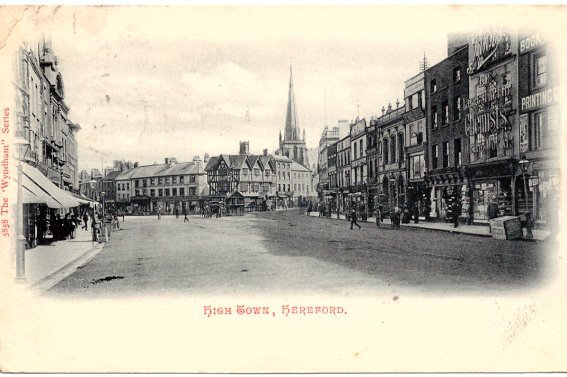 Hereford High Town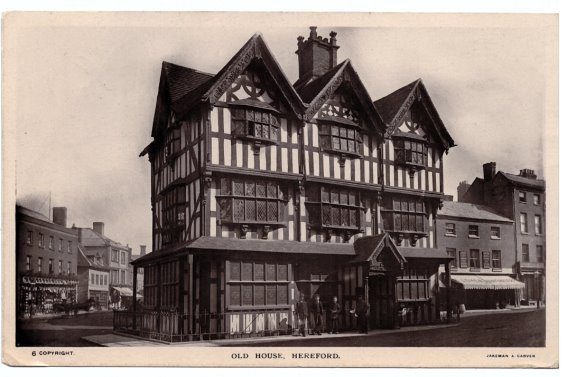 Hereford Old House
Ludlow Castle 
Ledbury Market House
Monmouth Monnow Bridge 
Stoke Edith House and Church, near Hereford
Worcester Cathedral
POSTCARD ALBUM PHOTOGRAPH INDEX:
[photographed three cards to the page; captions as on the original]
1 Bootham Bar and Minster, York; The Priory Dunfermline Abbey; Kirkstone Pass and Brother's Water
2 Ulm Cathedral [blank text]; Manchester Cathedral; Old House & Castle, Conway
3 Frankfurt am Main; Die Lureley [Lorelai]; Stuttgart Marktplatz [all blank]
4 Mainz; Bingen; Rheinfels Fortress [all blank]
5 Ehrenbreitstein; Coln [Cologne]; Stolzenfels und Kapellen [all blank]
6 Haverfordwest; Stuttgart panorama; The Cliffs, Tynemouth
7 York watercolour; Brook Street, Knutsford; Windermere Lakeside hotel
8 Mainz [panorama] [blank]
9 The Gardens, Buxton; Mainz Castle [blank]; Storm in Douglas Bay, Isle of Man
10. Pont de Gerignoz et la Gumfluh; Beaufront castle; Jesmond Dene, Newcastle upon Tyne
11 Liverpool; Richmond Yorkshire, The Three Towers; unknown garden
12 Goch; Mainz; New York, General Grant's Tomb Riverside Park
13 Halesowen town; Brecon Castle & Usk Bridge; Capri
14 Souldern church; Milan Duomo; Largiemore, sailing ship Glasgow
15 Ottery St Mary; St Ampeglio Bordighera; the Dun Cow Durham Cathedral
16 Off Anstruther; Tenby harbour; Porto, Guindaes & Ponte Maria Pia
17 Llangollen canal; Tenby south sands; Egypt, sunset at the pyramids of Giza
18 Bologna, le due Torri; Monnow Bridge Monmouth; promenade Colwyn Bay
19 Mayne Reid's house, Gerard's Cross; Barque du Leman; Hotel Rydberg Stockholm
20 Clive Street at midday, Calcutta; Lathkill Dale; Houses of Parliament, Westminster
21 Der Romer, Frankfurt am Main; Motiv fran Slottskogen, Goteborg; Weavers and Kings Bridge, Canterbury
22 Cheltenham, the Devils Chimney; Cairo, the Great Nile Bridge; Bettws y Coed Miners Bridge
23 Figures [no caption]; Frairs Craig Derwentwater; St John's Gardens Liverpool
24 Norham Castle & Twizel Bridge; Chamonix Hotel du Montanvert & Aiguille du Dru; unknown garden
25 Source of the Thames in the Cotswold Hills; High level Bridge, Newcastle on Tyne; Tenby fishwives
26 'Sail Away' cartoon; Gate House, Phillips Park; Monk Bar, York
27 Nice, Promenade des Anglais; North Cape, Hammerfest, Norway; cottages at Bakewell
28 Nice, Promenade des Anglais; East & West Churches, Stirling; Union Chain Bridge, Berwick on Tweed
29 Unknown yacht; Berkeley Castle; St Pauls Cathedral London
30 Gwrych Castle; St Margarets Church Kings Lynn; Boulogne sur Mer, La Porte des Degres
31 Worcester from the weir; The Esplanade, Rochdale; Boulogne sur Mer, La Colonne
32 Crystal Palace; Hay Bridge; Ypres ruins - interior of St Martins Cloister
33 Newby Bridge Windermere; The Cheviots; Caldey 1906 the home-coming
34 Boulogne sur Mer, Porte Gayole; Boulogne sur Mer, La Digue promenade; Dursley
35 High Town Hereford; Clyde from Princes Dock, Glasgow; Horseshoe Falls, Berwyn
36 Dunham Mill Bowdon; Andermatt; Bad Ischl
37 Chester Cathedral; Old Bridge and Tower, Lucerne; Fluellen und der Bristenstock
38 Edlingham Church and Castle; St Alkmunds Churchyard Derby; Chester, Bridge Street
39 Dursley Parish Church; Grasmere; The Castle Gate Lancaster
40 Alexandria, Colonne de Pompee; Wimereux Cap Gris Nez; Alexandrai Colonne de Pompee et Cimitiere Arabe
41 Alexandria Place des Consuls; Ripon Cathedral; Mariners Home, New Brighton
42 Scarborough from Oliver's Mount; Vale Park New Brighton; Boulogne sur Mer communion procession
43 Electric railway Liverpool; Le Portel - La Plage; Rhyl, Rhuddlan Castle
44 Boulogne sur Mer procession; Boulogne sur Mer La Grande Rue; Alexandria Jardin de Dattiers
45 Boulogne su Mer Matelot Boulonnaise; Old Man of Hoy, Orkney; Holyrood Palace Edinburgh
46 Liverpool Princes landing stage; Banqueting Hall Edinburgh Castle; Tower and lake, New Brighton
47 Durham Valentine; New Brighton Lighthouse & yacht; Wimereux, vue general
48 Boulogne sur Mer, Monument du Docteur Duchenne; Great Yarmouth; Llandudno pier
49 On the Wye at Wilton; Stokesay Castle Great Hall; Old Market Place, Wigan
50 Boulogne sur Mer, La Porte de Calais; On the Wye near Bakewell; Lake in the Park, Wigan
51 Boulogne sur Mer, La Porte des Dunes; Hay to Pontrilas, Golden Valley Railway; Mytham Bridge, Bamford
52 Main Street Limavady; Hexham Abbey; Storm at New Brighton
53 SS Teutonic at Liverpool; Miner's Bridge, Bettws y Coed; Coronation Edward VII 1902
54 Menai Straits from Llanfair PG; Edinburgh Castle; Beddgelert & Moel Hebog
55 Lime Street Liverpool; New Bridge Southport; Tynemouth Abbey
56 Healey Viaduct; Walmgate Bar, York; Aber valley and bridge
57 Stansstad [Lucerne]; Glengariff Farm scene; Coronation 1902, Canadian Arch
58 Scarborough South Bay; Coronation 1902, The Royal Carriage; Stokesay Castle
59 Conway Castle; Pont y Pair, Bettws y Coed; Warkworth
60 Clyde Street, Helensburgh; Wells Cathedral; Parish Church, Radcliffe
61 Southport boating lake; Claremont Park Blackpool; Eyam Church
62 Heidelburg; Luzern & Pilatus; Hellesylt, Sondmor, Norway
63 The Pavilion, Southport; Chatton; Chester Cathedral Choir
64 Streatly; The East Cliffs, Hastings; Parish Church, Wigan
65 Sunderland; Chester, Eastgate Street; Market Hill, Sudbury
66 Cockington Church; Fitzalan Square, Sheffield; Lord Street, Southport
67 The crooked steeple, Chesterfield; Froggatt Edge & Bridge; Kelvin Bridge, Glasgow
68 Campbeltown Cross; Verona, Piazza Erbe; Ormskirk Church
69 Turin, Stazione di Porta Nuova; Market House, Dursley; The Ridge, Headingly, Leeds
70 Montreal, Commissioner Street; Towyn, Corbett & Raven Hotel; Derwentwater
71 Sutton, Cock Hotel; Dursley; Trafalgar Square, London
72 Blackgate, Newcastle; Bolton Hall, Wensleydale; Grace Darling Tomb
73 Middleton Vale; Milford Church near Morpeth; Pittencrieff, Dunfermline
74 Eglingham Hall; Carn Brea Castle, Camborne; Summit of Snowdon
75 Manor Abbey Halesowen; The Hermitage, Warkworth; Oxford
76 Jerusalem, The Pool of Hezekiah; York, Walmgate; Yarra Bank Gardens, Melbourne
77 Station Road & Burnley Road, Ainsdale; Alnwick Castle; Barnard castle
78 Innisfallen Island, Lake Killarney; Aix les Bains, Lac de Bourget; Poppies
79 Napoli, ferrovia del Vesuvio; Monsal Dale; The Sheriff, Fair Isle
80 Urnerloch bei Andermatt; Chester, Gods Providence House; Chester, Water Tower
81 Bradda Head, Port Erin; Tantallon Castle; Berkeley Castle
82 Collingwood Monument, Tynemouth; The Choir, York Minster; The Bridge, Fairy Glen, Penmaenmawr
83 Commercial Street & Town Hall, Newport, Mon; Sussex Cottage; Yacht 'like a painted ship'
84 King Charles House, Worcester; Donegal Castle; Newport Canal, Mon.
85 St Davids Cathedral Nave; Worcester Lich Street & Gate; Haddon Hall & River Wye
86 Tellskapelle [Switzerland]; Lynmouth; Bowder Stone, Barrowdale
87 Gibraltar Torpedo Camber & ships; Market Street, Hoylake; Market House Ledbury
88 The Suspension Bridge, Alum Chine; Fisherman's quarters, St Ives; PS Isle of Arran at Rothesay
89 Tantallon's Dizzy Steep; Commercial Street Newport Mon; 'Under the Hill' [cows]
90 Bishop Hooper's Monument, Gloucester; Tivoli, Cascatelle; Old Cross, Bosbury nr. Ledbury
91 Cheltenham Promenade; Cottage at Littleover, Derbyshire; Storm
92 The Goose Girl; A Trading Smack; Wastdale Head and Great Gable
93 Cable Station, Waterville, Co Kerry; A basket of mischief [kittens]; Las Palmas, Atalaya Cave Village
94 Entrance to Dovedale; St Gregory's church Sudbury; Aberglaslyn Pass
95 Red Noses New Brighton; Helbourne Hotel Dublin; Tintern Abbey
96 Broad Walk, Boggart Hole, Clough; The Five Arches, Tenby; Toll Gate, Lower Sandgate Rd, Folkestone
97 Bethlehem Grotto of the Nativity; The Bridge, Sturminster Newton; South Shields Market Place
98 Flowers; Garscadden Gates Drumchapel; Palace Hotel Bussaco, Portugal
99 Isle of Man Douglas Head Lighthouse; Rossett Mill; York Minster
100 Buxton; 'Raging Billows'; 'Morning Light'
101 Blackpool, High Tide North Shore; North Shields Fishing Boats; 'Heaving billows'
102 SS Oceanic; L. Doyen Le Vieux Garcon; Blea Tarn
103 Niagara, American Falls from below; Castle Buildings, Llanelly; Cooper Square, New York
104 New Inn Gloucester; Gloucester from Robin Hood's Hill; Town Hall, Llanelly
105 St Davids Church Carmarthen; Robert Raikes' House Gloucester; Koln am Rhein, Hohenzollernring [all blank]
106 Flood in Longrow, Campbeltown; St Peters Church, Carmarthen; Old Houses and Church, Tarbert
107 Loch Lomomond, Ardui; Campbeltown Harbourand Askomil; Hathersage
108 Dalintober Quay, Campbeltown; Campbeltown 1903; Campbeltown Harbour [all blank]
109 Priory Church Leominster; Wellington Hotel, Riding Mill; Davaar Island from Maiden Plantain
110 Clyde from Sailors Home, Glasgow; Paisley Abbey; Jamaica Bridge, Glasgow [all blank]
111 Dunoon Pier from Douglas Hotel;Conway Road, Colwyn Bay; 'river scene'
112 The Roman Bridge, Riding Mill; Fishing fleet leavig Tarbert; Bosbury, near Ledbury
113 Cross & Parish church, Kilmalcolm;Clydebank; High Street, Renfrew [all blank]
114 The Public Park, Kilmalcolm; The Yewdale Valley, Coniston; Llanrwst Road, Colwyn Bay
115 Church [not named]; Yacht [not named]; Clydebank House
116 Steamers x3 [no names; maybe on the Clyde; all blank]
117 Amphitheatre, Kilkee, Co Clare; Cliffs of Moher, Co Clare; Spectacle Bridge, Lisdoonvarna, Co Clare
118 Dumbarton Castle; St Marys Cathedral, Limerick; Tarbert
119 Welsh country life & costume; Plas Newydd, Llangollen; Royal Hotel Llangollen
120 Chew Brook, Greenfield; Rome, Foro Romano; Laxey Wheel
121 Meanwood Side; Town Hall Seaton; Summer in the Tyrol
122 Warkworth Castle; Whirlpool Rapids, Niagara Falls; Vale Crucis Abbey & Lake
123 Cirencester Market Place; A Lane in Keswall; Hathersage Bridge
124 Oddicombe Beach, Torquay; Livermead House, Torquay; Fairford Church
125 Path by the lake 'Talkin Tarn'; 'Primrose day'; Taff Fechan &Gurnos Quarries, Merthyr Tydfil
126 Amiens Cathedral; York Minster; Amiens Cathedral [bird's eye view]
127 Amiens Cathedral from the banks of the Somme;Amiens Cathedral , the three doors; Amiens water market
128 Blaenau Festiniog; Lledr Bridge, Bettws y Coed; Conway Castle & Town
129 Tower of London & Tower Bridge; Thames Embankment, London; Davaar Lighthouse, Campbeltown
130 Friars Street, Sudbury; Sudbury Market Hill & Church; Das Arnerloch [Switzerland];
131 Fairley Woods, Romsley; Unknown bridge; Chapel Royal, Holyrood Palace, Edinburgh
132 Jesus College Cambridge; On the Cam, Cambridge; Bosbury Church near Ledbury
133 'Friday'; Venice, Riva Schiavoni; Turin, general panorama
134 Loch Lubnaig; Castleton, The Winnats; Newcastle[?] quayside & ships
135 Marsden Rocks; The Glebe Farm; Holt Fleet Bridge
136 The Front, Whitley Bay; Canterbury Cathedral Tomb of the Black Prince; Promenade, Cheltenham
137 Eaton Hall, Chester; Turin, Piazza Carlo Felice; Victoria Hall, Campbeltown
138 Finchale Priory; Market Place, Durham; Pisa, Cathedral & Campanile
139 Cairo, Rue de l'Ezbekieh; Bruges, Le Gruthuys; Gateway, Lincoln's Inn, London
140 Nationaldenkmal, Niederwald; Koblenz, River Mosel; Winchester Cathedral [all blank]
141 Langdale Pike from Elterwater; 'Dante & Beatrice'; Woodmancote
142 Micklegate Bar, York; Derwentwater; Mere
143 Berkeley Castle; Waterloo Lake, Roundhay Park, Leeds; St Annes on the Sea
144 Cockington Forge, Torquay; Putney Bridge, London; Ballingdon Bridge, Sudbury
145 Corporation Street, Birmingham; Church Island Ruins, Waterville, Co Kerry; Sling Pool, Romsley
146 St Philips Church Birmingham; Manor Tower, Mitford; Monaghan
147 Rough sea, Hastings Pier; Fore Street, Taunton; Wooler Moor, Cheviots;
148 Bath from North Parade Bridge; Cartoon - Wireless Telegraphy; River Severn from Holt Fleet
149 Chipping Sodbury Market Place; Birmingham; the Cathedral, Anvers
150 York Minster; Stoke Edith House & Church, Hereford; Mill Stream, Ottery St Mary
151 Ships, Knocke sur Mer; 'Court of Honour;, Franco-British Exhibition; New Royal Infirmary, Manchester
152 River at Bannard Castle; Endcliffe Woods, Sheffield; cottage in Toft Wood, Knutsford
153 Eagle Stone, Baslow Moor; 'Big Barrel', Heidelburg; Five Arches, Don Valley, Sheffield
154 Rome, Castel Sant Angelo; Shandon Church, Cork; Town Hall, Liverpool
155 Bonn, Munster; Peel Castle, Isle of Man; Ainsdale
156 Tower of London; Ainsdale; Main Street, Limavady
157 East Choir, Winchester Cathedral; Culbone Church, Porlock; River Derwent at Hathersage
158 Modane et les Fortes; Winchester Cathedral; Ludlow from Whitcliff
159 Thye Dingle, Shrewsbury; Winchester Great Hall; Ludlow Castle
160 Sailing barge [unknown]; Florence, panorama; Peel Castle [postmark Campbeltown]
161 Bergen, Norway; Munich, Frauenkirche; Greenhead Park, Huddersfield
162 Chatsworth House; High Street Brecon; Brecon and the Beacons
163 Upper Falls, Ffrwdgrech, Brecon; Boscastle, St Knightons Fall; Brecon Castle
164 Tarbert Fishing Boats, Loch Fyne; Lighthouse, Llandudno; Old Roman Baths, Bath
165 Burns Statue, Ayr; Brizlee Tower, Alnwick; New Brighton, the Tower
166 'A Scottish Washing'; Conway Castle; Gloucester Cathedral
167 Ambleside Stock Ghyll Force; West Kirby, Caldy; Penarth
168 Goyt Bridge, Buxton; Moon at Oban; Newsham Park, Liverpool
169 Monsal Dale; Ashwood Dale, Buxton; Ludlow Castle
170 Clifton Bridge; Napoli, Mercato dei Fiori; Clifton Bridge
171 Eaton Hall, Chester; Clifton Downs; Halliford
172 Glennbarr Abbey; Pic Tor, Matlock Bridge; Haddon Hall
173 Colquohoun Square, Helensburgh; Hathersage; Inveraray Cross and Castle
174 Lee on the Solent; Stretton Grandison Church, Ledbury; Swiss Cottage, Canon Frome Court, Ledbury
175 Trent Bridge, Burton on Trent; Canon Frome Court, Ledbury; Market Place, Wells
176 London, Tower Bridge; Pilatusbahn, Luzern; Nevillle Street, Newcastle on Tyne
177 Haddon Hall Banqueting Hall;The Lake, Boscombe Chine; Malmesbury Market Cross
178 Sunset at Eyam, Derbyshire; Parish Church, Cirencester; 'the return home' [painting]
179 Middleton Dale, Derbyshire; Cathedral & Bridge, Hereford; Glastonbury Abbey, St Joseph's Chapel
180 Wells Cathedral from Tor; London Hyde Park [Rotten Row]; North Shore Promenade, Blackpool
181 Hallith Wood, Bolton; 'group in traditional dress'; Market Place, Burton on Trent
182 Gand, Maison des Bateliers; 'the gathering storm' seascape; Minehead
183 Greetings from Koln [Cologne]; Dunster High Street; White Otter Farm, Ainsdale
184 Genova, Monumento C. Columbo; Pompeii, Ultimi Scavi; Luzern mit Pilatus
185 Ferney Hill, Dursley; Sherborne; Calton Hill, Edinburgh
186 Mont Orqueil Castle, Jersey; High Street Gate, Salisbury; Hoylake shore
187 Dove Dale, Matlock; Conway 'river picture'; The Cathedral, Truro
188 Cork, general view; Sauchiehall Street, Glasgow; Chee Tor, Miller's Dale
189 Old House, Hereford; Hereford, Wye Bridge & Cathedral; Mauretania leaving the Tyne
190 Victoria Gardens & Promenade, Broadstairs; Oxford Street, London; St Paul's Cathedral, London
191 Bruges, Le Beffroi; Kensington Palace, London; Leicester Square, London
192 'A bit of Whitby'; Brussels Town Hall; Aix-les-Bains, Abbaye de Hautecombe
193 River Approach, Liverpool; Mill View, Sturminster Newton; Hastings from East Hill
194 Shaky Bridge, Llandrindod Wells; The Market House, Ross; St Luke's Church, Liverpool
195 St David's Cathedral; Cardiff Town Hall; Norwich Cathedral
196 St Kenelms, Romsley [interior]; St Kenelms church, Romsley; Halesowen Church
197 Bull Bay, Amlwch; Albert Dock, Hull; Brighton, The Dome
198 Paris, Champs Elysees; North Shore, Tenby; Old Village, Yoker
199 Stinchcombe Hill, Dursley; Naples, Mount Vesuvius; Venice, Church of San Marco
200 Chorlton Meadows, winter; Christmas scene, sheep; Ostend, La Plage a Midi
201 Jesmond Dene; unknown yacht [Christmas]; unknown river scene
202 Crickhowell; Llandudno, Marine Drive & Great Orme's Head; Matlock Dale from Long Tor
203 Serpentine Walk, Buxton; Conway Castle; Blundell's Farm, Ainsdale
204 Ashworth Valley, near Bury; The Cross, Chester; The Old Mill, Jesmond Dene
205 Victoria Pier, Blackpool; Station Road, Ainsdale; Tarrington Church, near Hereford
206 Wind Street, Swansea; The Narrow Way to Stinchcombe Hill; Castleton, Peveril Castle
207 Chepstow; 'Beggarly Broom' [thatched cottage]; Porthmawr Gateway, Crickhowell
208 The Headland, Newquay; Ullswater; Crewe Hall, Crewe
209 The Bailey Gate, Durham; Royal Border Bridge, Berwick on Tweed; Dove Holes, Dovedale
210 Luzern mit Pilatus; Mainz, Dom und Gutenberg Denkmal; General view, Tideswell
211 Heidelberg; Blankenberghe, the beach; Deutschen Eck, Denkmal Kaiser Wilhelm
212 Amsterdam, Stadthuis; Cologne Cathedral, south side; Mainz waterfront
213 Cologne, Hohenstaufenring; Blankenberghe, La Digue; Bruges, Le Quai Rosaire
214 Oberammergau; Rome, Foro Romano dal Campidoglio; Milford Haven
215 Milford Haven; South Hook & Stack Rock, Milford Haven; The Pill, Milford Haven
216 Fishing Boats, Milford Haven; The Harbour, Milford Haven; Old Water Tower, Worcester
217 Cathedral Ferry, Worcester; Worcester Cathedral; Worcester Cathedral from SW
218 Worcester Cathedral, Choir West; Crypt, Worcester Cathedral; Worcester Cathedral Reredos
219 Worcester Cathedral NW; Worcester Cathedral & Deanery; Elaine's Church, near Worcester
220 Worcester, Queen Elizabeth's House; Ombersley Village, Old Houses; Rothesay, Loch Fad
221 Worcester, River Teme; Falkland Memorial, Newbury; The Water Bridge, Newbury
222 Donnington Castle, Newbury; Newtown Water, Newbury; The Kennet, Newbury [all blank]
223 Cloth Hall, Newbury; St Nicholas Church, Newbury; Highclere Castle, Newbury
224 Crickhowell & Bridge; Northbrook Street, Newbury [all blank]
Observations:
The photographs include the reverse of each card showing the text, postage stamps and post office cancellation marks.
Go to the Index page of the Brothers Collection for other documents of the period collected by Reverend Brothers.
---
Ref: rs_ewy_0285