| | |
| --- | --- |
| Held at: | Google Books: http://books.google.com |
| Reference: | ISBN: 9781108008976 |
| Source: | The Early History of Christ's College, Cambridge, by A. E. Lloyd, A. H. Lloyd |
| Title: | Craswall Priory and its links to Godeshouse [now Christ's College, Cambridge] |
| Place name: | Ewyas Lacy, Craswall |
| Date: | 1341 - 1505 |
Description:
First published in 1934, 'The Early History of Christ's College Cambridge by AE Lloyd and AH Lloyd is a history of Christ's College from its foundation in 1437, through its relocation to its current site, up to the charter of 1505. The original college, founded by parochial rector William Byngham, was named Godshouse or Godeshouse and occupied a site which is now part of King's College. It was given its first royal licence in 1446 and moved to its present site in 1448. The college received its present name and charter when it was refounded in 1505. Extracts presented as images below relate to the college's interests in the Manor of Ewyas Lacy and Craswall Priory during that period.
[1] Lease of Craswall Priory by John Hurte of Godeshouse to Thomas Fitzharry, December 1455
Page141:
[2] Craswall as an 'Alien Priory' and its treatment under Edward III, Richard II and Henry VI, including its confirmation in 1442 to William Byngham as part of the endowment of Godshouse. Reference is made to the two charters of Walter de Lacy, and to Priory properties extending to Yarkhill, Weobley, Maunsell, Peterchurch, Ewyas Lacy, and the township of Craswall.
Appendix C, pages 405-407 [photograph of page 405 below courtesy of the Bodleian Library, Oxford, where the original book can be found in full]

[3] References to rents due to Godshouse on lands and tenements in Ewyas Lacy and Craswall [presumably linked to Craswall Priory] during the reign of Henry VII, and to letters sent to the stewards of the Lordships as the local representatives of the King. Details are given of bonds to ensure payment of rents owed.
Appendix E pages 441-445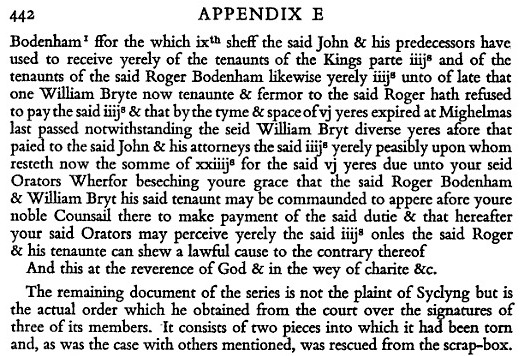 :
[4] Observations regarding the lineage of Lord Burghley and the Cecil family of Allt yr Ynys [Alltyrynys] in Walterstone, including links to Ewyas Lacy and to Craswall Priory properties.
Extract: Page 262
Observations:
Extracts are from a limited 'preview' version of the original book, published on the internet by Google Books. It is interesting to note that footnote 3 of page 441 above suggests that original De Lacy charters relating to Craswall Priory may still be held in the Christ's College muniment room.
---
Ref: rs_ewy_0194