| | |
| --- | --- |
| Held at: | Herefordshire Record Office |
| Reference: | AB/28 |
| Source: | Digital Images |
| Title: | Cusop School Minute Book, 1904 |
| Place name: | Cusop |
| Date: | 1904 |
Description:
School Managers
Chairman Rev D C Moore, Mr W H Larkin, Mr F Browning, Mr C J Lilwall
School Attendance Officer, vacant.
Clerk, Mr C Griffiths, jun.
Meetings only held in January and June.
Teacher, Mr T J White, Mistress, Mrs White.
21st January. Resolved that a charge of 1/- per night be made for use of School building, the money to go to the Cleaner.
24th August. Frank White to be paid 1/- per week for cleaning out the pails used for sanitary purposes in connection with the earth closets of the school and the school house, such cleaning to be done at least once a week.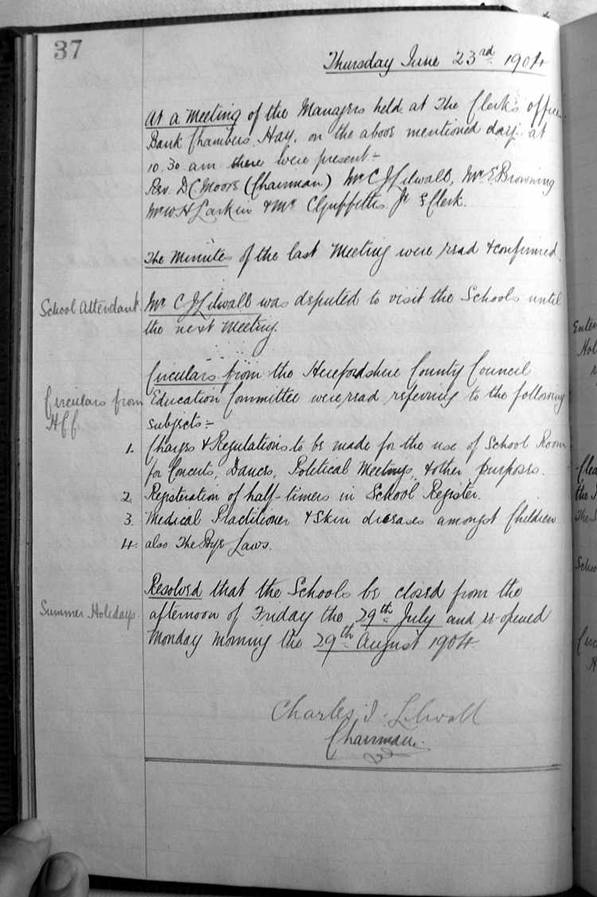 Observations:
For following year click here
For previous year click here
Click here for Cusop School Minute Book from 1901 to 1911
---
Ref: gc_cus_3014