| | |
| --- | --- |
| Held at: | Private Collection |
| Reference: | LD_tg_0005 |
| Source: | Original Document |
| Title: | Sales poster of Craswall Farms: Coad Farm; White Haywood Farm; Hollywell Farm; a Cottage and The Town. |
| Place name: | Craswall |
| Date: | 1850s? |
Description:
Freehold Estates to be sold by W Lloyd at the Swan Hotel, Hay on March 17th 18[missing].
Coad [Coed?]Farm, 60 acres in occupation of proprietor Mr Caleb Gilbert.
White Haywood Farm adjoining, 50 acres, same occupier and proprietor.
Both farms have sheepwalk rights on the Black Mountains and adjoin Great Black Hill Farm.
Hollywell Farm nearby, adjoining land of Mr John Farr and Mr John Anthony, 12 acres, in occupation of James Griffiths.
Cottage occupied by Mrs Price, shopkeeper, 1 acre.
Both have sheepwalk rights on the Black Mountains.
The Town, 2 acres, occupied by John Rowley with sheepwalk rights on the manor of HP Williams Esq.
A copy of the poster is shown below.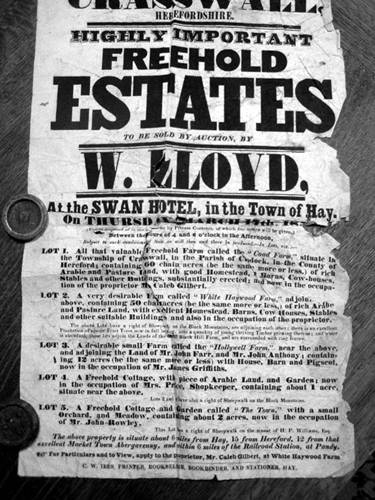 Observations:
In rs_cra_0050 reference is made in a document dated 1853 to John Farr of Middle Cwm. If this is the same John Farr as referred to in the sales details as being adjoining Hollywell Farm, it may be reasonable to conclude a sale date in the 1850's.
---
Ref: tg_cra_0009