| | |
| --- | --- |
| Held at: | Private Collection |
| Reference: | LD_tg_0011 |
| Source: | Original documents |
| Title: | Image and details of sale particulars relating to The Birches Farm |
| Place name: | Craswall and Cusop |
| Date: | 1840 - 1938 |
Description:
The following documents primarily relate to The Birches Farm, Craswall but also include mention of Bess Davies's land, Cae yr Allt, Craigy [Craigau], The Three Yew Trees and Russell's Tack in Craswall, Cusop and Hay.
2nd December 1840
Apportionment between the Trustees of the Estates of Sir Velters Cornewall Baronet to Thomas Watkins Esq of Forddvawr [Ffordd-fawr], Brecknock of farms and lands in Clodock and Cusop.
Reciting that Sir Velters Cornewall was the infant and eldest son of Sir George Cornewall (buried 2nd January 1836) and Dame Jane Cornewall nee Napier of Moccas Court and that Sir George Cornewall was the eldest son of Sir George Cornewall (died 26th September 1819) and Dame Catherine (died 17th March 1835). Guardians were appointed over Sir Velters and his brothers and sisters in the last will of Sir George dated 20th December 1835.
Reciting that certain property was settled in trust in 1815 on the marriage of George Cornewall and Jane Napier.
Reciting that under the powers held in the 1815 trust and subsequent documents, the Guardians of Sir Velters Cornewall had agreed to sell some properties to Thomas Watkins in fee simple for £2,506 17s 4d.
The properties comprised:
messuage, barn, stable and other buildings called The Birches Farm in Craswall in the occupancy of Thomas Prosser as tenant and comprising 148a 3r 20p;
site of a cottage and buildings called Bess Davies's comprising 10a 2r 23p in Cusop and held for some years with the Merdy Farm [Maerdy], the whole lately held by Mr Joseph Trusted and now by the said Thomas Watkins;
pasture and wood land in Cusop comprising 69a 2r 33p called Cae yr Allt for many years occupied by (blank) Morgan as tenant;
arable land in Cusop comprising 2a 3r 22p near Cae yr Allt and adjoining lands of Pentrehiggin and Cusop Hill and held and occupied with Cae yr Allt ;
messuage and 70a 3r 22p called Craigy in Cusop late in the occupation of Joseph Trusted and now the said Thomas Watkins;
The land, acreages and field names are shown on Map B which is copied below.
1907-1938
Indenture 28th November 1907, Memorandum dated 19th September 1931 and Abstract of Title of Mr James Lewis to a freehold farm and lands known as The Birches situate in the Parishes of Crasswall and Cusop in the County of Hereford.
28th November 1907 – by the will of Lewis Watkins then of Great House, Abeillynfi [Aberllynfi], Brecon dated 18th February 1865, who died 1st July 1867, all his real estate was devised to his wife Mary for her life and then in trust to his four daughters Elizabeth Sarah Williams, Maria Sybil de Gruchy, Frances Rebecca Watkins and Mary Louisa Watkins. The beneficiaries had agreed to sell the freehold interest in The Birches in Crasswall and Cusop, to William Lewis for £1,725. The property is described as messuage or farm house with outbuildings and land comprising 177 acres 3 roods and 31 perches then in the tenure of William Lewis. [The field numbers and areas given are as set out in the sale particulars at tg_cra_0033 where William Lewis is shown as tenant].
29th November 1907 – William Lewis mortgaged the property to two of the vendors for £1,000 with interest at 4%.
23rd May 1911 – William Lewis paid off the mortgage.
1st October 1928 – by the will of William Lewis of The Birches, farmer, who died on 20th November 1930, his real estate was bequeathed to his two sons William Lewis the younger and James Lewis.
18th September 1931 – William Lewis of The Birches agreed to sell to James Lewis of The Birches, his half share of the freehold interest in three properties including The Birches for £1,000.
19th September 1931 – Freehold properties known as The Birches in Craswall and Cusop, The Tree Yew Trees [?Three Yew Trees] in Craswall and Russell's Tack in Craswall and Hay were used as security for a loan of £1,000 with interest at 4%pa, from William Lewis to James Lewis both farmers of The Birches.
2nd February 1934 – James Lewis had sold The Three Yew Trees in Craswall and the property was released from the loan security.
24th March 1938 – James Lewis repaid the loan.
The following are copies of Map B referred to in the 1840 Apportionment.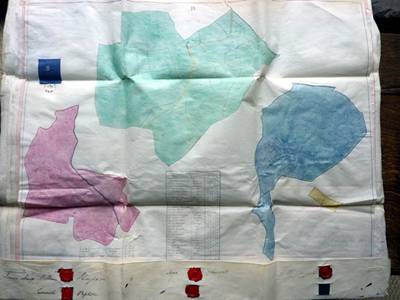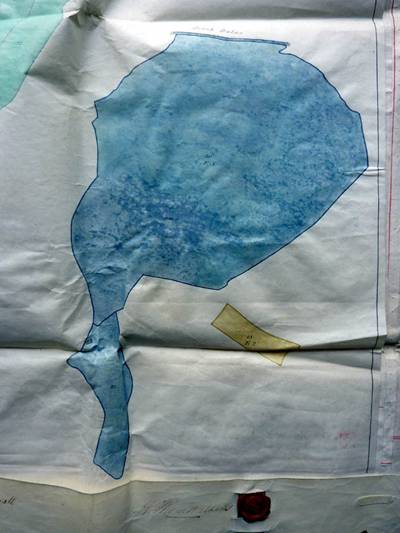 Observations:
An extract of sale particulars, probably relating to the sale in 1907 by the beneficiaries of Lewis and Mary Watkins, may be found at tg_cra_0033. They include details of Little Ffordfawr [Little Ffordd-fawr] located on the road between Hay and Glasbury and The Birches, The Murdy [Maerdy], The Craigiau and Little or Upper Craigiau in Craswall and Cusop.
Land identification may be helped by the Tithe Maps for Craswall and Cusop for 1840 which may be found on this site at nw_cra_3000 and nw_cus_3000.
---
Ref: tg_cra_0032