| | |
| --- | --- |
| Held at: | Hereford City Library |
| Reference: | Local Collection |
| Source: | Transactions of the Woolhope Field Club, 1960 |
| Title: | Guest Contribution: 9th Century Tombstone from Clodock |
| Place name: | Clodock |
| Date: | ca 800's |
Description:
A NINTH CENTURY TOMBSTONE FROM CLODOCK
In about the year 1917, or a little later, during the incumbency of the Rev. F. G. Llewellyn, when the church at Clodock was restored, an inscribed stone was dug up in the nave No notice appears to have been taken of this-until the vicarage was .going to be demolished in 1959, when Miss E. Alison discovered it in a cupboard there. At once its extreme interest was realized. Captain R. V. Alison, sent a rubbing to the club which was forwarded to the Society of Antiquaries for examination. The lettering isr crude, indistinct, and in bad Latin, but Mr C. Ralegh Radford and Mr A. R. Dufty read it as:
HOC TUMULUM RETINE[T]]
MEMBRA PUDIC[E] [MUL]IE[RIS]
GUINNDA CAR[AE] CONIU[GIS]
QUAE FUIT IPSA [IB]IDEM
A rough translation is: This tomb holds the remains of that faithful woman the dear wife of Guinndas who was herself [born?] in this same place.
Mr. Radlford dates the inscription, which is on local sandstone, as of the 9th century. It is therefore the earliest inscribed monument in Herefordshire since Roman days, and of great archaeological interest.
so far no record of Guinndas is known. Was he an early Saxon Christian? Or, more probably, one of the last Celtic chieftains who still held the faith taught by St. Dyffric and- St. David?
At present no other relic of a Christian of the period has been found in the-county, though we know that Christianity was here as there is an 8th century Saxon preaching cross at Acton Beauchamp, now used as the lintel of the tower doorway. Another Christian tombstone is the grave slab with a crude crucifixion carved upon it at Llanveynoe of the 11th century
Captain Alison has mounted the stone on a stand, and has picked but the letters in red so that they are now easily decipherable and it is to be preserved in Clodock Church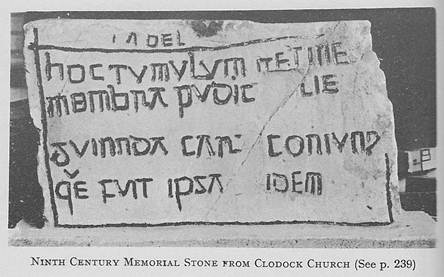 Observations:
This extract is reproduced from the Transactions of the Woolhope Naturalists' Field Club with the permission of the Central Committee
---
Ref: gc_clo_3120