| | |
| --- | --- |
| Held at: | Private Collection |
| Reference: | rs/gh |
| Source: | Original Documents: G Hales Collection |
| Title: | Photograph of large scale map of the route of the Golden Valley Railway and the diversion of the River Dore at Bridge Farm |
| Place name: | Abbeydore, Ewyas Harold |
| Date: | 1904 |
Description:
Photographof a large scale map with land reference numbers, dated 1904, detailing the routeof the Golden Valley Railway and the repositioned river near the boundarybetween Bridge Farm [to the west] and Lower House Farm [to the east]. LowerHouse Farm was previously part of the Abbeydore Court Estate owned by ThomasFreke-Lewis, and effectively disappeared when it was acquired by the governmentin the 1940s to become part of the Ordnance Depot at Elm Bridge.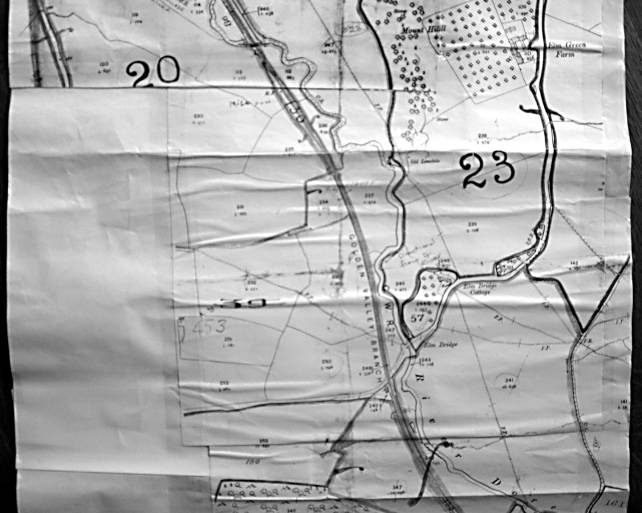 Observations:
This is part of a wider collection of documents pertaining to a legal dispute in 1880 between the Golden Valley Railway Company and Miss Elizabeth Pugh concerning diversion of the river Dore during construction of the railway.
---
Ref: rs_gdv_0034