| | |
| --- | --- |
| Title: | Theme: Ewyas Lacy in the English civil war |
| Date: | 1642-1660 |
On the death of his father in 1636, Sir Ralph Hopton, later Lord Hopton, first baron of Stratton, inherited the moiety of the lands and Lordship in Ewyas Lacy that had been passed down through his family since they were purchased from Robert Dudley, Earl of Leicester some seventy years earlier. These included Llanthony Manor, Waterston [?Walterstone] and Trewaylanin in Herefordshire. Hopton was a prominent Member of Parliament, as well as a Justice of the peace and Deputy Lieutenant of Somerset, and was active in the events in parliament and elsewhere that led up to the outbreak of the English Civil War. A staunch royalist, in 1642 he was declared delinquent and subsequently a traitor by Parliament at the start of the war.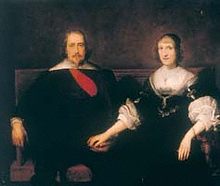 Sir Ralph Hopton and his wife Elizabeth c.1637
[Image courtesy of the Oxford Dictionary of National Biography
The following year Sir Ralph Hopton set about raising a Royalist army in the West Country and fought a series of battles in Cornwall, Devon and Somerset with mixed success, although he gained the confidence of the king and was given fresh honours accordingly. He was raised to the peerage as Baron Hopton of Stratton and became Commander-in-Chief ['field marshal general'] of the King's Western Army, whereupon all his properties, including Ewyas Lacy, were sequestered by order of Parliament and seized by Colonel William Strode of the parliamentary forces, who had been appointed by Parliament to replace Hopton as Deputy Lieutenant of Somerset and had also clashed with Hopton previously over the raising of soldiers for their respective causes.
This summary displacement of the Lord of the Manor was in all probability the first action in the civil war to have a significant impact in Ewyas Lacy, and even then it probably had little effect on the daily lives of most local people. There is no evidence that Hopton [or anyone else] either fought in or raised troops in Ewyas Lacy, but after the fall of Hereford to the parliamentarians in 1642 there was considerable plundering of the City and the surrounding countryside by the garrison. It is possible that the plundering extended as far as Ewyas Lacy, and there are stories of parliamentary soldiers using Clodock church as a shelter and to stable their horses.
In 1646 Hopton finally surrendered to General Sir Thomas Fairfax, commander of the 'New Model Army' and went into exile, dying of the ague in Bruges on October 8th 1652 'in honourable poverty', never having regained his lands and property.
Colonel William Strode died on the 9th September 1645 and his responsibility for Ewyas Lacy seems to have passed then [if not earlier] to trustees appointed by Parliament under an 'Act for the Sale of Several Lands and Estates Forfeited to the Commonwealth for Treason', who in turn disposed of it to Thomas Harrison, one of Cromwell's strong supporters. The trustees were charged with the sale of forfeited properties, a process by which many of the revolutionaries enriched themselves, and despite his religious convictions Harrison was no exception, acquiring several Crown properties in different parts of the country. An Act of Parliament dated 23rd April 1652 authorised the trustees to sell 'all that the manors of Ewyas Lacye, Waterston and Tre Ysgallen (Trewaylan)' with all their appurtenances, said to be 'of the clear yearly value of five hundred pounds' to Thomas Harrison for the sum of five shillings. The formal indenture of sale dated 6th September 1653 records the appointed trustees as William Skynner, William Robinson, Samuel Gookin, Henry Sealy, William Lisle, Arthur Samuell Esquire and Mathias Valentine Esquire, and a transcription of part of the document is given below.
The one & thirtieth part of Close Rolls Anno Domini 1653.

Skynner & Harrison — This Indenture made the sixth day of September in the year of our lord God one thousand six hundred fifty and three. Between William Skynner, William Robinson, Samuel Gookin, Henry Sealy, William Lisle and Arthur Samuell Esquire surviving trustees nominated and appointed in and by an Act of Parliament entitled - An Act For The Sale Of Several Lands & Estates Forfeited To The Commonwealth For Treason and Mathias Valentine Esquire one other of the trustees for sale of the said lands appointed by another Act of Parliament in that behalf of the one part and Thomas Harrison of Westminster in the county of Middlesex Esquire of the other part.
Witnesseth that the said William Skynner, William Robinson, Samuel Gookin, Henry Scale, William Lisle Arthur Samuell and Mathias Valentine, who, or any five or more of them are by the said Acts authorised and empowered to treat contract and make sale of the said Premises in such sort as in the first mentioned Act is expressed in obedience to the said Acts and by virtue thereof and in mention of the Power & Trust thereby committed to them the said William Skynner, William Robinson, Samuel Goskin, Henry Scaly, William Lisle, Arthur Samuell and Mathias Valentine as aforesaid and in pursuance of several resolves of Parliament bearing date the three and twentieth day of April in the year of our Lord God One thousand six hundred fifty and two whereby the said Trustees are authorised and required to convey to Major General Thomas Harrison his heirs and assigns Lands, Tenements, Hereditaments of an estate of Inheritance of the clear yearly value of five hundred pounds by the year over and above all reprises out of all delinquents' estates forfeited to the Commonwealth for treason whereof the manor, capital messuage, or mansion house, the several other messuages or Tenements, cottages, mills, lands hereafter mentioned to be hereby bargained & sold are parcel and for and in consideration of the sum of five shillings of lawful money of England to the said Trustees, or one of them in hand (1) paid by the said Thomas Harrison or before the ensealing hereof the receipt whereof the said Trustees do hereby acknowledge. Have Granted, alienated, bargained and sold and by these presents Do Grant, alien, bargain and sell unto the said Thomas Harrison his heirs and assignees for ever. All that the manor or manors of Ewyas Lacye, Waterston and Tre Ysgallen (Trewaylan) with all & singular their rights members & appurtenances in the county of Hereford. And all those yearly Rents or sums of money commonly called Quit Rents of Assize, Free Rents, Copyhold and Customary Rents And all other Rents & profits to the said Manor or manors belonging or appertaining. All courts Leet, Courts Baron and other Courts whatsoever Services, Franchises, Advantages, Customs, Custom Works, Forfeitures, Escheats, Releases, Heriot, Fines, Issues, Amerciaments, Fines upon descent, or Alienation, Perquisites and profits of the said Court and Leets and every of them Waifs, Estrays, Deodands, goods and chattels of felons and fugitives, felons of themselves condemned persons, clerks, convicted outlawed persons, persons put in exigent ways, Passages, Lights, Easements, streams, waters, watercourses, weirs, dams, stanks, mill pools, tolls, mulcture suit, soaken commons, grounds used for common ways, woods, underwoods, timber trees and other trees, wastes, waste grounds, moors, marshes, hawking, hunting, fishing, fowling, rights, royalties, jurisdictions, liberties, privileges, immunities, …[etc]
Thomas Harrison [1606-1660] was a religious zealot, who rose rapidly through the ranks of Parliament's Army during the Civil War. He became Commander in Chief of the Commonwealth's forces in the counties of Monmouthshire, Glamorgan, Brecknockshire, Radnorshire, Cardiganshire, Carmarthenshire, Herefordshire and parts of Gloucestershire. In addition to this military role he led the 'Commission for the Propagation of the Gospel in Wales', responsible for rooting out of Royalist and scandalous clergy and the planting of a preaching ministry in their place. These two duties were neatly combined in the recruitment of large local militias, and it is very likely that both roles would have had a significant impact on local affairs in Ewyas Lacy, especially after his purchase of the lands for a pittance from the Parliamentary trustees.
Harrison was later appointed a Major-General, commanding the army left to guard England during Cromwell's invasion of Scotland. He was also politically prominent, having sat as a judge in the trial of Charles I and being a signatory to his death warrant. He took a seat on the Council of State in 1651, having been appointed in effect military governor of Wales in the previous year. His extreme religious views eventually led him into conflict with Cromwell and parliament, and he was imprisoned by their order several times between 1653, when his Army commission was withdrawn, and 1658. In 1660, one of the first acts of Charles II on his restoration to the throne was to put Harrison on trial for Regicide, and he was hung, drawn and quartered on 13th October 1660 at Charing Cross. It seems unlikely during such turbulent times that the manor of Ewyas Lacy commanded much of Harrison's attention, and after the Restoration the manor was eventually returned to the descendants of Lord Hopton.
More information on Lord Hopton and Major-General Harrison can be found in the Oxford Dictionary of National Biography and by following the links below.
Sir Ralph Hopton, 1596-1652
http://www.newman-family-tree.net/Sir-Ralph-Hopton.html
Thomas Harrison, 1606-1660
http://www.british-civil-wars.co.uk/biog/harrison.htm
---
Ref: rs_ewy_0202