| | |
| --- | --- |
| Title: | Henry Randolph Trafford of Michaelchurch Court: An early tea planter in Ceylon |
| Date: | 1853 - 1910 |
Guest Contribution Introductory Note: Henry Randolph Trafford was Lord of the Manor of a part of Ewyas Lacy by virtue of his ownership of the Michaelchurch Court Estate from 1879 until his death in 1910. His home in Herefordshire was at Michaelchurch Court in the parish of Michaelchurch Escley, more details of which [and of the Trafford family history] are given elsewhere on the website. Henry Trafford's descendant, James Baxendale, has written an account of his life and times which is reproduced in full below with the author's kind permission.
Ewyas Lacy Study Group
HENRY RANDOLPH TRAFFORD:
AN EARLY TEA PLANTER IN CEYLON
| | |
| --- | --- |
| | |
| Henry Randolph Trafford,1900s | Henry in Ceylon, 1880s[1] |
Not often is it that men have the heart, when their one great industry is withered, to rear up in a few years another as rich to take its place, and the tea fields of Ceylon are as true a monument to courage as is the lion at Waterloo
Sir Arthur Conan Doyle[2]
1. Introduction
Henry Randolph Trafford was born in on 8 December 1853, the second son of Charles Guy Trafford and Caroline Anne, née Hopton. Thanks to his great grandfather, Benjamin Rawson, who had made a considerable amount of money in the manufacture of sulphuric acid (vitriol), in Bradford in the eighteenth and early nineteenth centuries, and an ageing spinster great aunt, Elizabeth Rawson, Henry grew up in relative comfort. The family moved to Michaelchurch Court, Herefordshire – the family seat for over a hundred years – when Henry was aged ten. He was educated at Bradfield College (1868-1872), and Christ Church, Oxford University (1873-1875), though he did not graduate.
2. Voyage to Ceylon
According to his daughter, in her unpublished memoirs, Henry's decision to move to Ceylon was motivated by family difficulties. His elder brother, Edward[3] (known as Ned), had, as a young man and whilst still under age, got himself badly into debt. His father had paid the debts off, but furious with him, had sent him off to the America.[4] His father and the trustees were later to disinherit Ned – who remained a spendthrift and virtual bankrupt until his death – leaving Henry to inherit the estate.[5] According to his daughter, Henry moved to Ceylon in order to cheer his father up. Whether or not this is the case, Henry's father provided him 'with sufficient money to learn the business of coffee growing and to buy sufficient land, and have a bungalow built on it, and also pay some coolies to cook' .
Sir Thomas Villiers, in his book on the tea industry in Ceylon, notes that Ceylon was clearly an attractive place for young men. '[O]ffice life or industrial life did not appeal to every one, many of them looking for an open air life. Agricultural life in England was on the decline. The usual openings in the Navy and Army were very keenly competed for […]. Ceylon seemed to many of them to offer just the life they wanted' .[6]
On 22 February 1877, Henry left Southampton as a first class passenger on the SS Peshawur , bound for Ceylon. His parents saw him off from the quay. Henry kept a detailed journal of the month long journey and his first few weeks in Ceylon. The journey in itself makes fascinating reading.
The ship headed first for Gibraltar, Henry suffering severe sea-sickness as they steamed through the Bay of Biscay. With only a few hours in Gibraltar, there was scarcely time for sight-seeing, but Henry was determined to see visit the place which he 'had last seen twenty years ago' .[7]
'It was strange, but though the rock and several aspects of the place seemed quite familiar to me, I could recollect nothing of the town. The streets and everything were quite new to me. We went into the marketplace and purchased some oranges and a few flowers; and then, knowing that the ship would not wait for us, we thought it prudent to go on board again.'
The next port of call was Malta. 'Perhaps it was the bitterly cold morning, with its scuds of snow, or perhaps I was in a bad humour, anyhow my first impression of Malta was not agreeable.' Nevertheless, Henry went ashore to visit the sights – the Palace of the Knights of St John, the Church of the Knighthood and finally the mummies in the Capucine Monastery of Floriane. 'In cloistered passages, there they stood each in an alcove. And on their distorted countenances a grin of the most Satanic malignity. They were indeed horrible spectacles.'
From Malta, they sailed to the Suez Canal, opened in great fanfare less than eight years before. Henry did not disembark at Port Said, 'a miserable looking place' , but was entranced by his first sight of the desert. 'There was a most glorious sunset that evening and an Arab chief mounted on a perfect Arab stead looked very fine standing up against it.' Instead, with the other passengers, he left the ship at the town of Suez, where they moored for twenty-four hours. There they hired donkeys ('I never saw such donkeys to go – on we went – through the dark night, right into town.' ) and had time for some fishing in a local boat ('We captured about twenty small fish, something resembling perch' ).
Sailing through the Red Sea ('deuced hot' ), the next stop was Aden, 'rock and sand, niggers, camels and good ponies. I landed here, though perhaps I should have shown more sense if I had remained on board and reclined under the awning' . He visited the famous Aden Tanks, which had recently been rediscovered and then 'drove up to the barracks, where they gave me an iced tea B & S [brandy and soda]. I never properly appreciated one before. Oh Tommy how hot it was.' Aden was the last stop before the eight to nine day run across the Indian Ocean to Ceylon.
3. Arrival in Ceylon
The SS Peshawur docked at the harbour at Galle, Ceylon on the morning of 24 March 1877. 'Never did anything appear so truly beautiful to me as this, my first sight of Ceylon: the sweet little bay dotted here and there with various craft of various build and rig; a regular forest of palms coming right down to the beach, gracing the shore with their rich verdancy, and behind all the most glorious sunrise I ever saw, giving a bright golden tinge to the brilliant mass of green. Truly indeed, I thought does this deserve the name of the earthly paradise.' 'This first sight of Ceylon will be for ever imprinted on my memory; it will always seem to me like a glimpse into Fairyland'.
Henry stayed the night at the Oriental Hotel in the town (later the New Oriental Hotel and now the Amangala Luxury Resort) where he met an old Christ Church acquaintance: 'he recognised me, but til he told me his name I did not know him from Adam' .
Then the following morning, with his fellow passengers from the SS Peshawur , Hind, Munro, Simpson and Urquhart, he set off for Colombo in a coach, and a bullock cart for the baggage. Although the coach was uncomfortable, and the seats hard, Henry was fascinated by the 72 mile trip to Colombo. 'The cocoa nuts form an arch over the road, and through them every now and then there are glimpses of the sea. All along the road there are numerous native dwellings. At every stoppage, women, dressed in a cloth fastened round the waste [sic], reaching just below the knee, and another garment fastened over the shoulder, leaving the back and the other shoulder bare, offered us mangoes, plantains and unripe cocoanuts, the water of the latter is not an unrefreshing drink to the hot and thirsty traveller.'
Arriving in Colombo at 6 o'clock, he stayed at the Galle Face Hotel (still in existence), '"the coolest and most comfortable in Colombo" vide advertisements in the local newspapers. For my part I did not consider it either cool or comfortable, the food too was inferior and the charges exhorbitant [sic]' . Indeed he found Colombo as a whole disappointing: 'hot dirty and ugly', though admitted to being in a gloomy mood. He only stayed a couple of days, enough for his luggage to arrive, before catching the train to Kandy 'the capital of the ancient kings': 'the scenery is fine, so is the engineering of the line. Notably Sensation rock, where the line runs along the ridge of a precipice, and looking out of the window you are straight down some hundreds of feet – a rather awkward place for an accident.'
'No one, who has seen the central capital of Ceylon, can well help admiring its rural beauties. A pretty little town shut in on three sides by hills, in the midst of which lies a lake. Around the wooded hills team with luxuriant foliage, where the cocoa nut, the araka nut and the Palmyra mingle with the Jak, the Bread fruit tree and the teak, while the bamboo throws its feathered branches among the lot.'
4. Apprenticeship at the Peradeniya coffee estate
Henry had a letter of introduction to the Peradeniya coffee estate, in the Hantane district, a few miles west of Kandy, owned at the time by Baring Brothers and Co. It was here that he would learn the business of coffee growing, before buying his own estate at Poyston.
'After spending a few days in Kandy, waiting for a letter from a Colombo firm, which was to introduce me to the manager of one of their coffee estates, the denied letter at length came. It was couched in the following terms.
"Dear Sir
Mr Swan of Peradeniya says 'We will be glad to see Mr Trafford, if he will pay Rs60 a month for his grub, and work hard for it'."
Peradeniya happened to be near Kandy, and is the possessor of a railway station. I therefore detained a guide and the next morning took the train to Peradeniya; from the station to the estate bungalow is a three miles walk up hill.
So following my guide I set off to climb the mountain. Up a dilapidated cart road, with a pretty stream gurgling below it, to a block of buildings; consisting of a large coffee store, a pulping house, a cattle shed, and several coolie lines. These latter dwellings rather attracted my notice; they were each about eight feet square with no window, and inhabited by half a dozen coolies.
Excelsior was still the cry. So 'excelsior' I went now through the real plantation. Coffee to right of me, coffee to left of me, in front of me, not to mention coffee behind me as I went on.
A coffee estate is by no means pretty. I have seen it somewhere described as being about as pretty as a turnip field. The plant itself is not ugly, though its beauty is not improved by pruning, indeed there is something very picturesque about the wild straggling trees in the native gardens.
At last I reached the bungalow, a pretty little building faced with a long verandah, and surrounded by a mass of flowers.
In a stentorian voice I shouted "Boy" (bells being almost unknown in Ceylon) and was answered by a Singhalese servant. On enquiring for Mr Swan I was told he was out in the field. I thereupon obtained the services of a man to show me his whereabouts, and again set off upwards.
About half a mile higher up the hill I espied a man dressed in a linen coat with knickerbockers of the same material. On his head was a large Terai hat and in his hand a huge bamboo stick. "Mr Swan I believe". "That's my name" said a voice with an accent peculiar to the Emerald isle.[8] I proceeded to tell him mine, he said he had expected me before. I remarked it was an awful pull up there, he replied it would do me good and take down a bit of my superfluous flesh.
When we got down to the bungalow, he asked where my clothes were, evidently thinking that I intended to take up my abode then and there. I said that I was engaged to pay a visit to some friends before I came to dwell with him, and I would come in about a week. We then breakfasted. And having been shown what my duties would be, I took my leave and departed.
I passed the night in Kandy, and the following day set off on a visit, to the Careys', about ten miles off.'
Adrian Carey was the District Surgeon for the Hantane and Nilambe districts. He was married to Edith Caroline née Trafford, Henry's step-aunt, though about the same age as Henry. They had married in January 1876 and had subsequently moved to Ceylon. When Henry met them, they were living at Riverside.
It must have been a great help to Henry to have people – relatives – he knew on arrival in Ceylon, and he says as much in his journal. 'I was greeted by Edith Carey in a manner so pleasant and cordial as to make me feel at home at once.' Sadly, Edith died little more than a year later, in July 1878. At the end of his journal, a few months after her death, Henry recorded: 'Sad indeed are the thoughts that accompany the recollection of that first meeting. Little did I then think how soon those pretty eyes were to be closed for ever, that those lips which so sweetly bade me welcome to Ceylon would 'ere many months were passed be hushed to speak no more.'
5. Ceylon in 1877
There is an interesting article from The New York Times , entitled 'Ceylon's Spicy Breezes' , sent from their Special Correspondent and with a timeline, Kandy, 20 December 1877.[9] It provides a snapshot of Kandy shortly after Henry's arrival:
Kandy is the centre of the coffee culture of Ceylon; coffee grows at an elevation of 1,800 feet and more, and the centre of the island has been found well adapted to it. There are now about 1,200 plantations – estates they call them here – of an average extent of 250 acres each. Coffee land is very dear; an estate under cultivation, with trees bearing, everything in good condition, and in a convenient locality, is worth £100, or $500, the acre. Wild and perfectly uncleared land is worth £13, or $65, the acre, and the planter who takes it must be at a heavy expense for clearing, and can realize nothing by way of returns under six years.
Much money has been made in coffee culture in Ceylon, just as much money has been made in tobacco, cotton, or sugar in America. On the other hand, a great deal has been lost, and there are many men in Ceylon to-day who are poorer rather than richer in consequence of their experiments in coffee-raising.
Yesterday a gentleman showed me over the coffee estate of his brother, who is now in England. It was in fine condition, thoroughly weeded, and with the trees in full vigor. It had been some 10 years in its present hands, and when I asked about the balance sheet of the business my entertainer said to me, "My brother would be better off to-day if he had never owned this estate. Taking everything into consideration, the expenses and receipts, and counting his own trouble and attention as nothing, if the place could be sold at a fair price to-morrow, the net proceeds for the 10 years would not equal the outlay by 10 or 20 percent."
Most of the coffee-planters are young Englishmen with money or moneyed friends, who come or are apt to come to Ceylon to make a fortune. The balance are generally the representatives of wealthy individuals or firms in Colombo or Kandy, chiefly the former, and owe their positions to personal influence, or the advancement of a few thousands by way of security.
6. Poyston Estate
Henry appears to have bought the 159 acre estate at Poyston in early 1880. The voter for Poyston at the Planters' Association of Ceylon in February 1880 was a D S Bailey.[10] But in Ferguson's Ceylon Directory for 1880-81, published in August 1880, Henry, whilst giving his address as 'The Club, Kandy', was noted as the proprietor of the Poyston Estate.
Poyston is located in Ceylon's (now Sri Lanka's) hill country, in the district of Dickoya, about 4,000 feet above sea level. It is just a couple of miles from the large Norwood Estate, in an area that holds a cluster of world renowned tea plantations (sometimes known as the Golden Valley of Tea). Poyston Tea Estate remains in existence as a tea estate to this day.
Henry was participating in the last great rush into coffee, which took place between 1868 and 1878.[11] At this stage, there was a major move towards buying land in the higher districts, some of the lower lying districts beginning to show signs of wearing out. The forest lands of Dimbulla, Dickoya and Maskeliya, with their better climate, had became a great attraction[12] – though little more than ten years before, any cultivation in Dickoya and Dimbulla had been condemned due to the prevalence in these districts of black bug.[13]
The statistics show that Henry's intention was clearly to grow coffee on his estate. When he bought the estate, it was growing purely cinchona, a medicinal bark which grew freely, used in the production of quinine. Henry began to interplant coffee trees with the existing chichonas. Ferguson's Ceylon Directory for 1883-84 notes that the entire 159 acres were planted with a mixture of chichonas and coffee.
But Henry was unlucky in his timing, and as a newcomer to Ceylon, with no prior knowledge of coffee cultivation, likely naïve as well. For by the time of his arrival, the coffee crops were being decimated by coffee rust (or to give it its proper name, Hemilieia vastatrix ). Coffee rust, first discovered in 1869 in a remote part of Ceylon in 1869, quickly spread to every coffee district in the country, decimating the crops. It reached its culmination in 1877 and 1878, just as Henry landed in the country.
But if he was naïve, it was no more than anyone else. In November 1877, of the 290,000 acres under cultivation in Ceylon, 272,243 acres were planted with coffee.[14] And the cultivation of tea in Ceylon was at this stage very much in its infancy. The first recorded shipment of tea from Ceylon (23 pounds) came in 1872, the pioneer being James Taylor.[15] In 1880 (the year that Henry bought the Poyston Estate), there were a mere 9,274 acres under tea cultivation in Ceylon. Even by 1885, there was still doubt in Ceylon as to the permanency of tea, so that most tea clearings were interplanted with chichona.[16]
However, if Henry knew little about the coffee business, the same cannot be said about tea. If not the earliest, he was clearly one of the pioneer tea planters in Ceylon, justly earning Conan Doyle's comment that 'the tea fields of Ceylon are as true a monument to courage as is the lion at Waterloo' . For having invested in the coffee business, he was quickly forced to change. He could no longer afford to take a hands off approach. In 1880, the resident manager of the estate was W Brander and the agent J M Robertson & Co, who was also the agent for a number of neighbouring estates. But by 1883, Henry was the resident manager; and from 1885 until at least 1887, Henry was all three: proprietor, resident manager and agent.
Poyston estate mirrors the general move from coffee to tea almost exactly (see the charts below). Ferguson's Ceylon Directory for 1885-86 records that whilst 109 acres are still planted with coffee and chichonas, for the first time, 50 acres were now planted with a mixture of tea and coffee 'with 50 more acres to be planted with tea this year.' From then on, it was a rapid move towards cultivating tea. Sir Thomas Villiers notes that by 1887, 'practically every proprietor had decided that tea was the product of the future' .[17] At Poyston in 1887, 60 acres were under tea cultivation, and a further 40 acres with a mixture of coffee and tea; by 1890, 104 acres were under tea cultivation; and by 1893, only 10 acres were planted purely with coffee.
Charts showing how the cultivation of tea and coffee on the Poyston Estate

broadly reflected the general trend in Ceylon
7. Life in Ceylon
The years until 1887 must have been hard graft for Henry. But as the changeover to tea was made, and as Henry became a long-standing member of the community (voting at the Planters' Association of Ceylon in Kandy from 1885-1891), he was clearly able to relax more. In 1887, he was a member of the committee of the prestigious Kandy Club (whose President was the Governor of Ceylon), as well as being a member of the committee of the Dickoya Planters' Association (a position he held until 1890). The extension of the railway line in 1884 to Hatton, less than 10 km from Poyston, would have made the journey time to Kandy considerably shorter and easier (less than three and a half hours by train from Hatton).
The Darrawala Club (Dickoya and Maskeliya Cricket and Athletic Club) was situated less than two miles from Dickoya (itself only 6 miles from Poyston). The only surviving photograph from Henry's stay in Ceylon is a group photograph from the Darrawala Club. The fact that he does not ever appear to have been a member of the Club's committee may indicate that he enjoyed more the social, rather than the sports side (although at Bradfield College, he had been a member of the Football XI). He may also just have missed the visit on 14 February 1891 to the Darrawala Club of the Tsaravitch, later Nicholas II, Tsar of Russia.
Group photograph of the Darrawala Club from the 1880s, found among Henry's possessions [18]
Henry's daughter, Margaret, recounts in her memoirs that one of his greatest recreations was racing. He had a beautiful Arab, named Dearfoot , because he moved so swiftly and lightly, and with whom he won a number of races.[19]
She also recounts another story, which he had told her when she was a young girl (Henry died when she was only ten), which gives a glimpse of his life in Ceylon. In her memoirs, she recounts it in the first person:
'I had found it necessary to dismiss one of my coolies for theft. The man was furious at losing the job and swore revenge. I thought nothing of it until a day or two later when I was riding through a covert of small trees, and in the brilliant sun which shone along the pathway ahead, I saw the shadow of a man with his arm upraised and holding a hatchet. I did not turn round, but as the shadow showed him raise his arm I caught the thing and hurled it back. I did not look around but rode steadily on. It had just grazed a patch on the side of my head, removing the hair, when, when it grew again was white!
I was dining that night with some friends. I must have looked a bit shaken because they asked me what was the matter. On hearing they hurriedly tried to change the subject and the other guest said, "Your cook makes the best curry I know, she just gets that tiny suspicion of onion, which is so good. I wish she'd give me the recipe." I agreed with him that it was delicious.
So the cook was summoned.
She was very pleased and immediately told us everything she put in it, but there was no mention of onion.
"But how much onion?" asked my fellow guest.
"None," she replied.
"But it has just a faint suspicion of onion, which is so delicious," he said.
She smiled with delight and then answered:
"Well, I just chews a bit of onion and then I breathes on it."
I think we must all have turned a little green. I know he did and I felt I did too! As for our host, he said nothing, but looked a little shaken.
I never asked whether he kept her. She was a very good cook.'
8. Departure from Ceylon
Margaret notes that her father tried to get back to England every couple of years if he could to see his parents and the rest of his family. But she says that whilst he enjoyed the voyage, it was a long journey, and he could not help feeling that he was wasting his time. He is likely, however, to have visited England in 1885, when he was appointed a District Lieutenant for the County of Hereford.
Henry finally left Ceylon in 1890 or 1891, after twelve years in Ceylon.[20] His departure may have been prompted by the death of his great aunt, Elizabeth Rawson in November 1890, from whom all his money (and comfortable life) came.
In his absence, Henry appointed Walter Richard Waller,[21] as his resident manager. Waller remained as his manager until Poyston was finally sold in 1902.
Waller was a stalwart of the British community in Ceylon for over 40 years. He and his brother, Raymond Edward Waller,[22] were already in Ceylon in 1870, Walter as a Planter in Rozel, Ambegamoa, and Raymond as a Planter at Battalgalla, Dickoya. In 1880, Waller was recorded as a Planter at Oddington, Lindula, but by 1883 he had become the Secretary of the Kandy Club. He had also joined the newly formed Ceylon Light Infantry Volunteer Force (CLIV),[23] as a Lieutenant, rising, by 1909, to Lieutenant-Colonel of the Ceylon Volunteer Reserve Force (at the age of 66). Waller remained Secretary of the Kandy Club until at least 1888. This is undoubtedly where Henry met him, as Henry was on the committee of the Kandy Club in 1887-88. In 1890, Waller was in Nuwara Eliya, before becoming Henry's resident manager in 1891. Waller appeared to work almost to the end. In 1909, he was noted as a Planter in Watumulla, Halgranoya, though Ferguson's Ceylon Directory for 1912 – the year of his death – records that he was in England.
9. Henry in England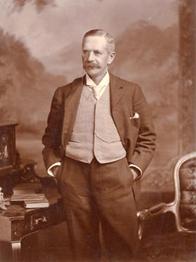 Henry, 1908 (Lafayette)
Despite his return to England, Henry did not lose interest in his tea estate at Poyston. If anything, in the early years, the opposite was the case. Sometime prior to 1891, he convinced his brother, Lionel,[24] to invest in coffee in Ceylon – where precisely is not clear, but perhaps Poyston – but it was not a great success. Lionel lost £600. This £600 became a bone of contention following Lionel's death, when Lionel's wife tried to claim it from Henry as a debt owing to Lionel's estate. In 1903, Henry wrote to his lawyer:
'In 1891 or 1892, I referred to the matter in conversation with my brother and offered to pay him the sum of £600, being so far as I could recollect the amount he had lost through the transaction. This he declined to accept, saying that as we had both lost over the transaction he considered we were quits or words to that effect. I then said that as it was my fault he'd invested in Ceylon, I would pay him interest at the rate of 4% on £600 as long as he or I lived. I mentioned this to Mrs Lionel.
I only wish to do what I am morally bound to in the matter. Mrs Lionel has not behaved in such a manner to her husband's relations as would make me inclined to make any sacrifice on her behalf.' [25]
Henry may have returned to Ceylon for a visit in 1894 or 1895.[26] At any rate, around 1894-95, he convinced his brother, Guy, to buy the neighbouring estate of Overton, following which the two estates were worked as one (Henry conducted the negotiations). Overton, at 157 acres, was about the same size as Poyston (159 acres), so the combined estates were over 300 acres. Overton had been owned by two brothers, T M and J F MacLennan. In 1893, 142 acres were growing tea, and 15 acres coffee.[27] Guy paid £8,000 for the property, £4,000 to each brother.[28] Initially, J F MacLennan refused to sell his share, insisting on remaining in the partnership, but he finally agreed to sell his share to Guy in late 1895.[29]
The little correspondence that remains between Henry and his resident manager, Waller, from this period shows the inevitable tensions that arise when a landlord is absent.
'I notice you have been drawing the full 75% on valuations. I presume this is on account of the heavy payments with the transfer, etc.. As soon as these are liquidated a maximum of 50% should be sufficient for all working expenses. The profits at present – without including interest on capital – barely show 5% on £16,000.' [30]
Somewhat later, Henry writes to Waller, complaining of the price that his tea is reaching:
'Indeed out of [a] break sold on 23rd (7000lbs) the sum of £10.17.5 was all that was paid to our credit at the bank! making our profits about the rate of ½ per cent per annum! The whole break realised £180 odd of which you drew about £146. Now this state of affairs cannot continue. If you cannot supervise your tea member, you must get rid of him, and get a more trustworthy person. It is not surprising if my brother thinks he was done, as to invest in Ceylon he sold out securities giving him 6%.' [31]
From mid 1896 onwards, Henry was contemplating selling the estates. In June 1896, he wrote to his agent, Mr D Noble of Taylor, Noble & Co, Ltd, Leadenhall Street, London: 'I am prepared to give you the refusal of the Poyston and Overton Estates for a limited period at the rate of £75 per acre.[32] If a company were formed – in which I and my brother thought it desirable to take most of the purchase money in shares – the price we should fix would probably be considerably less per acre.' Henry was at the same time negotiating with William Saunders of the nearby Hornsey Tea Estates Ltd,[33] about selling or amalgamating his estate, but these negotiations, although protracted, also came to an end. 'I may at once inform you that we should not think of selling to your company at less [than the] valuation of £17833, so unless you would be prepared to "spring" considerably, the negotiations may as well come to an end.' [34] Further negotiations with Taylor, Noble & Co, Ltd, about selling Poyston and Overton into a larger company, comprising other tea estates, in return for shares in the proposed company,[35] continued, but these also came to nothing.
Nevertheless, the need for Henry to sell Poyston became increasingly apparent. His debts in England were rising, not least from the cost of having been High Sheriff of Herefordshire in 1896, largely paying for rebuilding the church tower in Michaelchurch Escley, and the cost of installing electricity at Michaelchurch Court. In 1897, he was forced to borrow £750 from Taylor, Noble & Co, Ltd, and by 1899, he had a £1500 mortgage at 5-6% interest on the Poyston estate, again in favour of Taylor, Noble & Co, Ltd.[36]
10. Henry's Final Journey to Ceylon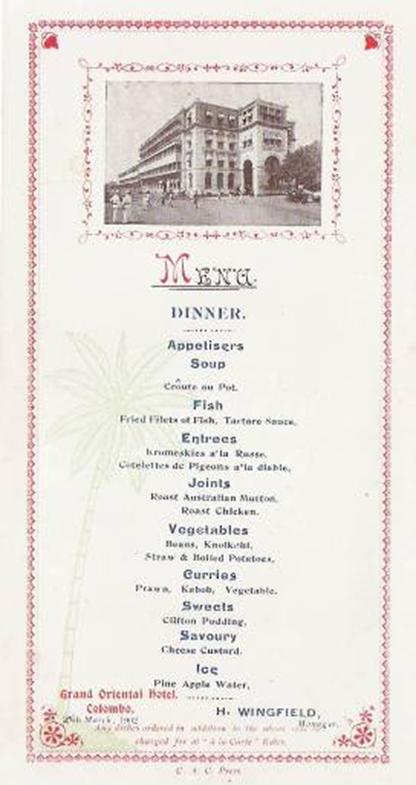 Menu from Grand Oriental Hotel, Colombo, 25 March 1902
The end was slowly, but surely, coming. But not before Henry had had the chance to take his new wife to see Ceylon. He had married Bettina Maud Partridge in October 1899 in a lavish wedding ceremony. They had a daughter, Margaret, in September 1900, but their first born son, William, died shortly after birth, in September 1901. Likely a desire to give his wife a change of air, and the need to sell Poyston, led Henry to make one last visit. They travelled from London on 16 January 1902 on the P & O liner, SS Persia .[37] Bettina later reminisced to her eldest granddaughter about the number of trunks and clothes they took with them for the voyage.[38] A menu remains from the Grand Oriental Hotel, Colombo dated 25 March 1902 (presumably shortly before they were to depart Ceylon), and a couple of photographs of Henry and Bettina, possibly with Poyston's resident manager, Walter Waller. In Henry's library was the 1900 edition of The Ruined Cities of Ceylon by Henry Cave, no doubt bought for this trip.
Henry and his wife Bettina,

Ceylon 1902

Henry, Bettina and ?Waller,

Ceylon 1902
11. Sale of Poyston
Poyston and Overton estates were sold in October 1902 to South Wanarajah Tea Estates Ltd[39] for £13,000:
2 October 1902
My dear Waller
I have sold Poyston and Overton Estates to the South Wanarajah Tea Estates Co. The price is £13000 of which £6000 is to be paid in London and £7000 on mortgage at 6% - the mortgage bond to be in favour of my brother and myself, Henry Randolph Trafford and Guy Rawson Trafford.
The mortgage was to be paid in ten equal annual instalments, with liberty to repay the whole amount at any time upon giving six months notice.
Assuming – as is reasonable, given that Poyston and Overton were of roughly equal size – that Henry's share for Poyston was £6,500, minus the 1899 mortgage of £1,500, he would have received £5,000.
£13,000, or just over £41 per acre, was of course, far less than the £20,000 Henry had believed the estate was worth only a few years before, and was certainly a poor return for his brother, Guy, who had paid £8,000 for Overton in 1894-95.[40] Although market forces played a part in this – there was an overproduction of tea between 1900-02, and the average price of tea fell from 8¼d per lb in 1896 to 6¼d per lb in 1901[41] – this was not a collapse in tea prices. One can only conclude, therefore, that Henry was forced to sell Poyston because he needed the money.[42]
Henry may not have been a spendthrift like his bankrupt brother, Ned, but he clearly had no difficulty in getting through it, as he candidly admitted to Ned in a letter in 1896: 'I may be as big a fool as far as extravagance and betting as you are – but our cases are not parallel.'[43]
12. Conclusion
It seems unlikely that Henry made any money from his tea estate in Ceylon. Indeed, by all accounts, he lost money. But against this he surely deserves the recognition – if more by chance than good judgment – of being one of the pioneers of Ceylon tea.
Henry's interest in Ceylon did not die with the sale of Poyston. He continued to subscribe, for instance, to the Ceylon Times , and to cut out relevant articles on Ceylon tea planters from newspapers.[44] And he continued to recount tales of his time in Ceylon to his young daughter, as she visibly records in her memoirs. But, apart from that, he reverted to the life of a country squire, hunting and shooting, acting as a local councillor, and bringing up a young family. His wife finally bore him a son, Randolph, in 1907. Sadly, though, he did not see him grow up. Henry died on 12 October 1910, aged just 56.
Just before Henry died, he received a final, sad, letter, dated 14 June 1910, from Waller, his former estate manager. It perhaps sums up, if there be any need, that people as a whole did not make fortunes from those early days of the tea trade in Ceylon:
I have not written to you for a long time. I have had nothing to write about and did not know if you would care to hear from me. But I got the enclosed letter[45] and as I could not say how the name Poyston came to be chosen for the estate I write to you. I have told Mr Richardson that he had better apply to you or perhaps you would write to him. I forget who was the first Proprietor, was it not Pulley or Russell Grant.
I have [been] knocking about for the last few years, had temporary billets but nothing permanent and been living with friends. I have always been in private employ except at Galaha and have no claim on any company and they all say they have to provide for their own men and also they all say they want younger men so I am like a Derelict. Tom Hendry and Clements while at home interested themselves amongst old friends to get an annuity for me and Tom Hendry wrote that he would arrange it all when he came out but the wound from his operation won't heal. He was to have been out in March but he is still unable to come but I believe has written to Clements (now out here) to arrange something and send me home. Meanwhile the Benevolent Fund are allowing me Rs 83.33 a month and I am living with one of Frank Vowler's S.D. and pay Rs 60 /- a month without liquor. I am now old and feel that I should like to end my days at home. My relations can none of them afford to keep me but if I get £100 a year I can manage to live quietly somewhere in the country. I have no ambitions now and want no luxuries. I have had mysterious pains in my side for some time ….
---
[1] From a group photo, likely taken at the Darrawela Club in Dickoya district, Ceylon, in the 1880s.
[2] Sir Arthur Conan Doyle, De Profundis . Short Story published in The Last Galley : Tales and Impressions (1911).
[3] Edward Guy Trafford, born 7 July 1851, died 5 February 1910.
[4] Ned must have left for America in 1875 at the latest, since he married Emily Jane Dunning of New York, in San Francisco, in January 1876.
[5] Henry was still trying to sort out Ned's finances in 1896. In a letter to Ned dated 1 February 1896, Henry wrote : 'Now, Ned, take one word of advice and warning … cease to live as if you were an almighty Duke ; live in fact like an ordinary man of limited means' .
[6] Sir Thomas Villiers, Some Pioneers of the Tea Industry (1951), pp 7-8.
[7] Henry's brother, Lionel, was born in Gibraltar in November 1855, where his father was posted in the Army during the Crimean War.
[8] Probably Ireland, though Ceylon was also known as the 'Emerald Isle'.
[9] The New York Times , 17 February 1878, p 10.
[10] Proceedings of the Planters' Association of Ceylon for the year ending February 17th, 1880 .
[11] Ferguson's Ceylon Directory 1904 , p 1283.
[12] Sir Thomas Villiers, Some Pioneers of the Tea Industry (1951), p 7.
[13] Ferguson's Ceylon Directory 1904 , p 1278.
[14] Ferguson's Ceylon Directory 1904 , p 1291.
[15] The first recorded shipment of tea, however, was dispatched to England in 1877 aboard the steamship, Duke of Argyll.
[16] Sir Thomas Villiers, Some Pioneers of the Tea Industry (1951), p 8.
[17] Sir Thomas Villiers, Some Pioneers of the Tea Industry (1951), p 8.
[18] The photograph was taken by A W A Plate, Photographer, The Bristol Studio, Colombo, Ceylon.
[19] Margaret Hunter, Unpublished Memoirs (1982). Henry does not appear to have been a member of the committee of the Ceylon Turf Club in Colombo, although Raymond Edward Waller, the brother of Henry's future resident manager, had been a member of the 1885-86 committee.
[20] According to a member of the family, James Gunn in The History of Michaelchurch Court (1991), there is in the family an illuminated manuscript from Henry's tenants welcoming him back to 'this country' in 1890. However, in all other publications, such as Herefordshire Portraits (1908), his return date from Ceylon is noted as 1891. Henry is noted as the voter for Poyston in the Planters' Assocation of Ceylon for the year ending 17 February 1891 (but not for the following year). By August 1891, Henry is noted as absent in Europe (Ferguson's Ceylon Directory 1891-92 ).
[21] Born 21 February 1843, died London 5 August 1912.
[22] Raymond Edward Waller, born 28 June 1846, died 14 February 1892, Ceylon. Raymond was a Planter at Udawela, Kandy from 1883 until his death in 1892.
[23] The Ceylon Light Infantry Volunteer Force was formed in 1881.
[24] Born 1 November 1855. Died 20 September 1900. Lionel was a painter and a soldier, who gained renown during the unsuccessful expedition to rescue General Gordon in Khartoun in 1885, commanding the two advance steamers. He exhibited his paintings on several occasions at the Royal Academy.
[25] Letter from Henry to his solicitors, Evans, Foster and Wadham, 27 February 1903.
[26] In a letter to J.F. MacLennan dated 1 August 1895, Henry writes, 'I was glad to see the old … again.' Shipping passenger lists note that an F Trafford travelled from London to India (Calcutta) in both November 1891 and March 1894 (National Archives, London).
[27] Ferguson's Ceylon Directory 1893 . At this stage, Overton was owned by the MacLennan brothers.
[28] Letter from Henry to J F MacLennan, 1 August 1895 and 11 October 1895.
[29] Letter from Henry to Walter Waller, 26 September 1895.
[30] Letter from Henry to Walter Waller, 29 August 1895. £16,000 was clearly the combined value of the two estates at that time.
[31] Letter from Henry to Walter Waller, 21 July 1896.
[32] This would have valued the estate at £23,700.
[33] The Hornsey Tea Estate (472 acres) was also located in Dickoya, less than 3 miles from Poyston.
[34] Letter from Henry to Saunders, 24 September 1896. These negotiations continued into 1899. In a letter to Saunders, dated 12 January 1899, Henry wrote, perhaps somewhat optimistically : 'I may at once mention that neither my brother nor myself are anxious to sell our Ceylon property. … We might, however, be prepared to entertain a good offer, but we would not accept anything under £20,000 for the two places.'
[35] Letter from Henry to Noble, 17 April 1897.
[36] Letters from Henry to Taylor, Noble and Co, 16, 21 and 27 January 1899, discussing the terms of the mortgage.
[37] From passenger manifest, National Archives, London.
[38] Related by Betty Sheppard to her younger sister, Lindsey Baxendale.
[39] In 1904, South Wanarajah Tea Estates Ltd owned, in addition to Poyston, Wanarajah South (250 acres) and the Dartry Group, Pussellawa (680 acres) (Ferguson's Ceylon Directory 1904 ).
[40] And is, of course, far less than the £100 per acre quoted in the New York Times article of 17 February 1878.
[41] Ferguson's Ceylon Directory 1904 .
[42] This appears partly to be borne out by Henry's total estate on his death in 1910, which (minus Michaelchurch Escley, which was entailed and a £60,000 trust linked to the Michaelchurch Estate) was valued at £5,086. £9 1s was all that remained in the Poyston Estate Account at the Piccadilly branch of the National Provincial Bank.
[43] Letter from Henry to Ned, 1 February 1896.
[44] There is a cutting, for instance, (from presumably late January 1907) of the suicide of Mr R.B. Robinson of Roeberry Estate, Uva.
[45] From H Richarson, Sigglethorne, Marlborough, Wilts., dated 1 May 1910 : 'My dear Sir, An old friend of mine, Henry Owen, is the present owner and occupant of Poyston, Pembrokeshire, and is interested in finding the name adopted in Ceylon. Can you tell me how it got there ?'
---
Ref: rs_mic_0175